The leading role of payroll – the heart of your business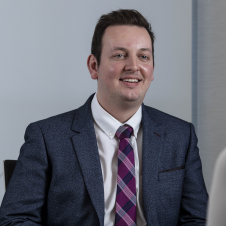 Michael McAllister
Partner & Head of Payroll Services
This week we're celebrating the 21st National Payroll Week, a week to appreciate not only the impact of the payroll industry but the leading role it has within business.
It's probably not the first thing we think of when we consider business success, but it's at the core of keeping everything moving. Whatever area your business operates in, it's imperative you have a payroll that runs smoothly and accurately with no room for error.
More than just a technical function, a payroll team manages one of the biggest expenses a business has (which is no small task!), but did you know it also helps to shape how your business operates?
Reputation
Aside from the crucial role of ensuring your employees are paid accurately and on time every month, your payroll team ensures the business is compliant from a tax and employment legislation perspective, keeping up to date with changes and new regulations as they arise. Quite simply, ensuring a business abides by these law within the regulated deadlines can mean the difference to a business operating or not.
The heart of your business
You might not realise it, but payroll also plays a huge role in developing employee trust within your business. Ensuring payments are accurate and paid on time every month is crucial to developing trust. During challenging times and times of change, having a streamlined and accurate payroll is critical for maintaining this.
A cross functional team affecting all areas of your business
A payroll team works with all teams across the business at one stage or another from HR, Finance and Audit to name but a few. Your payroll is the biggest and most important expense your business has and it impacts all areas of your business affecting cash flow, productivity and success. Whether your payroll team is based in-house or outsourced, strong communication skills are so important to ensure the right teams are talking and collaborating at the right times, and payroll is often at the core, driving this.
Access to insight about your business
Over the years, as regulations have increased so too has the need for payroll to contribute to government led statutory reporting - gender pay gap reporting is a good example of this. In the big data world we now live in, it's likely that businesses will increasingly need access to real-time reporting to keep up-to-date with compliance needs. This is the insight your payroll team can provide accurately and seamlessly using the right technology, giving you the insight you need, to get closer to your business.
The skills needed
If employees are the lifeblood of business, your payroll team is at the heart. As a payroller we personally care about each and every one of the employees we pay and excellent numeracy, an eye for accuracy and detail, as well as a personable approach are crucial in this role. Whether your payroll team is based internally or you have outsourced it in part or in its entirety, having an approachable team is key as it's an incredibly people-focused role. And in fact, that's one of the main reasons I enjoy working in payroll – the people interaction across the wide range of businesses we work with.
And finally, handling major legislative changes
The Job Retention Scheme (furlough scheme) was introduced swiftly and payroll teams across the country had to adapt quickly and get up to speed with legislation in real-time, while managing questions from senior management teams. With 99 legislative updates issued and three Government treasury directions it was certainly one of the most challenging times, not only in the history of payroll, but for business overall. Employers were turning to their payroll team for a steer on what to do next. Working closely with key functions across the business to provide a seamless approach, with strong communication, was key.
So as you can see, payroll plays a bigger role in your business than you may have initially realised and as your business changes or grows you may feel it's time to consider outsourcing this important function, either partly or entirely, to not only free up your valuable time and resource but to help you get closer to your business.
If you feel now could be the right time for you to outsource your payroll or if you'd simply like to talk through your situation and how you're looking to improve, please do not hesitate to get in touch with me, Michael McAllister at: Michael.McAllister@jcca.co.uk for an initial chat.