My JC Path: From Edinburgh to Brisbane through PKF International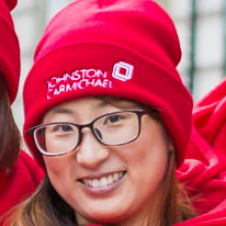 As a member firm of global accounting network PKF International, with Johnston Carmichael your JC Path could take you anywhere. In this short guest blog, Annabelle Yong explains how joining our Edinburgh office during a year's trip to the UK led to her current role at PKF Brisbane.
Annabelle, you started your JC Path in 2018 as a Business Development Assistant. What did you enjoy about that role?
I absolutely loved working as a Business Development Assistant! The concept of Business Development was completely new to me when I first started, but the team were such a huge support. I quickly realised the benefits of BD and the rewards it can bring, so I was inspired to learn more and given ample opportunity to broaden my knowledge. JC is full of great talent and I could always count on someone to give me a helping hand when I needed it.
My favourite aspect of the role was the events. I really liked JC's approach to bringing staff, contacts and clients together at different functions to network and collaborate. I helped organise the 'Meet the Food & Drink Investor' event at The Edinburgh Grand in October 2018, which connected food & drink businesses seeking funding with individuals who were keen to learn more and invest in the sector. It was a great success and amazing to be a part of.
What are your highlights from your time at JC?
Although my time with the firm was short, I was involved in a lot of exciting projects.
Startup Summit was a real stand-out; a huge annual entrepreneurship event which JC is a key sponsor of. I sat in on some of the pitches from new entrepreneurs, and it was a great learning experience to watch them present and hear the feedback from the panel.
JC is really committed to CSR as well and I enjoyed taking part in so many charity events. I had great fun at the Kiltwalk (which JC is Gold Sponsor of) - I am still amazed so many people walked so far. The amount raised for charity was incredible.
Participating in Social Bite's Sleep in the Park with the JC team was also one of the highlights of my entire year in the UK, as crazy as that sounds! I'm so proud of how much money we raised and although it was freezing, it was so worthwhile. The JC Sleep Out kit and tips from sleep-out veterans definitely helped get us through it!

Participating in Social Bite's Sleep in the Park with the JC team was one of the highlights of my entire year in the UK, as crazy as that sounds!
Tell us how you found out about your new role, working for our fellow member firm, PKF Brisbane?
When my UK trip came to an end and it was time to return home to Australia, Adam Hardie put me in touch with the PKF International manager for this side of the world and he gave me details for the PKF Brisbane contact. I went in for a chat about what I did while at JC and was lucky enough to be offered a role.
Every day at PKF Brisbane is different for me and I enjoy the variety. My key responsibilities are researching target businesses and looking out for possible growth opportunities for the firm. I also help out with admin duties during the busy seasons in audit.
How does life in Brisbane compare to working in Edinburgh?
I definitely do a lot less walking now that I'm in Brisbane! Aside from the potential heat stroke, it's just not possible to take a stroll and enjoy the city views here as I did in Edinburgh - I'd be wandering around for hours!
PKF Brisbane is a smaller firm than JC, but the team are just as friendly and supportive. I miss everyone I worked with at JC but it's great knowing that we're all still connected through being part of the PKF network together. I'd love to come back if I ever find myself in the UK again!