Market Commentary – March 2016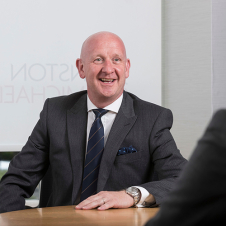 Craig Hendry
Managing Director & Chartered Financial Planner
The FTSE 100 suffered another volatile month, however – despite the terrorist attack in Brussels – it managed to close broadly unchanged for the month at 6,174.90 (+0.36%).
In the month we have seen an improvement in commodity prices – though it remains to be seen how long the strengthening will continue. Arguably the biggest story of the month has seen Sainsbury's takeover approach for Home Retail Group (the owner of Homebase and Argos) accepted by Home Retail.
March saw George Osbourne deliver his Annual Budget. Although there were not too many surprises he did reveal the Lifetime ISA and measures to support the faltering oil industry. The price of oil briefly passed the $40 mark, but relaxed in the last few days in the month as the glut of production shows little sign of easing.
The European Union Membership Referendum continues to dominate headlines and will do so until the polls close on
23 June.
FTSE 100 – 6,174.90
GBP/USD – 1.4380
GBP/Euro – 1.2626
Brent Crude $39.60
Gold – $1,232.75 (per oz)
*Figures as at 31 March 2016
If you would like to discuss anything contained in this article, please contact a member of our Wealth Team by email on enquiries@jcwealth.co.uk or your usual local office Financial Planner.
Nothing in this communication constitutes advice to undertake a transaction and professional advice should be taken before investing. Any observations are purely commentary on markets. This material is not investment research and the content should not be treated as an offer or invitation to buy or sell securities. Past performance is not a reliable indicator of future results and is no guarantee. The value of investments may fall as well as rise. Changes in exchange rates between currencies can cause investments or income to go up or down.
Disclaimer: While all possible care is taken in the completion of this document, no responsibility for loss occasioned by any person acting or refraining from action as a result of the information contained herein can be accepted by this firm.