Growing my own way as a JC Futures student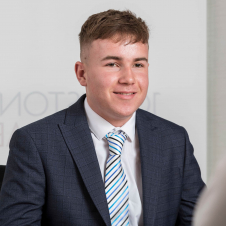 Christian Ramsay
Business Advisory Senior
At Johnston Carmichael, we encourage all of our people to grow their own way. We know that university isn't for everyone, so our JC Futures programme offers school and college leavers the opportunity to become fully qualified accountants whilst also gaining valuable experience in the workplace. Christian Ramsay in our Forfar Business Advisory team joined the Futures scheme four years ago, and he has shared his experiences here.
A different route into accountancy
At school I always knew I wanted to study accountancy so although going to university was the obvious option, I did research other routes into becoming a qualified accountant which is where I came across JC's Futures programme. As I found out more about JC Futures it intrigued me more and more. One of the many reasons why I decided to pursue a career in accountancy this way was because the idea of working and training alongside people that had been qualified for years really appealed to me. It felt like a very real, authentic way to study and learn about accountancy.
Starting out
When I first started with JC as a Futures Student just over four years ago, it was very daunting as a 16 year old who had just left school to start work full time, yet it was also very exciting.
After the first week or so of initial training and paperwork I remember starting work on preparing my first set of accounts with close help and support from my manager. Most of the work I started off with was small sole trader farms and coming from an agricultural background, I felt very comfortable preparing these types of accounts. Another one of my jobs when I first started was checking in clients' books and records. This is where I would log all of the information that a client had handed in and highlight any information that was missing.
Every week the accounts team would get together for a meeting to discuss deadlines, workload, holidays, training and any other matters. Very quickly I felt part of the team and was getting on well with my colleagues and manager.
Developing my skills
I've recently joined JC's specialist Rural sector team too. Living and working on a farm means this is a real chance for me to show my knowledge in this area. It's great to have the opportunity to put this into practice and work with people in the team from all around the firm.
Balancing work and study
Finding a good work/study balance can be a challenge so you have to stay motivated. I like to make a study plan for the upcoming exam - it's fairly basic but it allows me to plan time for studying without compromising time for life outside of work and study.
I have fantastic support from my line manager who is always on hand to assist and advise me on my studies. It's so valuable to have someone to talk about these things that aren't just work related. Also, having colleagues that have just been through the course or are still in the course is great as they really know what it's like to sit these exams and have lots of advice to pass on.
My top tips
If accountancy is something you are interested in I would definitely recommend applying for JC Futures. My top tips for applying for a role straight from school are:
Do your research on the companies you are interested in joining.
Try to join as many careers webinars related to finance and accountancy as possible.
Ask for work experience.
Look at the AAT & ACCA courses to see what it involves.
Our JC Futures programme is currently open for applications – if you're looking for a different route into accountancy and want to find out more, visit our Careers page now.