From graduate scheme to audit supervisor: what does a career in audit have in store?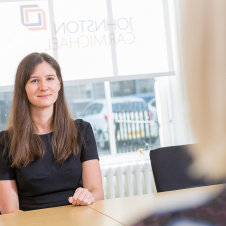 Angela Thomson
Audit Supervisor
The challenging work, learning new things and the support from the team are just some of the things that Audit Supervisor, Angela Thomson, enjoys about a career in Audit.
Angela joined Johnston Carmichael through our graduate recruitment scheme; three years on we ask Angela to share what attracted her to a role in audit and what it takes to be successful.
What is your role at JC?
I'm an Audit Supervisor, I was recently promoted from Audit Senior in December 2018. My role at JC can be split into various aspects: audit engagements, communications with staff and clients, and other wider department matters such as training.
I also help to represent JC at recruitment fairs and client charity events. While this is not formally part of my role, this is something I have enjoyed and found to be beneficial as it has improved communication skills.
Why did you choose to develop your career at JC?
I completed the JC Summer Internship programme in the summer of 2014 before going into my final year at university. While I didn't complete this in the audit department, I did regularly meet members of the audit team at staff social events and speaking with them about the training and opportunities on offer convinced me a career in audit was for me. I applied for the graduate training scheme and I was excited to be offered a position. Now, more than three and a half years on, I've completed my training contract and ICAS education.
My role continues to challenge me and having the opportunity to work with a range of clients across different sectors, keeps it interesting.
What do you like best about the firm?
The work is challenging and I like to be challenged! I am still learning new things and increasing my technical knowledge which is great and the level of support you receive from the team and the focus on your development, is a huge draw.
How do you think you've developed during your audit career at JC?
I feel I have developed in a number of areas during my time at JC. While I have gained technical knowledge and audit technique, as you would in any accounting firm, working at JC has given me the opportunity to work with a great range of clients of various sizes and sectors which has been invaluable.
During my time at JC I have further developed my organisational skills, communication skills (through daily interaction with clients and other audit team members), as well as my confidence in myself and my abilities. The last point I think is particularly due to the level of responsibility I have been trusted with from an early stage.
What do you think it takes to be successful at JC?
In my view, to be successful at JC it's important to have a strong work ethic as well as taking ownership for your work. An open mind and looking for new ways of doing things is important too; having a wider view of what you are doing and challenging it too – can it be done better or more efficiently? Instead of opting for SALY (same as last year approach!).
Careers at Johnston Carmichael
Does Johnston Carmichael tick all the boxes for you? Due to continued team growth we have a number of fantastic auditor roles across our offices. Visit our Careers page now to find out more.