Walking a tightrope
"We're working on something that's a real crisis," says Giles Hamilton, CEO of ODx Innovations. "Doctors have to walk a tightrope every day, and we're developing the technology to help get them down off that tightrope and give them and their patients the answers they need."
Headquartered in Inverness, ODx was born of the desire to answer two questions in medicine: has the patient in front of me got an infection? And if they have, what's going to effectively treat them?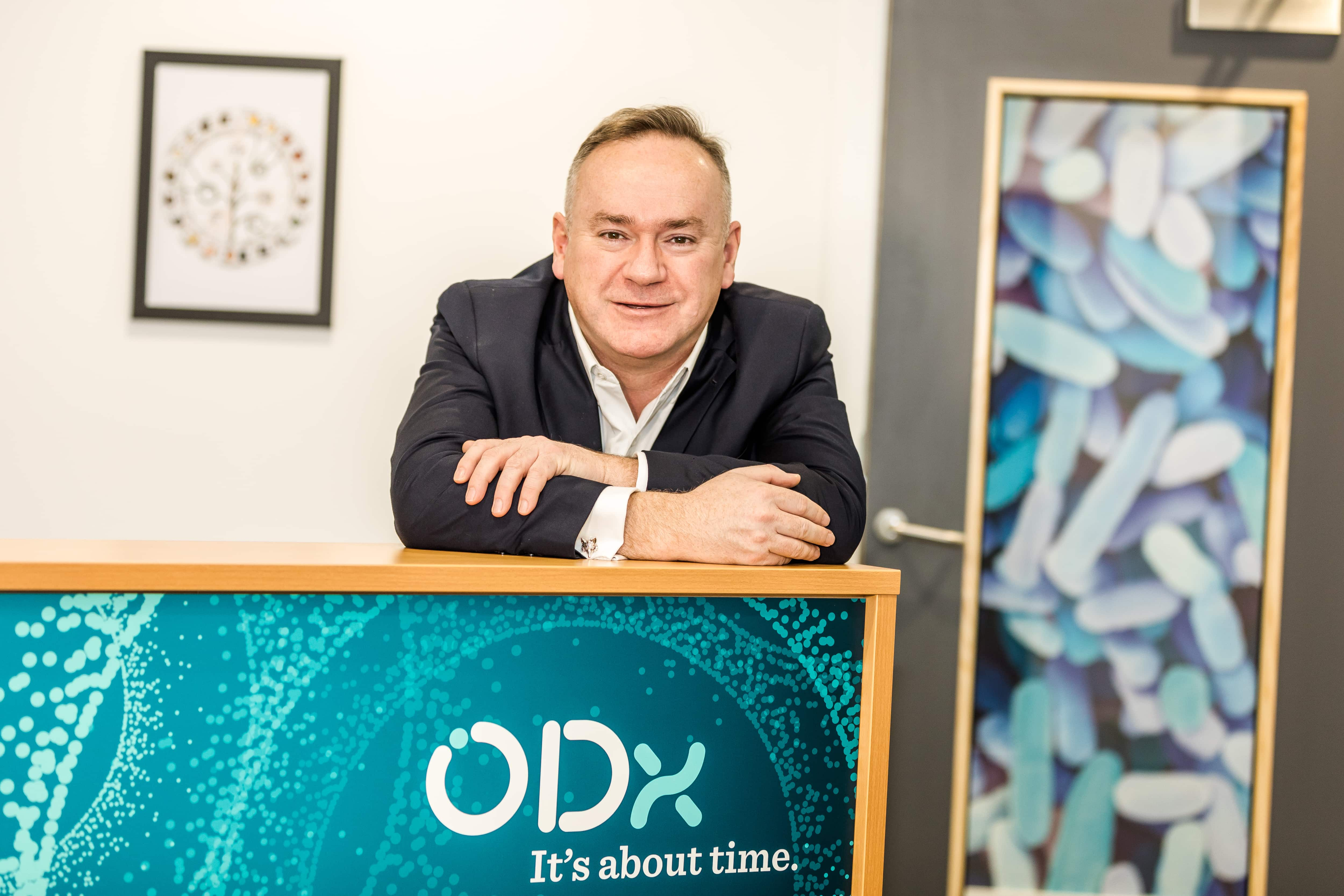 To prescribe or not to prescribe?
The business focuses particularly on urinary tract infections, which affect nearly 1 in 3 women by the age of 24. A potential dilemma facing doctors is whether to prescribe antibiotics for any given patient. If they do, without certainty of the nature of the infection, then they might be the wrong ones. If they don't, the patient's condition may worsen – and herein lies the tightrope Giles refers to. With standard laboratory testing sometimes taking up to four days to return any insights, ODx's aim is to provide doctors with answers there and then, through technology which can quickly visualise bacterial growth and determine which antibiotic will be effective on the day that counts.
The technology ODx is developing can also be used to help tackle the problem of antibiotic resistance; the fact that as a society we are growing increasingly resistant to the effects of antibiotics, due in part to mis-prescribing and over-prescribing. Left unchallenged, this issue of drug resistant infections will increase the risks of performing normal frontline surgery within the next 30-40 years.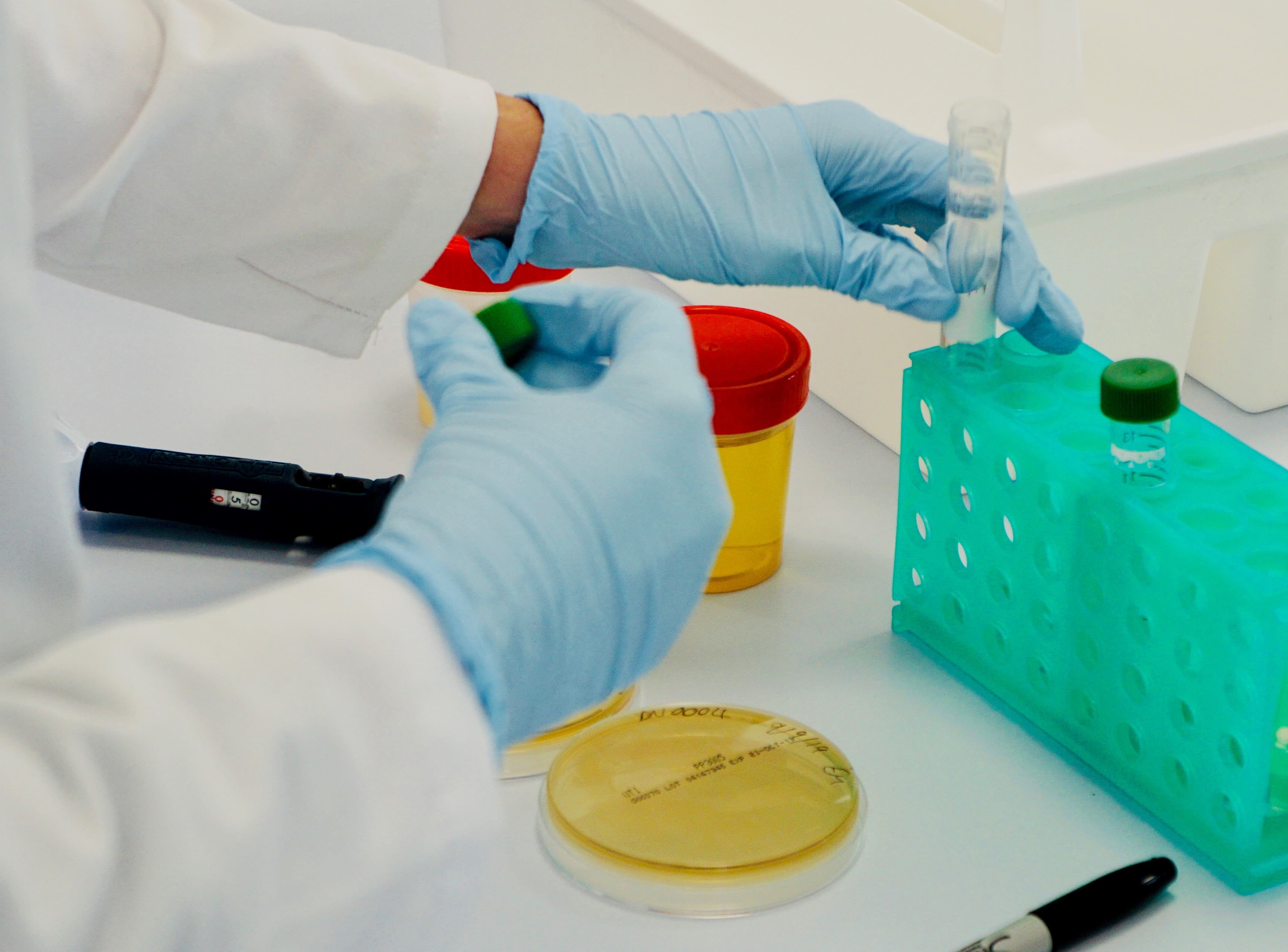 Partnering for progress
On founding the business in 2016, Giles knew the key to bringing the project to life was finding the right partners. "If you've got a big idea in technology, you need significant budgets to make it work. So from the start, we wanted to build relationships with stakeholders who were going to deliver that vision to improve and change medicine."
Thus began a two-year process of working with strategic investors and contacts in some of the largest medical device companies in the world, with grant support from Scottish Enterprise and Highlands and Islands Enterprise. The goal was not only to raise capital, but to also find partners who could facilitate market access and who were aligned to ODx's vision.
When it came to appointing a business adviser, Johnston Carmichael's enthusiasm and involvement in the technology space made the firm "the natural choice. We needed a full-service firm who were willing to engage at all stages of the business lifecycle, and who had a really good understanding of the area we're working in. Johnston Carmichael has superb life sciences industry expertise as well as a great footprint in the sector."
Full-service support
At the core of ODx's JC team is Client Relationship Partner Scott Jeffrey, Audit Partner in Inverness. Having this primary point of contact is a model which works well for ODx, providing them with the assurance that there is someone with a thorough understanding of their business goals, and the expertise and resource to get them there.
As ODx grows, the business continues to require significant levels of investment – and it's here that Giles has found particular value from JC's team. "Johnston Carmichael is really good at providing a degree of confidence and reassurance to our stakeholders. The high quality work produced by the team is great, but what is particularly helpful is the fact that JC are independent advisers with a reputation our investors can trust. We feel we've got a team, right on our doorstep, which can really help our business grow and succeed."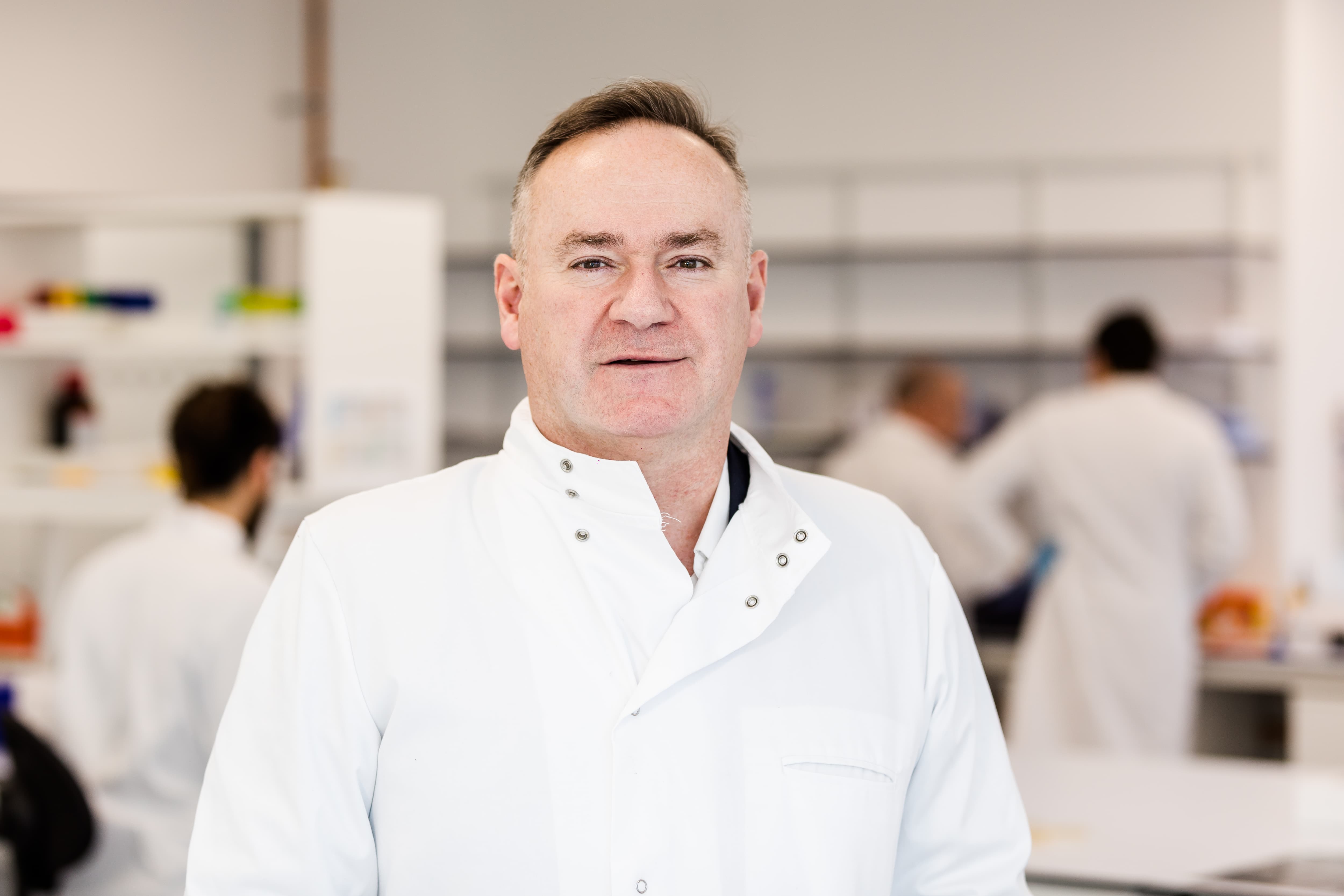 The high quality work produced by the team is great, but what is particularly helpful is the fact that JC are independent advisers with a reputation our investors can trust. We feel we've got a team, right on our doorstep, which can really help our business grow and succeed.
Giles Hamilton
CEO, ODx Innovations
Recognising that another important factor in attracting investors was the ability to demonstrate state support for the work ODx is doing, Scott brought Johnston Carmichael's Innovations Taxes team into the fray. Specialising in helping businesses access the UK R&D Tax Incentives regimes, the team has supported ODx in preparing and submitting successful claims to HMRC. Managing R&D credits can be a complex process, and ensuring that you are classifying your activities in the right way and constructing the claim correctly is, as Giles says, "essential. It's a very difficult area to go into if you're not represented."
Life sciences is for life
When it comes to building a successful business, the innovation and the funds are only two parts of the puzzle. One of the things Giles most values about ODx is the team he has established around him.
"Most people working in life sciences are here vocationally," he says. "We choose to work in this area."
If working in life sciences is a choice, then working for ODx is certainly a popular one. The company was overwhelmed by the response to the recent announcement of their intention to create 60 new jobs at their Inverness HQ – receiving over 3,000 applications.
"We've been very excited by this infusion of energy and talent. There's a tremendous amount of collaborative work required in what we do, and at ODx we really want to create a diverse workplace that actually embodies proper equality and opportunity."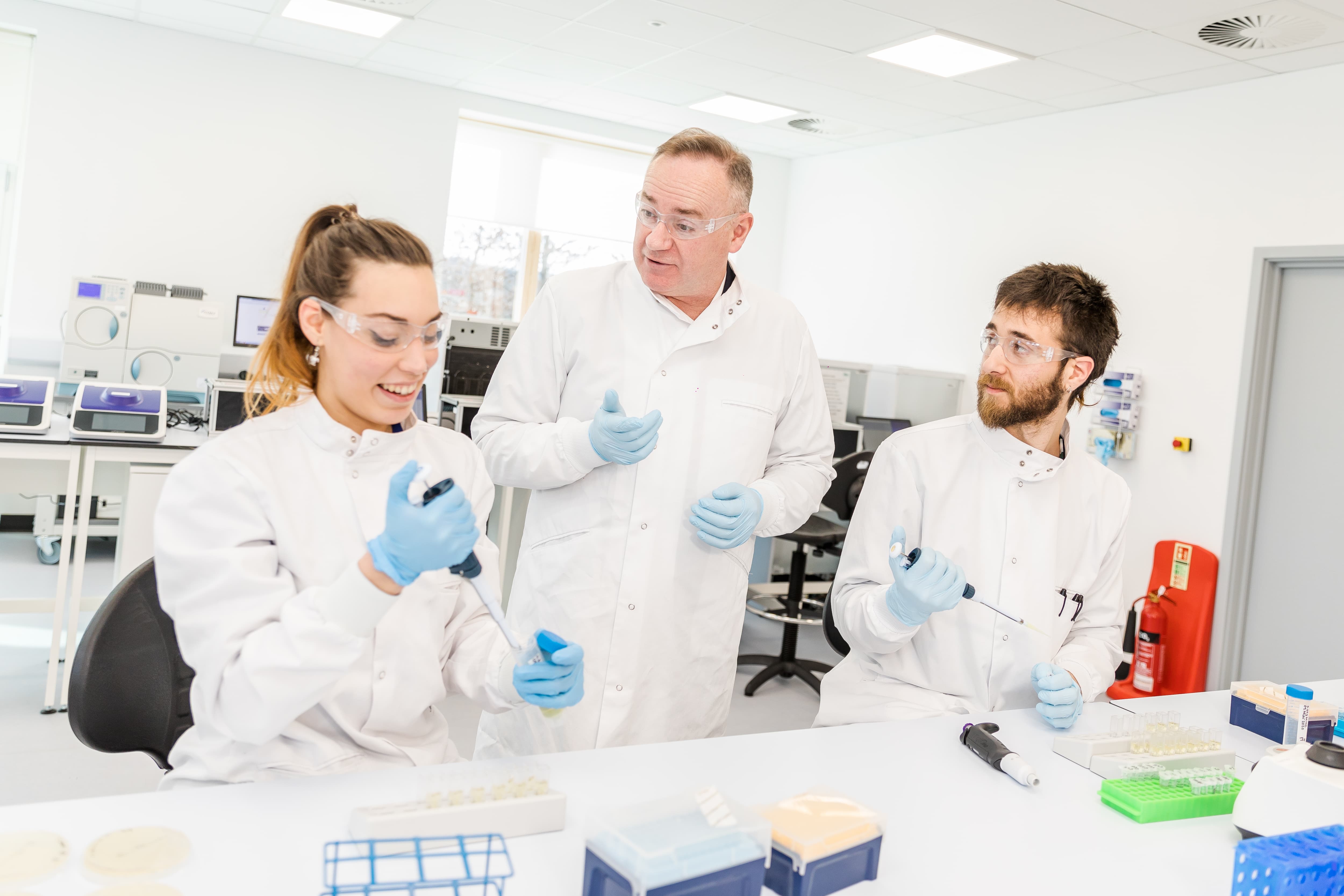 Developing a culture in which staff are recognised for their contributions was important for Giles. Keen to establish a correlation between effort and reward, ODx worked with Johnston Carmichael's Entrepreneurial Taxes team to implement an Enterprise Management Incentive (EMI) scheme. This grants employees the option to acquire shares in the company at a date in the future, at a fixed price agreed at the outset, with no requirement for the employee to pay to buy shares upfront.
"The way JC constructed the scheme allows us to recognise talent so an individual can benefit. If a 17 year old school leaver, for example, comes up with something significant, then they could do incredibly well. It gives us capacity to recognise that contribution in financial terms."
Not only does the scheme empower ODx's team in feeling valued and respected, Giles notes that it also means everybody is on the same page when it comes to the objectives of the business.
"Staff having the option to become shareholders themselves helps align them, as individual employees, with the investor goals of creating shareholder value and making sure that our scientific focus has also got a commercial aspect to it. It's a concrete way of sharing the wealth the company can generate with everybody."
Highland living
The recruitment drive in Inverness is a clear mark of ODx's commitment to the region. Reflecting on the decision to settle there, Giles comments: "The UK for us was a location of choice, not of birth. There's a talent pool in Inverness that can attract investment and help sustain expansion. In tech, the industry norm is that around 50% of people applying for a job have the skills for that role. In the Highlands, we've found that 75% of people do, which is an extraordinary statistic.
"Not only that, but there's a quality of life in Inverness that's quite special. You can end up on a gorgeous beach watching dolphins just a few minutes from the office, which can't be said for many other areas. We find that once people come here, they don't want to leave."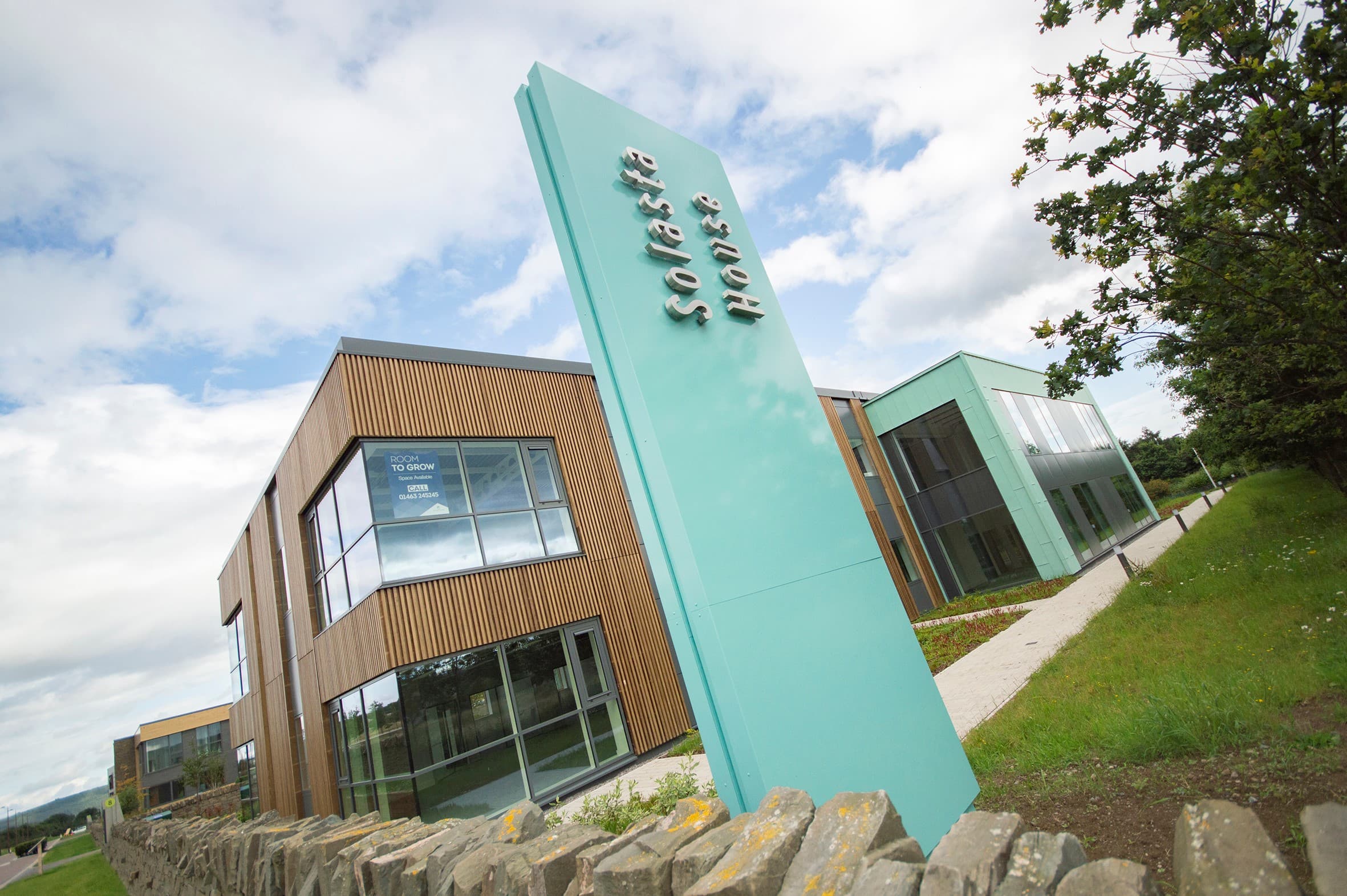 As well as the benefits of Highland living, Giles points to the local facilities as another key advantage of basing the company's HQ in Inverness. The team works closely with the University of the Highlands and Islands, Raigmore Hospital and NHS Highland, and has also collaborated with Inverness Chamber of Commerce, Highlands & Islands Enterprise and Skills Development Scotland.
"We've managed to get a balance between medical excellence, a fast-growing university, and a physical environment that's very attractive, with high class facilities and room to expand."
Looking to the future
Expansion is something that is high on ODx's agenda. In addition to bolstering the Highlands team, the business has recently secured premises in the Queen Elizabeth University Hospital in Glasgow, one of the largest hospitals in Europe.
And their vision doesn't stop there - the business is also going Stateside, opening a laboratory in Santa Barbara (which Giles maintains is not an attempt to escape the Scottish winters!).
With any ambitious venture comes an element of risk, but Giles is confident that by putting its trust in Johnston Carmichael, ODx has the support it needs to prosper.
"The team at JC is very good at identifying areas of opportunity and risk and helping guide us to manage that balance. They're very good at asking, "why?" - and that strategic challenge is vital to ensuring a sensible long-term view of our interests. Their network amongst the tech community is also very helpful to us as we're growing, because those could potentially be sources of collaboration at a technical or business level in the future. Plus, the team is fun to work with!"