Johnston Carmichael's Corporate Finance team doubles down on deals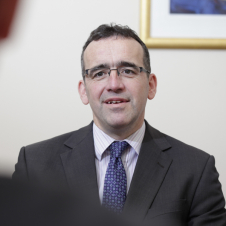 Andrew Ewing
Corporate Finance Partner
The Corporate Finance team of Johnston Carmichael, Scotland's largest independent firm of Chartered Accountants and Business Advisers, has assisted with two prominent deals completed in the last week.
The close of September saw the close of Phenna Group's acquisition of Group Management Electrical Surveys ('GMES'), an electrical services company based in Yorkshire.
Johnston Carmichael carried out Financial Due Diligence on behalf of Phenna Group, which operates in the TICC (Testing, Inspection, Certification & Compliance) sector. Since forming in 2018, the company's 'buy and build' strategy has seen it acquire five companies in under 12 months.
Delivering electrical inspection and testing as well as thermal imaging surveys and documentation services, GMES represents the most recent addition to Phenna Group's global portfolio.
The transaction advances Phenna Group's objective of servicing a range of sectors through a varied assembly of companies, and they continue to actively seek further opportunities.
October then opened with the £4million acquisition of technology and software consultancy Reservoir Imaging Limited by professional services firm RPS Group PLC. Completion of the deal was announced on Wednesday 2 October, with Johnston Carmichael having acted as advisers to Reservoir Imaging Ltd.
An industry leader based in Edinburgh, Reservoir Imaging provides seismic survey services to the oil & gas industry, utilising advanced cutting-edge techniques to offer timely and cost-efficient results.
RPS Group specialises in project management and consultancy across six key sectors, with a keen focus on the Energy industry.
Combining Reservoir Imaging's state-of-the-art technology with RPS's technical and advisory services, the integration will strengthen RPS's existing oil & gas capability, providing businesses operating in the sector with the opportunity for even greater accuracy in their decision-making.
Andrew Ewing, Corporate Finance Partner at Johnston Carmichael, said, "At Johnston Carmichael we are committed to supporting businesses and owners at every stage of their journey. We have had an exciting few months and we've a strong pipeline of work lined up for the rest of the year. Our team of professionals continue to use their expertise and knowledge to support both existing and new clients, helping them to prosper and progress."
For more information on the Corporate Finance team's recent deals, read the latest 'Sharp Minds on Deals' newsletter here.