Video Investment Commentary from Legal & General Investment Management - October 2021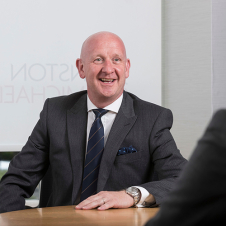 Craig Hendry
Managing Director & Chartered Financial Planner
Andrzej Pioch, Multi-Asset Fund Manager at Legal & General Investment Management, discusses with our Wealth team how their investments have performed over recent months and shares his thoughts on the outlook for the future.
The three key areas of discussion in the video are:
Inflation
The importance of China and aspirations for Chinese growth
Energy and energy prices
Andrzej comments on the following:
Inflation
"The risk is that if after lockdown we actually have a structural shift in the way that people think about their work-life balance; they might be more reluctant to come back which means that inflation could be more persistent. We need to be very careful about how we manage our bundle allocation to embrace diversification as these inflationary pressures are not all the same around the world but also stand ready to adjust that allocation as we learn more about this new chapter for the global economy."
China
"At the moment Chinese growth is unfortunately impacted by four potential head winds although the growth could still be decent, but I think will be slightly low consensus when it comes to our forecast… We need to think about our equity allocation in a diversified way and make sure that we do not have any concentrated positions in any given country or any given stock."
Energy
"Unfortunately, the volatility in energy prices is probably likely to stay with us for a while."
You can watch the full video commentary below.
Get in touch
The Johnston Carmichael Wealth team is here to support you. If you have any questions about your investments or other financial matters, please do not hesitate to contact me, Craig Hendry, or your usual Johnston Carmichael Wealth Financial Planner.
Disclaimer: Johnston Carmichael Wealth Limited is authorised and regulated by the Financial Conduct Authority.
This communication is intended to provide a general review of certain topics and its purpose is to inform but not to recommend or support any specific investment or course of action.
Figures refer to the past and past performance is not a reliable indicator of future results. The value of your investments and any income from them can go down as well as up and you may not get back the original amount invested.
The views and opinions expressed in the video are those of Legal and General Investment Management and should not be considered to be a recommendation or solicitation to buy or sell any investments or funds mentioned.