Video Investment Commentary from Legal and General Investment Management – April 2021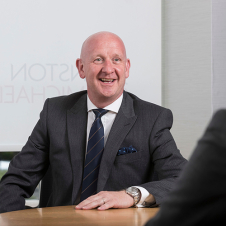 Craig Hendry
Managing Director & Chartered Financial Planner
Justin Onuekwusi, Head of Retail Multi-Asset Funds at Legal & General Investment Management, discusses with our Wealth team how their investments have performed during the pandemic and shares his thoughts on the outlook for the future.
The three key areas of discussion in the video are:
Update on markets and investments over the past year
What changes the team have been making
Where do we go from here?
Justin comments: "In February we saw the quickest market crash in history following the emergence of Covid-19 and the realisation that this was going to be a global problem. We have since seen markets rebound and I talk about what we have done to manage our investments throughout the crisis.
"At Legal & General Investment Management (LGIM) we believe in investing in technology stocks but are nervous at just how big some companies have become, and I share some information on what we have been doing to manage this risk.
"We have repositioned the portfolios to benefit as economies begin to reopen, investing in some recently unloved areas such as travel, leisure, automobiles and railways.
"I sum up the video by talking about our outlook and include a brief summary of where we are against the three key indicators we use; economic cycle, valuations and risks, where we remain broadly positive overall."
You can watch the full video below:
Get in touch
The Johnston Carmichael Wealth team is here to support you. If you have any questions about your investments or other financial matters, please do not hesitate to contact me, Craig Hendry, or your usual Johnston Carmichael Wealth Financial Planner.
Disclaimer: Johnston Carmichael Wealth Limited is authorised and regulated by the Financial Conduct Authority.
This communication is intended to provide a general review of certain topics and its purpose is to inform but not to recommend or support any specific investment or course of action.
Figures refer to the past and past performance is not a reliable indicator of future results. The value of your investments and any income from them can go down as well as up and you may not get back the original amount invested.
The views and opinions expressed in the video are those of Legal and General Investment Management and should not be considered to be a recommendation or solicitation to buy or sell any investments or funds mentioned.