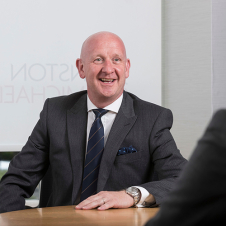 Craig Hendry
Managing Director & Chartered Financial Planner
This article first appeared in The Scotsman on 15 September 2021.
Life in 2021 is pretty fast-paced, and it's easy to ignore your retirement beyond dreaming of what you plan to do with it.
Every generation, however, has had to temper their hopes and expectations with the reality of goalposts that always seem to be moving.
That's where our Wealth team can help. In this video - the first of four - Head of Planning, Stuart Walker, discusses the price of life today, and the questions you'll have to ask yourself, including the big one: "Can I afford to retire?"
The time to act is now, so take just a few minutes of your time to watch the video below, and then read more about our Wealth team and how they can guide you through this important discussion, and set you up for the future you want to have.
If you prefer, you can also fill out the following form.
Disclaimer: This communication should not be read as financial advice. While all possible care is taken in preparing this, no responsibility for loss occasioned by any person acting or refraining from action as a result of the information contained herein can be accepted.
Johnston Carmichael Wealth are authorised and regulated by the Financial Conduct Authority.
Copyright of The Scotsman Publications Ltd.
---