The explosive growth of craft beer and gin across Scotland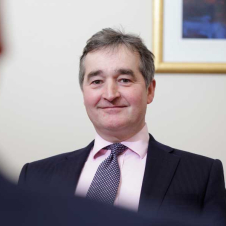 Adam Hardie
Business Development Partner and Head of Food & Drink
Ahead of International Beer Day, 2nd August, and International Scottish Gin Day, 3rd August, we hear from our Head of Food and Drink, Adam Hardie, about his involvement with the brewing and distilling industries in Scotland. Adam also provides some top tips for new entrants to these competitive markets and shares what craft beers and gins he will be drinking this weekend.
In your role as Head of Food & Drink at Johnston Carmichael, how are you involved in the Scottish gin & beer market?
While the brewing and distilling industries have been in existence in Scotland for thousands of years, craft beer and gin in particular have seen explosive growth in recent years and they both now play a vital role in the Scottish economy.
For me, it's an exciting time to be involved in these markets where we have clients making great beers and gins, their businesses trading well locally, across the UK and increasingly into export markets.
I am passionate about the craft drinks sector and have worked hard over a number of years to put our firm at the very centre. We have so much going on, in the last 6 months I have advised on the strategic development and growth of over 30 craft spirits distilleries and breweries.
Johnston Carmichael has a big Scottish footprint with now 850 people, working with over 15,000 SME businesses. I am particularly well connected across craft spirits, brewing and the food and drink industry. I regularly make introductions to potential investors, distributors, packaging companies, suppliers and other business leaders to help our clients grow.
Some years ago we started to host collaborative meetings of many brewers and distillers and it is no surprise that both The Brewers' Association of Scotland (TBAS) and The Scottish Distillers Association (SDA) were first established in Johnston Carmichael's office.
In the last 6 months I have advised on the strategic development and growth of over 30 craft spirits distilleries and breweries.
Which is your favourite Scottish gin or beer?
Wow where to start - I do love craft beer! Scotland has 130 craft breweries and 170 craft gin brands, many of whom entered the 2019 Scottish Gin Awards. With such a fantastic choice it's difficult to choose just one favourite, however, I am particularly fond of IPA's which had the biggest number of entries in the 2019 Scottish Beer Awards.
I sit on the judging panel of both the Scottish Beer Awards and Scottish Gin Awards and this year chaired the judging panel of the written entries for the Scottish Gin Awards, (personally reading over 100 written applications in one weekend!)
Scotland's craft brewing industry is flourishing across the country from Shetland to Stranraer. The global appetite for craft beer continues with strong growth as consumers increasingly shun mass brewed beer for craft beer.
A few months ago, I had a tour of Edinburgh Beer Factory's brewery and particularly enjoyed tasting their new Untitled IPA, a solid Old-World IPA, a fruity twang with a full malt base. We have been treating clients to this IPA and their equally as enjoyable Paolozzi lager, when they visited us at agricultural shows across Scotland this summer. However, my particular favourite at this time, and you can be assured I always have a good stock at home in my own fridge, is Local Motive, a Session IPA from Paul Fallen at Fallen Brewing in Stirling.
Since I have chosen my beer from Edinburgh, I will head further north for my choice of gin; to Granite North Gin from Aberdeen. This relatively new gin which is handcrafted in small batches, takes it's name from the rock associated with the North East and is inspired by rugged peaks and forests of the Highlands. We served Granite North at a recent food and drink roundtable dinner in our Aberdeen office which was well very received.
Scotland's craft brewing industry is flourishing across the country from Shetland to Stranraer.
Do you have any tips for companies who are trying to break in to such a competitive market?
Quality. Producing a premium quality craft beer or gin is #1. If you do not have a great tasting drink then consumers may buy it once but will certainly not buy it a second time. The value category (v's premium) is a race to the bottom.
Brand. Think hard about your brand proposition and invest in a premium brand - it's so important in food and drink. Make sure your product is strong enough to stand out against the competition. In such a crowded and busy market within both gin and beer, you need to give the consumer something new and exciting that they will choose over their regular brand.
Competitors. Understand who your competitors are, there are so many. Travel the country, visit food & drink festivals and see what others are doing, see where the gap is for new ideas.
Focus on Sales. Develop a strong sales plan on how to reach and sell to your consumers, local, UK and international.
Get Pricing Right. Anyone can give away beer – so make sure you price your beer (or gin) appropriately.
Online Sales. Consider how you can increase the direct to consumer sales channel, where margins are best.
Experiential Tourism. This is a growing significantly across the country as consumers want to visit, taste it and even make it - tap rooms and visitor centres work well and similar to online – great for margins
Looking for Investors? If you want to attract external investors, then build a business that can scale and make sure you understand what funding you will need as you grow. Embrace diversity and be flexible to change.
Get the right Team. Create a strong team in your business and around you, with your values and skills to get you to where you want to be. Good accountants and business advisers are essential not only for support on growth planning, access to funding, solving problems with HMRC, ideas on distribution, storage, bottling, but a good adviser will be a sounding board for you.
Have Fun. You are making beer and gin – what a great industry to be in.