Johnston Carmichael's Food & Drink industry report serves up insight on key issues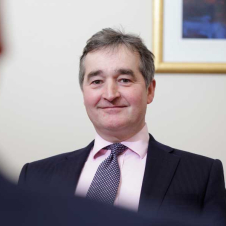 Adam Hardie
Business Development Partner and Head of Food & Drink
The business landscape has experienced no shortage of change over the last 18 months, and this is particularly true for the Food & Drink industry.
As Scotland's leading firm of chartered accountants and business advisers in the sector, at the end of 2021 we launched our inaugural Food & Drink industry survey in conjunction with the Food & Drink Federation, to hear first-hand how businesses have fared and what their needs are going forward.
The objective of our survey was to understand the views of senior leaders on the structural, financial, and operational state of the Food & Drink industry. We consulted businesses of all shapes and sizes from across the UK and the responses we received give a true insight into what the challenges and opportunities of the last year have been, and what they are likely to be as we look ahead.
The results identified several key issues of significance and our extensive report explores these areas in detail, including insights from top leaders within some of the most famous brand names in the industry. As well as examining growth, succession planning and the impact that Brexit has had on businesses, the report also considers different profitability strategies and what sort of impact assessing this profitability has on innovation.
The aim of the survey was to take these ongoing key themes of profitability, innovation, growth and importing/exporting and assess how Food & Drink businesses of all sizes now view their prospects against the backdrop of the unprecedented circumstances created by Brexit and by the pandemic.
Adam Hardie
Business Development Partner and Head of Food & Drink at Johnston Carmichael
As we continue to negotiate living with the COVID-19 pandemic and the after-effects of leaving the EU, we are proud to recognise the achievements of hard-working Food & Drink businesses, celebrate their resilience and innovation, and pledge to bolster our support as they strive for post-pandemic success.
The survey bears out what we have seen – true resilience and innovation over the past year from the hidden heroes who work in our fantastic Food & Drink industry.
David Thomson
Food & Drink Federation
For an insider perspective on the main issues of significance in the Food & Drink sector along with our expert analysis, download our full report.
If you have any queries or would like to discuss the findings of our report, please don't hesitate to get in touch with me, Adam Hardie, or another member of our Food & Drink team.