Building a resilient business - cash flow and funding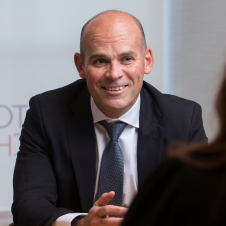 Alan Hamilton
Corporate Finance Director
There are a number of potential liquidity headwinds brewing for many businesses in the coming months, as Government support starts to unwind. Now is the time to get ahead of the game and review your funding needs for the medium term to ensure your business is fighting fit for the future.
An essential component of cash flow and scenario planning for your business is assessing the potential future funding requirement in the short to medium-term and looking at the options to address this promptly.
It is very important for businesses to look in detail at the available options to help generate the cash needed to navigate the coming months and beyond. Robust planning will help to create a more resilience business and will support growth opportunities, as the economy recovers. Planning also helps to provide a cash reserve to mitigate against those risks identified in the planning process.
Liquidity Management
Scenario Planning and financial forecasting are key tools in allowing management teams to:-
Determine potential funding gaps there may be in the longer term;
Assess whether the business can address this via cash flow management OR third party funding; AND
Understand what a sustainable funding structure will look like to support the business
Where third party funding may be required, management teams will need to consider whether this will be met via debt or equity or indeed a combination of the two.
Debt Funding
Many businesses will have to deal with higher levels of debt as a direct result of COVID-19, from deferring liabilities to taking on additional debt through Government business interruption loans. Combined with the impact on profitability from lockdown, many businesses will face higher than normal levels of debt which could be a limiting factor in accessing further debt funding.
Where a business has existing debt facilities it is important to ensure that these remain fit for purpose. For example, if a business is expecting a period of growth and requires cash reserves to support working capital in the short-term, having cash tied up in capital repayments over this period could put cash flow under pressure.
The planning process will identify whether current banking facilities are sufficient to support the business in the coming months and beyond. Likewise, it is important to consider the appropriateness of any banking terms in place and identify potential issues early.
Pick up the phone and speak to your bank manager and have an open and honest conversation. Cash flow modelling and financial forecasting will support discussions with lenders, it provides them with the reassurance that management have addressed the risks and opportunities which their business faces.
Government business interruption loans are available to the end of September 2020 so for those businesses which have not accessed these, it might be worth exploring with your lender putting one in place now. These can always be cancelled or repaid at no cost to the business, should it not be required.
There are also a few options you could explore with your bank to help your cash flow in the short-term such as capital holidays on existing debt facilities, and increasing limits or extending payment terms under invoice finance facilities and company credit cards.
What is not clear at this stage, is the longer-term impact of the current economic crisis on the banking sector. Banks will no doubt be impacted by a combination of higher-risk lending assets and bad debts which could lead to a more cautious approach to future lending.
This could provide opportunities for the significant number of alternative lenders and debt funds in the UK market, as we saw in the wake of the financial crisis in 2008
Equity Funding
Where there is a limitation to the level of debt funding which a business can raise, a business may have to consider its options for raising equity.
In the current economic climate, this would provide an opportunity to reduce the level in a business and put in place a more appropriate capital structure. Whereas a debt facility may utilise significant levels of cash in servicing interest and making capital repayments, an equity injection would allow more cash to be invested in the business to support recovery and growth.
A business will need to explore whether an equity investment would come from existing shareholders or from a third party such as a private equity house or individual investor. Where a third party is the likely scenario, they too would wish to see financial forecasts and business plan to allow them to consider the opportunity.
It is important to understand early on in discussions what the potential new investor's expectations are on equity returns and time horizons for realising their investment together with to what extent they would wish to be involved in the running of the business.
Summary
Detailed planning allows a business to identify funding requirements for the longer term and, where appropriate, access third party funding in a timely manner.
Get in touch
If you need assistance with your cash flow planning, scenario planning, reviewing your funding options, and fundraising we are here and ready to help. Get in touch with me Alan.Hamilton@jcca.co.uk or your usual Johnston Carmichael adviser now for an initial chat.