Mouth-watering map underlines Scotland as a land of food and drink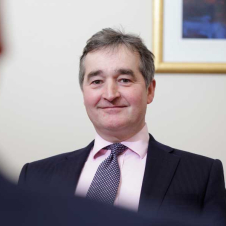 Adam Hardie
Business Development Partner and Head of Food & Drink
Navigating around Scotland's rich, natural larder has just become a whole lot easier, thanks to a mouth-watering new map* of the country produced by accountancy and business advisory firm Johnston Carmichael.
The map was unveiled at an exclusive event in London aimed at sourcing financial backing from investors based in the south east for growing Scottish food and drinks businesses.
The image includes not just traditional foods, including beef, salmon and berries, but also the new craft beers, boutique gins and other tastes for which Scotland is increasingly becoming famous.
Representatives from more than 25 of Scotland's most exciting food brands including Porter's Gin, which is distilled in Aberdeen, and Highland-based rapeseed oil producers Cullisse, took part in the event on Monday, 4 September in Scotland House.
The businesses met with a range of investors, including London-based angel investors from the Scottish Business Network and Inverleith LLP, an Edinburgh-based specialist food and drink private equity investor.
Adam Hardie, Head of Food & Drink at Johnston Carmichael, said:
"We are delighted to have attracted some of the most promising new brands from Scotland's vibrant food industries and to have introduced them to a range of specialist investors who have experience in precisely this sector. We are confident that real progress has been made in attracting the investment needed to move these brands to the next level."

Food and drink has consistently been Scotland's best performing sector in recent years, with record export figures in 2016 and plans to double its value from the current level of £14.4bn to £30bn by 2030.
Find out more about the work of the Johnston Carmichael Food & Drink team.
* Please note the logo is a trade mark of Johnston Carmichael LLP. © 2018