Johnston Carmichael Wealth named among Top 25 Financial Advisers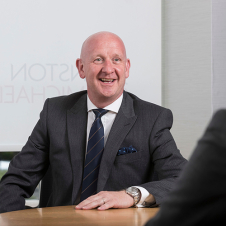 Craig Hendry
Managing Director & Chartered Financial Planner
Released annually, the FTAdviser Top 100 list showcases financial advisers standing out in the market for the quality and professionalism of their experts and their commitment to putting clients' best interests at the forefront of their advice.
Placing at number 21 on the list, the Wealth team boasts 65 staff including Financial Planners, Technical Specialists and Client Liaison advisers, with 13 offices across the UK as part of Johnston Carmichael, Scotland's largest independent Chartered Accountancy and Business Advisory firm.
The team specialises in providing expert financial planning and advice on personal and business affairs such as investment and retirement planning, estate planning, and personal and business protection.
Building trusted relationships with clients is at the heart of Johnston Carmichael Wealth's philosophy. Their experienced planners invest time in getting to know each individual's goals and aspirations for themselves and their businesses, and tailor their advice to make these a reality, enabling clients to live life on their terms.
The team has recently launched a new 'Employer Assist' service, aimed at helping businesses to support their employees in the wake of the COVID-19 pandemic. Further investment in technology is also high on the agenda to allow even greater flexibility in servicing client needs.
Craig Hendry, Managing Director of Johnston Carmichael Wealth, said: "We are delighted to be acknowledged by FTAdviser for demonstrating such high standards in our profession. Being recognised as a team of trusted advisers providing exceptional client service really resonates with what we believe we have accomplished and will continue to build on.
"We are continually looking at ways to improve our client service and this starts with recruiting, retaining and training the best people and ensuring our standards are of the highest possible level. Chartered Status embodies all of these attributes so it's fantastic to see this year's Top 100 list including, for the first time, CII accredited firms such as ourselves."
We are dedicated to supporting our clients' ambitions through truly valuable advice, and to be rewarded with this accolade is testament to the hard work and commitment of our team.