Johnston Carmichael Wealth invests in university research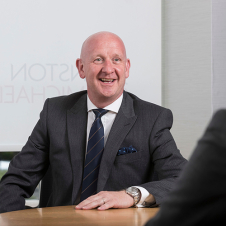 Craig Hendry
Managing Director & Chartered Financial Planner
Leading independent Chartered Financial Planners Johnston Carmichael Wealth are supporting a University of Edinburgh student with her Master's degree, through a company-sponsored dissertation on evidence-based investing.
Johnston Carmichael Wealth commissioned the specialist dissertation on 'Evidence-based Investing (Active vs Passive)', which is being carried out by Prekathiswary Permal Kunder, a Master's student completing a postgraduate degree in Finance. A hot topic within the financial planning profession, the comparative merits of active and passive investing have long been debated but seldom studied in-depth, and Preka's conclusions will be a welcome addition to what is a limited body of academic research.
The Wealth team is supporting Preka throughout the course of her dissertation, offering insight gained from years of practical experience in financial planning.
Craig Hendry, Managing Director of Johnston Carmichael Wealth, said: "Investing is important to us at Johnston Carmichael Wealth. Investing in – and for – our clients; investing in our team; and investing in the future of our profession. We're delighted to be supporting Preka with her dissertation on active versus passive evidence-based investing, the findings of which will allow us to offer even greater insight to our clients. We're looking forward to seeing the conclusions arising from her report.
Below, Preka explains more about her background and the work she is doing:
What led to you studying a Master's in Finance?
I completed my undergraduate degree in Business and Financial Management at the University of Hull, having first become interested in this area when my dad started up his small business. His experiences made me curious about the financial side of things, and so after I gained my Bachelor's degree, I decided to study a Master's in Finance to improve my technical skills.
The topic for your dissertation is Evidence-based Investing: Active vs Passive. What does that mean, in a nutshell?
Evidence-based investing is, essentially, investing based on historical performance; which asset has performed better in the past, for example. In simple terms, active investing means you have a portfolio manager constantly analysing the markets for you and actively (hence the name!) buying and selling frequently at the right times, aiming to outperform the market index. Passive investing is more neutral; you tend to buy stocks and hold them by mimicking the performance of a benchmark, rather than actively respond to or try to anticipate every market change. Taking the active investment approach is usually more costly, as you pay higher fees to your fund manager for the continuous work they do on dealing, financial modelling and valuation. With passive investing, although it is longer-term, you still have to decide on a benchmark market index – such as the FTSE 100 – or asset class – such as UK Equities – and most importantly, carefully capture the return of the market to avoid making a loss.
What are you enjoying most about your Master's degree so far?
I like getting into the level of specificity that studying for a Master's degree requires. I wanted to learn more about investments in general – it looks easy, but once you get into the detail, it isn't at all! The more I'm reading in the course of my research, the more I'm learning, and that helps me choose which path I want to travel in terms of career progression.
What kind of research have you been carrying out?
There are relatively few academic papers on this particular topic, considering how much of a talking point it is amongst investors! However, I have been reading the literature that is available; examining when and why there have been shifts from active to passive investing, and why each has value. Investment companies such as Vanguard and Blackrock have carried out research and analysis too, so I've also been reading their reports. I'm currently studying the performance of funds specific to Johnston Carmichael Wealth, taking a quantitative approach.
Can you tell us anything about what conclusions you're expecting to come to?
It's a complex topic and dependent on a lot of different factors; the market cycle, the time, world events such as the pandemic or the presidential election. All of these things can influence the performance of funds, so it's always changing, and both active and passive have advantages and disadvantages. Based on my current data for net returns, it appears that the year before COVID-19, passive investing was performing better. During the crisis period of COVID-19, active overtook passive – then in the last six months, with the rollout of the vaccine and so on, passive is doing better again. This supports the findings of one of the Vanguard papers I read, which calculated future returns and concluded that passive investing was likely to perform better in the future because during crisis or 'correction' times, such as the pandemic, active management performs better. During stable market cycles, such as those we are living in right now, passive performs better. However, there's a lot more analysis to do before I come to a final conclusion!
What have you found to be the benefits of working on a company-sponsored dissertation?
I've really enjoyed working with the Wealth team and it's been invaluable having that practical insight. Craig's input has been so helpful throughout my dissertation, and I've had the opportunity to speak with their specialist investment team as well. Kirsty from the Business Support team has been a great help, and the feedback from the planners has also been really useful; Valerie in the Financial Planning Support team reviewed my draft so far and one note she gave me led to me finding the missing link for the whole piece! Craig also recommended Robin Powell, who runs a blog called The Evidence-Based Investor, and both the blog and his Twitter feed have proved to be a very useful source of news and information on the topic.
Partnering with the Wealth team on the dissertation has also helped progress my personal and professional development. As I went directly from undergraduate study to Master's study, I don't have any formal work experience and so speaking with the highest stakeholders in a business, such as Craig, has been great experience for me. It's working really well so far.
I've really enjoyed working with the Wealth team and it's been invaluable having that practical insight.
Prekathiswary Permal Kunder
What are your plans after you graduate?
I intend to look for graduate roles in the workplace, but I'm also open to the idea of taking some time off to travel. Due to the various lockdowns and then my university workload, I haven't been able to explore as much of Scotland as I would like since moving to Edinburgh last year! So that's definitely high on the agenda.
Johnston Carmichael Wealth Limited is authorised and regulated by the Financial Conduct Authority.
This communication is intended to provide a general review of certain topics and its purpose is to inform but not to recommend or support any specific investment or course of action.