Johnston Carmichael Wealth go the distance as Glenalmond College challenge sponsors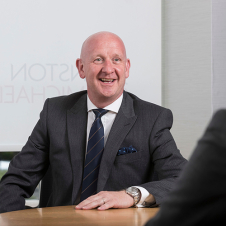 Craig Hendry
Managing Director & Chartered Financial Planner
Leading independent Chartered Financial Planners Johnston Carmichael Wealth have taken on a 24 hour relay challenge as sponsors of Glenalmond College's #Coll24 fundraising event.
Glenalmond College, an independent day and boarding school in Perthshire, launched its #Challenge175 initiative in March as it prepares to celebrate its 175th anniversary in 2022. The challenge will see pupils, former pupils, staff, their families and all those with links to the school, challenged to collectively complete 175,000 kilometres by noon on 2 May 2021.
The event will culminate with #Coll24, a 24 hour event which will see participants run or walk 10k in relays between noon on 1 May and noon on 2 May. In their role as sponsor, 23 of the Johnston Carmichael Wealth team have committed to taking on the challenge.
With the fundraising target for #Challenge175 set at £175,000, the monies raised will provide life-changing 100% bursary places to talented young people who would not otherwise be able to benefit from a Glenalmond education.
Craig Hendry, Managing Director of Johnston Carmichael Wealth, said:
At Johnston Carmichael Wealth our goal is to empower people to live life on their terms by providing them with the knowledge and advice to achieve their ambitions, and we feel this very much aligns with the vision and values of Glenalmond College.
"The funds raised from the #Challenge175 event will extend the superb opportunities on offer at Glenalmond to even more young people, and we're very proud to support such a fantastic initiative. Training is well underway and we're looking forward to 1 May!"
Oliver Niven-Smith, a Financial Planning Assistant in the Wealth team and alumni of Glenalmond College, said, "As a former pupil of the school, I know first-hand how valuable a Glenalmond education is. During my time at the school I developed skills and relationships that have stood the test of time and served me well in both my personal and professional life. I'm delighted to have gone full-circle and to now be supporting the school that supported me."
For more information or to support the Wealth team's fundraising, visit their JustGiving page here.
Johnston Carmichael Wealth Limited is authorised and regulated by the Financial Conduct Authority.