Johnston Carmichael reports record turnover despite challenging marketplace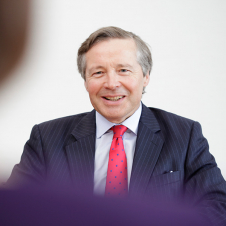 Sandy Manson
Chair, Head of Client Service and Partner
Johnston Carmichael, Scotland's largest independent firm of chartered accountants and business advisers, has achieved a 7% growth in turnover after generating record revenues of £43.7m in its 2016/17 financial year ending 31 May 2017.
The firm, which was founded over 80 years ago and has 700 staff and partners across 11 locations, attributed its growth to a continued expansion in the range of its services and investment in talented, knowledgeable people.
The firm's tax practice, comprising a broad spectrum of specialists across a range of areas from international tax, R&D and entrepreneurial taxes to private client, trust, succession and capital taxes planning, experienced particularly strong growth; and there was also increased demand for financial planning services as provided by the expanding Johnston Carmichael Wealth team, following changes to pensions regulations.
The financial results posted by the firm saw revenues across the group grow by 7% from £40.8m to £43.7m, with net profit before members' remuneration rising 5% from £11.6m to £12.2m.
Chief Executive Sandy Manson said: "It's extremely encouraging to report that the firm continues to grow and develop despite some challenging trading conditions including the uncertainty surrounding Brexit and lower oil prices which continue to affect the North East.
"Our expansion in the central belt has bolstered and protected the business from regional variations and really helped us to maintain a healthy level of growth. Over the past six months, we've leased extra office space in both our Glasgow and Edinburgh offices as we continue to grow our services and invest in talented advisers to meet ever-growing client needs.
"Our teams throughout Scotland work closely with clients of all shapes and sizes to really understand their businesses and the opportunities and challenges they face, whether they are starting up, growing internationally, or sustaining their position in the market against a fast changing landscape."
Johnston Carmichael has also grown its international work through its membership of PKF – a family of legally independent member firms operating in 150 countries. The firm recently hosted a major PKF conference in Edinburgh attended by more than 180 members of the network from around the globe.
We have a strong focus on the recruitment and retention of talent
Major hires across the year have included strategic additions to the Corporate Finance and Restructuring teams as well as a number of significant tax specialist appointments including a new head of entrepreneurial tax. The business has also invested substantially in cutting edge technologies to deliver its services, including the use of data analytics in audit work and cloud technology in its SME-focused offering.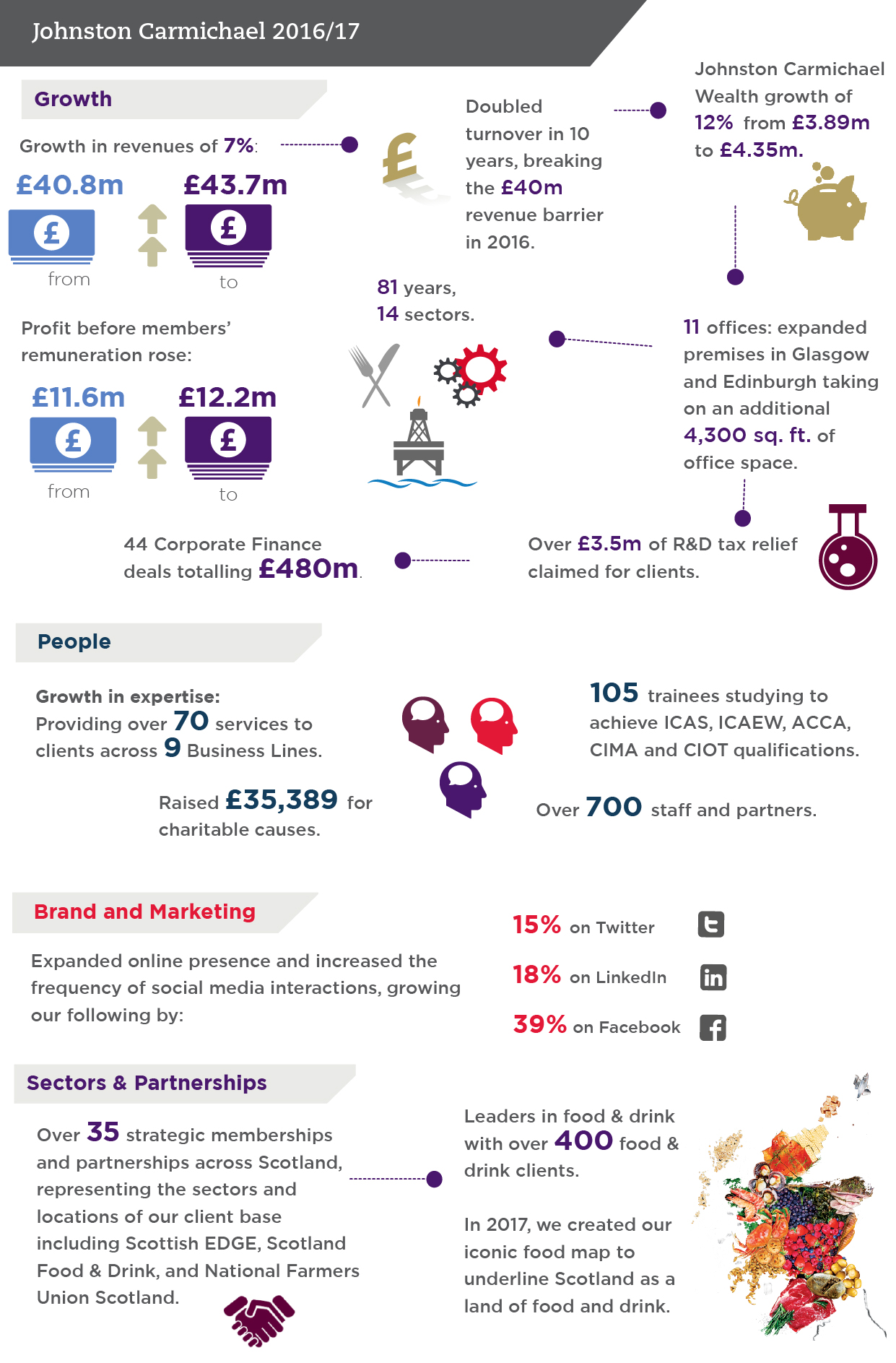 Sandy Manson added: "We have a strong focus on the recruitment and retention of talent which includes appointing school leavers who will study and train to be CAs through our JC Futures programme, and supporting promotions from within the business. Our commitment to being innovative in how we engage and develop our people has provided us with a competitive edge in the marketplace and will ensure our succession planning is in good shape for the future.
"Having a strong strategic plan in place is key to our continued growth. In the year ahead, we will continue to invest and innovate in all areas of our business, harnessing the best of available technologies to make our business as digital and efficient as possible, so that we continue to play a leading role in the sector and contribute to Scotland's economy and communities."
Our CEO, Sandy Manson, on our financial results