Johnston Carmichael strengthens team with promotions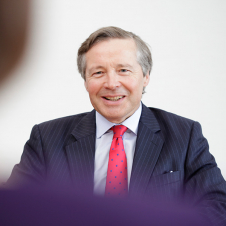 Sandy Manson
Chair and Head of Client Service
Johnston Carmichael announces eight senior staff promotions, showing its commitment to continuing to invest in people; recognising and empowering those individuals who are making significant contributions to the business.
Chris Wilkie, based in the Glasgow office, has been promoted to Director. Chris joined the firm's Audit team after graduating in 2004. He is the lead auditor for a portfolio of owner-managed businesses across a variety of sectors. He also acts as a lead auditor within our specialist pensions audit team and has a leading role in the audit of pension schemes in the Pension Protection Fund Assessment Period.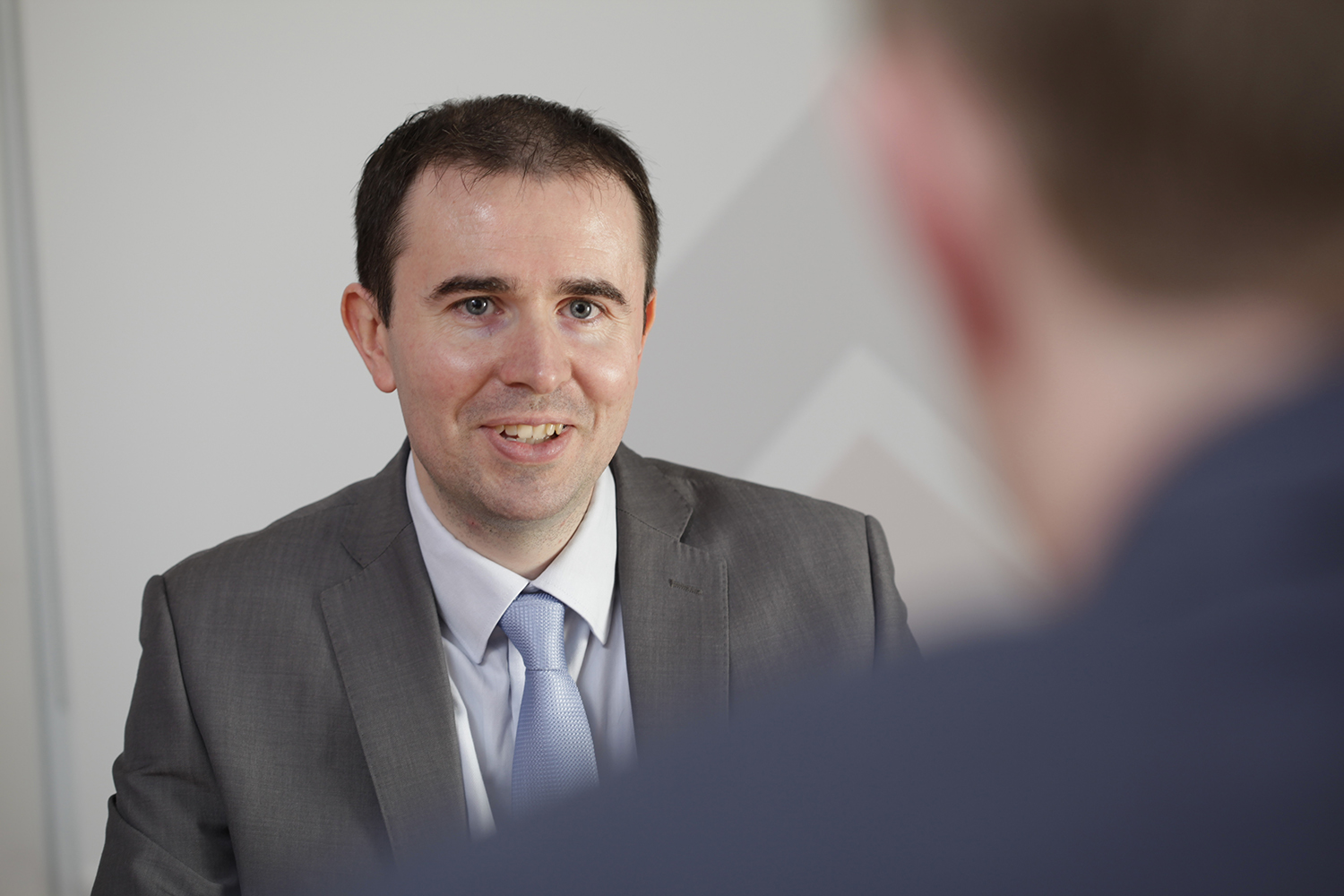 ​In addition, Andrew McMillan (Edinburgh), Graeme Bell (Stirling), Kirsty Irvine (Edinburgh), Lesley Clark (Edinburgh), Paul McGonigal (Inverness), Rachael Tate (Inverness) and Rhona Shand (Huntly), have been promoted to Senior Manager.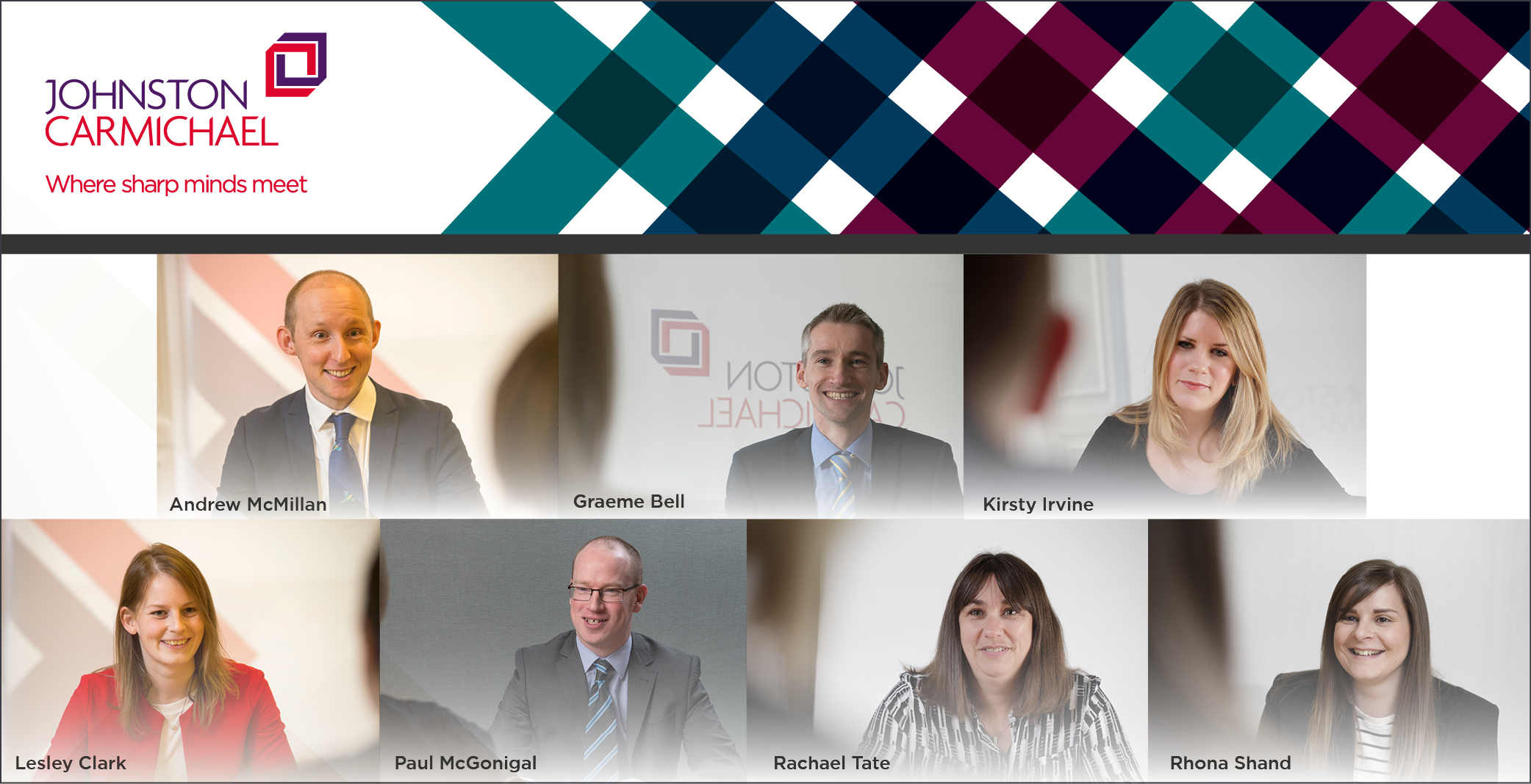 Andrew McMillan joined the firm in 2016 from Anderson, Anderson & Brown. He holds degrees in Politics (University of Dundee) and Accountancy and Finance (Abertay University) and is a member of the Association of Taxation Technicians (ATT). At Johnston Carmichael, Andrew works as part of the innovations taxes team, leading and assisting with R&D and patent box claims for clients throughout the firm.
Graeme Bell joined the Stirling office as a Business Advisory Manager in early 2016 from Saffery Champness in Edinburgh. Graeme obtained a degree in Accountancy with Business Studies at Stirling University in 2006 before completing his ACCA exams in 2009 whilst training with a small CA firm in Edinburgh. He joined Saffery Champness as an Audit Senior in 2010 and progressed through to Audit and Accounts Manager during this time, looking after a large portfolio of mainly small companies but also trusts, charities, some large groups and one AIM listed client. He is responsible for a portfolio of clients in the Stirling office; being their main point of contact and ensuring all their accountancy, taxation and advisory needs are being met.
Kirsty Irvine joined the firm in October 2015; starting in Marketing before taking on more Business Development responsibilities and transferring full time into that team. She manages JC Exchange (Johnston Carmichael's dedicated support network for accounting and finance professionals) and she works with clients in the Technology sector amongst other things. Kirsty's had a varied career over the past decade; she worked in a PR & Comms role for the British Army's charity in London, for Estee Lauder Companies in New York, and graduated in history & literature which entailed living in Atlanta, Georgia. Relationship management, whether with corporate clients, internal stakeholders or journalists, has always been an integral (and a favourite) part of her professional roles.
Lesley Clark joined the firm in 2011 as a graduate from Edinburgh University, working in the Audit Business Line. Once her CA studies were completed, Lesley spent four months on secondment with PKF Gold Coast. Upon her return to Scotland, Lesley managed a portfolio of Audit clients, across a number of sectors. From there, Lesley moved to an operations role within the Audit Business Line, and has been involved in a variety of Firm-Wide change projects.
Paul McGonigal joined Johnston Carmichael in 2016 after working in New Zealand. He studied Law at The University of Glasgow before completing a Masters Degree in International Law at the University of New South Wales in Sydney. After leaving university, Paul briefly worked as a trainee bank manager before finding his true calling in tax, joining PwC as a graduate specialising in VAT and completing his CTA qualification in 2007. Paul works in both the Inverness and Elgin offices, advising clients on a range of VAT issues including land and property transactions, business transfers and HMRC audits. In addition to VAT, Paul is also part of the firm's Scottish Taxes team with a focus on advising on Land and Buildings Transaction Tax (LBTT). Paul regularly presents at client seminars and provides technical updates on VAT and LBTT as well as providing internal training to staff.
Rachael Tate joined the firm's tax business line in October 2013 and the majority of her time is spent managing the day to day running of the Inverness Corporation Tax department. Rachael is a qualified CA (ICAEW) and Tax Advisor (CIOT) and has worked with a number of firms. Rachael's initial training was undertaken in general practice at a small regional practice in Essex and her tax qualifications completed whilst at PKF working in a mixed tax role in Leicestershire. Rachael has worked in general practice, with a specialism in Agriculture, for Whittingham Riddell in Shropshire and specialised in corporate tax with KPMG in Leicestershire. Rachael then moved into industry working with Aggregate Industries plc, primarily on UK corporation tax compliance.
Rhona Shand joined the firm straight from school in 2004 working in the old Johnston Carmichael Thainstone office within the mart as an accounts assistant and moved to the Huntly office six months later. Within the next couple of years she moved full time to the corporate department. Rhona first completed the AAT qualification and then ACCA, achieving membership status in 2011. In 2014 Rhona took charge of the running of the Huntly corporate department, overseeing the preparation of the corporate accounts of around 130 limited company clients and a small number of audits.
Our people are our greatest asset and I'm delighted to recognise the contributions made by these individuals over the years. We place great emphasis on developing talent from within and these promotions continue to ensure the service and expertise we offer our clients is of the highest standard.
Sandy Manson
Chief Executive