Johnston Carmichael joins Neurodiversity in Business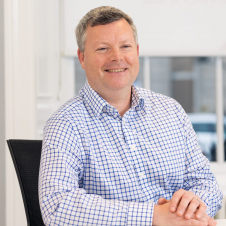 Martin Osler
Chief People Officer
Leading independent accountancy firm Johnston Carmichael has recently become a member of Neurodiversity in Business, to help promote understanding and inclusion of the neurodivergent community in the workplace.
Neurodiversity in Business (NiB) is an industry group which supports the participation of neurodivergent individuals in the workplace. NiB brings together the knowledge of neurodivergent experts and leading businesses, to share best practice and improve the employment and experience of the neurodiverse workforce.
Neurodiversity describes many commonplace conditions which alter the way people perceive and interpret information, and the world around them. Conditions include (amongst others) autism, dyslexia, dyscalculia and ADHD (Attention Deficit Hyperactivity Disorder). Across the UK, various reports show that between 15-20% of people are neurodivergent.
Led by CEO Dan Harris, NiB aims to help employers understand the benefits and strengths of neurodiversity in the workplace; empower neurodivergent people to navigate a successful career path; and help neurotypical colleagues understand how to better support and respect neurodivergent teammates. NiB has close partnerships with leading organisations including the National Autistic Society, the ADHD Foundation, the British Dyslexia Association; Diversity and Ability; and many more.
Joining NiB is part of Johnston Carmichael's commitment to remaining a progressive and diverse employer, with equality and inclusivity firmly embedded in its culture. The firm has a People and Culture Forum which was established to generate and implement ideas for positive change throughout the business, and within the Forum there are a variety of sub-groups dedicated to leading change in specific areas.
One of these sub-groups is focused on Diversity. The group works to ensure that Johnston Carmichael continues to represent people with different perspectives, skillsets, and from a range of backgrounds and ethnicities.
Martin Osler, Chief People Officer and Chair of the People and Culture Forum, said: "We are pleased to join Neurodiversity in Business and further demonstrate our dedication to maintaining a welcoming and inclusive workplace.
Our aim at Johnston Carmichael is to foster an environment in which each of our people has the support and resource they need to thrive. We're excited to work with NiB and share the good work we're doing as well as learn from others.
Dan J Harris, CEO of NiB, said: "We are delighted that Johnston Carmichael has become a member of NiB. It signals their commitment to ensuring a truly inclusive workplace and a desire to strive for the best in diversity and inclusion standards. We look forward to working with Johnston Carmichael and all our members in delivering meaningful change for the neurodivergent across business."
Find out more about Johnston Carmichael's People and Culture Forum here, and for further information about Neurodiversity in Business visit their website.