We're local, we're national and we're all connected.
At Johnston Carmichael, we've been connecting businesses and communities for over 80 years, across Scotland. Through sponsorships, we associate our brand with partners who share our values and ambitions.
The sponsorships and partners we choose reflect the geographical areas in which we live and work as well as the key sectors our clients operate in. But on an additional level, they reflect our ambition to make positive change in our local communities, and help us offer unique experiences to our staff and our clients.
What we sponsor
We are currently involved in a range of sponsorships which support the local areas aligned to the 12 offices we have across Scotland and support the key sectors our clients are based in, from food & drink and agriculture, to technology and life sciences.
Spotlight on...The Round Britain Climate Challenge
We're so excited to join famous faces such as Dame Judi Dench, Sir David Attenborough and Sir Ranulph Fiennes in helping drive the UK's green revolution as sponsors of the Conservation Without Borders 'Round Britain Climate Challenge'.
The Round Britain Climate Challenge is a world-first expedition being undertaken by 'the human swan' Sacha Dench, an Australian biologist, conservationist and adventurer, between June and August 2021. Sacha is flying over 3000 miles around mainland Britain in a specially adapted, green electricity powered paramotor.
The challenge raises awareness of a cause very important to our mission as a business and as an employer so we are very proud to be involved. The expedition is aiming to inspire people to take action to reduce carbon pollution in the run up to COP26, the UN Climate Change Conference taking place in Glasgow later this year. As advisers to businesses in a wide range of sectors which will be significantly impacted by climate change, we're passionate about working with our clients to achieve net zero and deliver on the wider decarbonisation agenda. We are committed to helping position Scotland as a global hub for sustainable infrastructure and renewable energy investment, and our specialist Energy, Infrastructure and Sustainability team works closely with experts in our other industry specialist groups such as Technology and Agriculture and Landed Estates in order to deliver a renewable energy solution to a diverse range of clients across the country.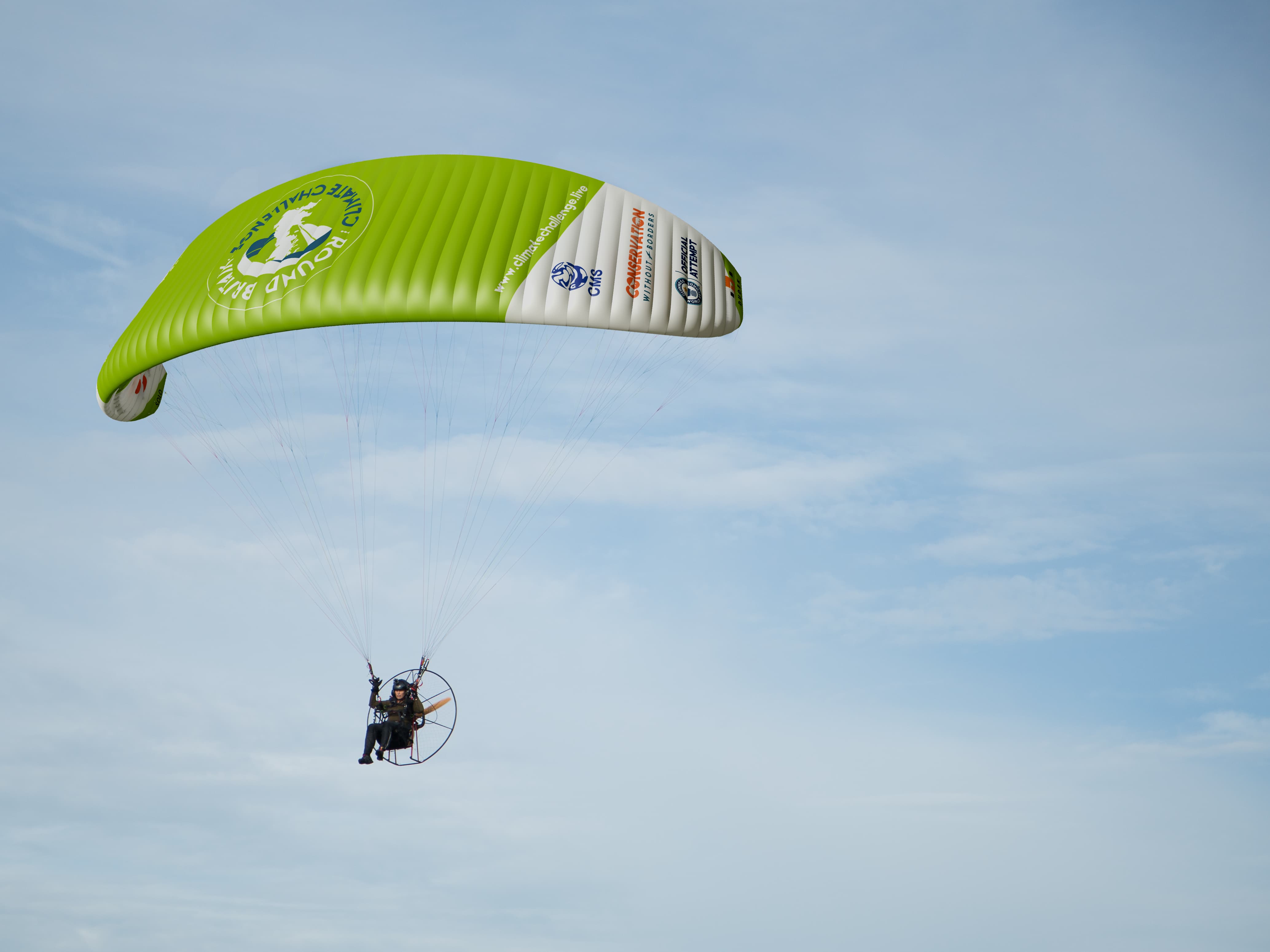 We're also participating in a climate action world record attempt - Conservation Without Borders has partnered with Count Us In to launch the largest global effort to set the Guinness World Record for the most people pledging to take action against climate change in one month, and sharp minds all over JC will be pledging to take at least one of sixteen simple steps to reduce their carbon footprint between 18 June and 17 July. Everyone can participate, so get in touch if you'd like to find out more and join in!
I am very thankful to Johnston Carmichael and all the sponsors and supporters who have stepped up to make this happen. From those that invested to those sharing their stories, this has been a mass effort. Along with testing the capability of electric flight, and challenging what we think is possible, together we want to capture the imaginations of the young and old, rural and urban, and focus on answers to the climate crisis – not problems - and encourage everyone, to get involved. Climate change has to be seen as a mountain we can climb, not a dark cloud on the horizon too big to think about.
Sacha Dench
CEO & Founder of Conservation without Borders; UN Ambassador for Migratory Species
Spotlight on...The Kiltwalk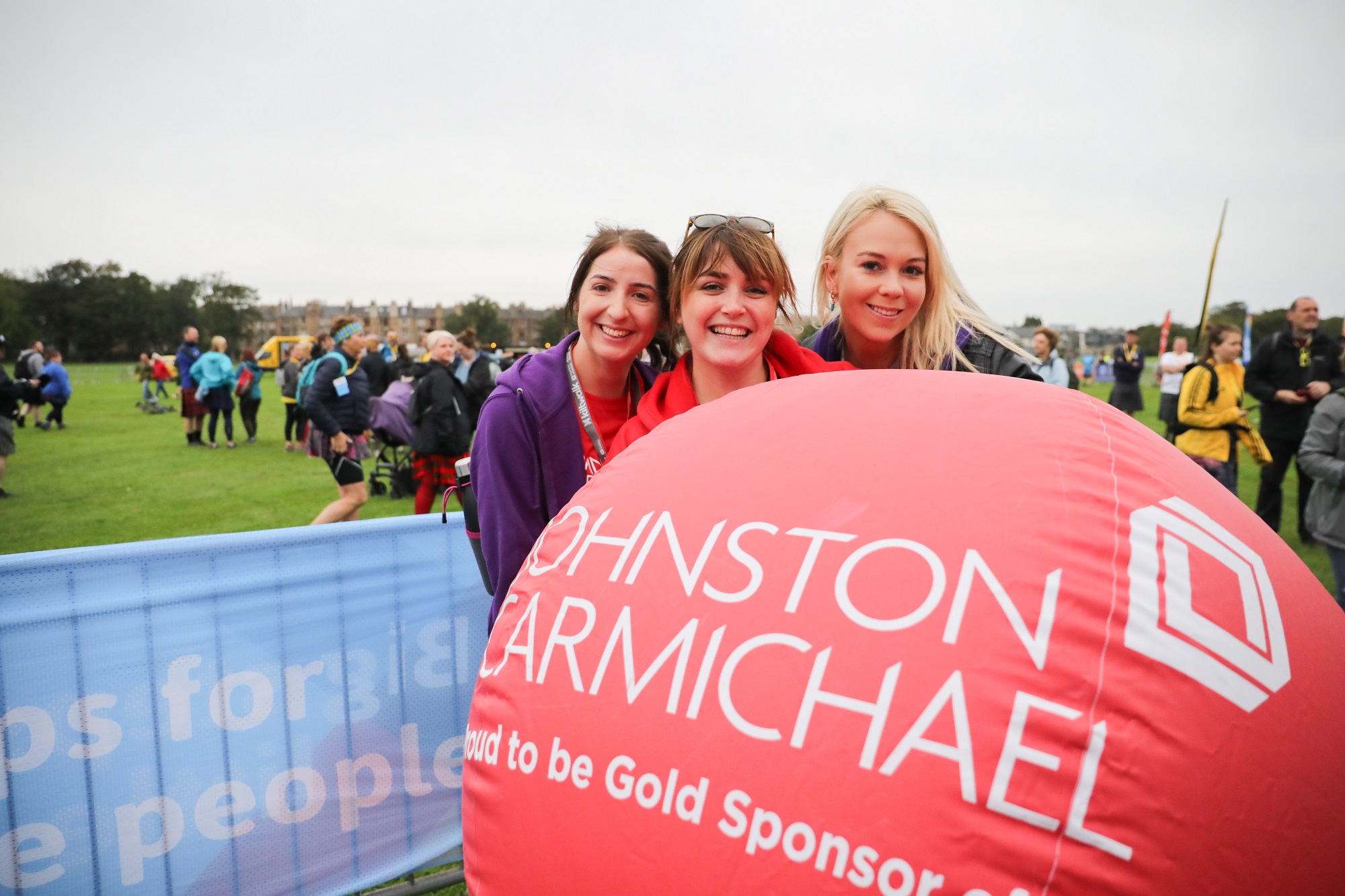 We are thrilled to be Gold sponsors of The Kiltwalk for a fourth year running, enabling us to support the communities in which we live and work, With 850 staff and partners in our business, we really can make a difference and we've been urging our staff to raise as much as they can for each event. It is truly rewarding to know that every stride, stroll and wander will help to transform lives all across Scotland.
We've raised a fantastic £45,000 for charities across Scotland as part of our Kiltwalk efforts since taking on Gold Sponsorship.
This year we would love for you to #walkwithus at any of the four Kiltwalks in Edinburgh, Glasgow, Dundee and Aberdeen - simply get in touch if you'd like to join us as we stride all over Scotland.
We really value the contribution by Johnston Carmichael's employees. It's hugely rewarding to see how the company's staff got behind the Kiltwalk as part of the gold sponsorship deal.
Paul Cooney
CEO, Kiltwalk
Our sponsorship criteria
Geographical relevance - it should be able to support and reflect the geography of our business, with either a Scotland wide appeal or profile in one of our 11 locations.
A good fit with our business - the aims and values of the sponsorship should be aligned with our own
Complement our other activities - it should work well with our other business and marketing activities
Timescales - we rarely consider sponsorships with less than six months notice. This ensures we have ample opportunity to plan and execute activity to support each sponsorship
Exclusivity - we require exclusive rights in our industry sectors
Find out more about the work and the team at Johnston Carmichael.