World Gin Day: Garden Shed Drinks Company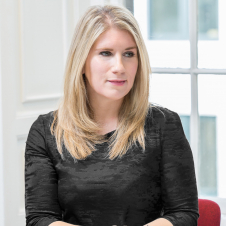 Kirsty Irvine
Business Development Senior Manager
From pounding the pitch at Murrayfield to foraging the gardens of Glasgow's West End, what a difference a couple of years makes for the founders of Garden Shed Drinks Company. It all began with four mates sat around the dinner table one evening chatting over a few drinks; the idea of creating a unique gin inspired by botanicals found on their doorstep was introduced which quickly turned into a reality and is now a thriving business.
Dreamt up by retired Glasgow Warriors & Scotland player Ryan Grant, his wife Maxine, and current Glasgow Warriors & Scotland fly-half, Ruaridh Jackson and his wife Kirstin, the group created a clean, fresh, flavoursome gin that gives back to the environment by supporting Scottish charities The Bumblebee Conservation Trust and Trees4Scotland.
For World Gin Day 2019 we sat down with co-founder of the business, Ruaridh Jackson, professional rugby player by day and distiller by night, to find out more.
Tell us more about the idea & inspiration behind Garden Shed Gin:
It all started nearly two years ago; like all great ideas it happened over a few drinks, Ryan threw it out there that we should make gin in our spare time whilst playing rugby, so we decided to pull the trigger and go ahead with it. We bought a little still online and started mucking about in the garden with a few recipes. After a lot of testing we eventually developed one that we were all happy with so took it to market.
Originally we just saw it as a hobby, targeting the west end of Glasgow and do cycling deliveries, but things grew a lot quicker than we anticipated and suddenly we were going to all parts of the UK and involved in major events so had to revisit our original plan.
Was creating an eco-friendly gin a core business objective?
It's one of them; at the beginning Ryan and I were still in full time employment, so profit wasn't the biggest incentive. Ryan's got an environmental science degree, his wife Maxine is from Zambia and grew up on a reptile farm amongst incredible nature, my wife is a Landscape Architect and I've always been very outdoorsy, so using local resources in a sustainable way is something that's very much wired in all of us. We're taking resources from the environment so wanted to replenish those stocks and donate to associated charities. We support The Bumblebee Conservation Trust and Trees4Scotland which is something we're very passionate about.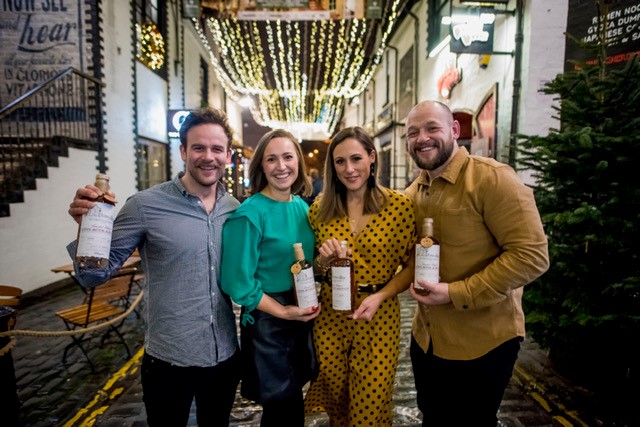 Company founders Ruaridh Jackson, Kirstin Jackson, Maxine Grant and Ryan Grant. Photo by Craig Watson.
When it became evident that you had a viable product on your hands, how did you learn about running & growing a business?
Being rugby players, we've been lucky to have a strong network of people around us so have been able to seek lots of advice from different avenues. Having four founders means we all have different strengths; now that Ryan has retired from rugby he does a lot of the accounts & numbers and his wife Maxine oversees the marketing. My wife does all the branding and on my days off I'm out doing business development. We only wrote a business plan very recently - we went about 12 months without one! So we're still shooting from the hip on a few things but now we have targets, a growth strategy, a marketing plan etc. We haven't had to seek outside investment yet as we've grown by bootstrapping and organic sales, but that could be on the horizon and we're fortunate to have expert advice to support that.
You're still a professional rugby player; how do you juggle both roles and how has your sporting background helped the business?
It's tough - there's not really any days off any more! The lazy days off from rugby that I used to enjoy I now use to get out & about meeting new bars, retailers, those in the industry - I've had to be a lot more efficient with my time.
Ryan and I have used our rugby network a bit to help grow the business; our mates have been brilliant with online engagement and raising our profile on social media. But we don't ram our backgrounds down people's throats as we want the brand and quality of the gin to speak for itself. But our sporting connections have opened a few doors for which we're very thankful.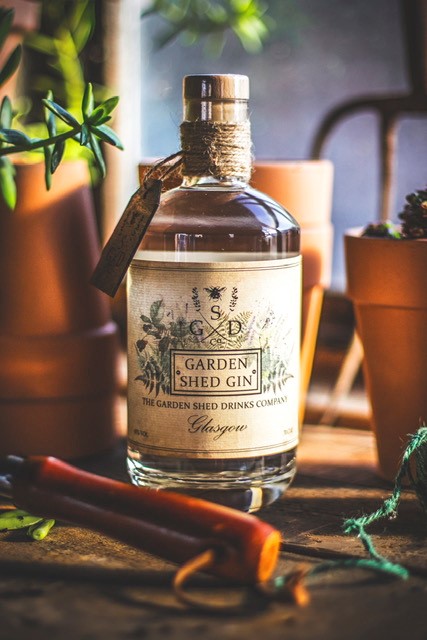 Photo by The Gin Cooperative.
As a start up, what support have you had from the Scottish food & drink industry?
The support we've had has been awesome; people have been really friendly and open to giving us advice despite us being so new to the industry. We've had a lot of help from Eden Mill in St Andrews where we were originally contract distilling, we wouldn't have been able to get to where we are today without them. And we've also had great professional support which has been vital; Stephen McGowan, a licensing lawyer at TLT introduced me to Johnston Carmichael's drink specialists - Paul Cochrane, a duty & licencing expert and Adam Hardie, the firm's head of food & drink. One of my ex team members, Graeme Morrison, now actually works at JC so we've developed a great relationship with the firm. Given Scotland's global reputation in food & drink, it's an exciting industry to be involved in; at the moment we're a very small part of it but hopefully we can keep growing and making a valuable contribution.
What's been your top moment so far for Garden Shed Gin?
The first time you see the product on a shelf somewhere and people choosing to buy it, that's pretty cool. We now have a few wholesalers so seeing the gin on sale in lots of new places never fails to put a smile on my face. We were also lucky enough to win a silver medal at the World Spirits Awards within a few months of starting up so that was a big shock and good recognition for a pair of amateur distillers!
GSD has grown quickly for a business that is less than two years old; what's been the key to success and what advice would you give to other start ups?
There's definitely been an element of luck but there's been a lot of hard work and we've really put in the hours when coming up with the recipe, the branding, and making new sales. Being professional sportsmen, Ryan and I are very competitive by nature so that and wanting to create product we're really proud of, helps drives us forward.
As for advice to others, starting your own business is daunting so you want it to be something that you're genuinely excited about and you enjoy doing so are willing to put in the extra effort. There's a lot of hard work and tough times, we still have some down moments that push the stress levels high and it's certainly not an easy ride, but if you're passionate about it and enjoy it then you'll push through and make it work.
Find out more: https://thegardensheddrinksco.com/