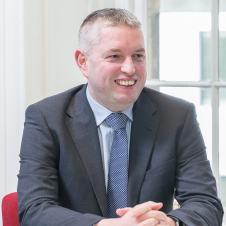 James MacAulay
Technical Manager
Every day you face risks and the main risk we discuss within Johnston Carmichael Wealth prior to making a recommendation is investment risk. This is the risk of you losing money through a recommendation we make.
This risk is real! There is no certainty with any investment and you could lose all, or part, of the money you invest.
Despite the risks, the only way for you to grow your money in real terms (above inflation) is by investing in real assets which include stocks and shares or property.
This means that in order for you to reach your goals you might have to accept investment risk, which may be outside your comfort zone.
This is why we only recommend reputable firms to our clients and we never endorse the latest fad, such as crypto currencies, Brazilian rainforests or overseas property schemes.
If you invest through us, we will be there to make sure you are comfortable with our recommendations; but you should always know why you are investing:
This is not about investment risk, it is about knowing what the goal is and designing your plans around this.
'Begin with the end in mind' - Steven R. Covey
Knowing what you want to achieve is essential as this will allow you to build your plans and investments to meet these goals. Ensuring that as you move forward, you are measuring what matters to you, and your family.
How can we help?
We can help to build a financial plan that suits your needs and attitude to risks helping you live life on your terms. To discuss this further please contact me or your local Johnston Carmichael Wealth financial planner who will be happy to meet with you and explore your goals and options.
Disclaimer: While all possible care is taken in the completion of this blog, no responsibility for loss occasioned by any person acting or refraining from action as a result of the information contained in this blog.
Nothing in this blog constitutes advice to undertake a transaction and professional advice. Johnston Carmichael Wealth Limited is authorised and regulated by the Financial Conduct Authority.