Wealth Market Commentary - December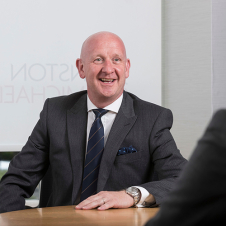 Craig Hendry
Managing Director & Chartered Financial Planner
The traditional 'Santa Rally' led the FTSE 100 to close the year at an all-time high of 7,687.77. Given the uncertain outlook, both economically and politically, it is difficult to predict what will be in store for markets during the next 12 months'.
December saw Derek Mackay present his draft Scottish Budget. For our full analysis of the Scottish Budget please click here.
UK inflation continued its upward trend and hit a six year high of 3.1% in November. This latest increase continues to put strain on household budgets as the average weekly wage only increased by 2.2%.
In the US, President Trump finally passed his first major piece of legislation which will see corporation tax fall from 35% to 21%. It is expected this will bring monies that have been harboured in other areas of the world back to the USA. The thought is that this will increase tax receipts allowing the US Government to fulfil another promise, namely investing in infrastructure.
The Dow Jones continues to go from strength to strength, finishing the year up just over 25% after hitting 70 all-time highs along the way. The index closed 2017 at 24,719.22 just shy of the record high of 24,837.51, set on 18 December.
After the shock of Brexit, Sterling has continued its recovery against the Dollar. In the year Sterling rose 9.6% to 1.3522.
Oil had a strong year, rising 17.69%. The bulk of the increase is attributable to the OPEC cartel who cut production levels back in November 2016. The effects of the cut have finally taken hold of the price of crude which stood at US$66.87 at the end of 2017. The lower production levels are likely to continue until the end of 2018, but will be subject to review at future OPEC meetings.
| | 29 December 2017 | 1 month | 6 months | 12 months |
| --- | --- | --- | --- | --- |
| FTSE 100 | 7,687.77 | 4.93% | 5.13% | 7.63% |
| GBP/USD | 1.3522 | 0.12% | 4.06% | 9.60% |
| GBP/EUR | 1.1249 | -0.85% | -1.21% | -3.76% |
| Brent Crude (US$) | 66.87 | 5.19% | 39.55% | 17.69% |
| Gold (US$ per oz) | 1,302.80 | 2.18% | 4.93% | 13.53% |
Got a question?
If you would like to discuss anything contained in this article, please contact a member of our Wealth Team by email on enquiries@jcwealth.co.uk or your usual local office Financial Planner.
Nothing in this communication constitutes advice to undertake a transaction and professional advice should be taken before investing. Any observations are purely commentary on markets. This material is not investment research and the content should not be treated as an offer or invitation to buy or sell securities. Past performance is not a reliable indicator of future results and is no guarantee. The value of investments may fall as well as rise. Changes in exchange rates between currencies can cause investments or income to go up or down.