The million-dollar question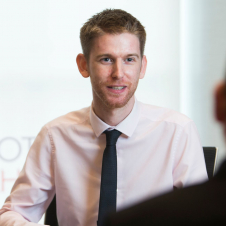 Grant Meldrum
Technical Support
I remember when I was younger and asked what I call 'the million-dollar question'; What do you want to be when you grow up?
I left school after achieving my standard grades and since then I have gained 14 years of practical work experience within financial services; I even had a short stint recruiting for financial services too. However, one thing that I haven't managed so far is to make a start on gaining my professional qualifications. I currently work within the technical support team at Johnston Carmichael Wealth and; as I approach my one-year work milestone and having recently turned 30, I find myself asking this very question again (minus the 'grown up' part!).
My career so far
In my current position as Technical Support, I deal with a wide range of daily tasks from fund switches to limited report writing and everything else in between to help the financial planning team develop recommendations and solutions for clients.
Also, having previously worked for smaller and independent financial planning firms where the focus was more about ensuring business priorities are met rather than employee development; I find myself in a fortunate position with Johnston Carmichael Wealth because they believe in supporting and developing their staff.
Who knows?
My goal is to start working towards and gain my professional qualifications. The exams within the financial services profession are developed by the Chartered Institute of Insurance which provides an understanding of the profession.
As I start my journey to gain my professional qualifications whilst working at Johnston Carmichael Wealth, I am looking to my future with incredible optimism. Who knows where I will end up and what my final role in financial services will be but one thing I do know is that the opportunities are unlimited.
I will be sharing my journey and story with you through a series of blogs as I progress my professional studies and continue to develop my career.
So; what do I want to be (when I grow up)? My answer to that just now is that the world is my oyster and who knows? What I do know for certain is that I have a fantastic opportunity with Johnston Carmichael Wealth to start my studies and I know that this will ultimately lead to exciting job and career prospects for my future.
I hope you enjoy this series of blogs. Keep visiting our Wealth Insight section of our website for more updates and to continue reading about my journey. Until my next blog; I would love to hear your comments or questions so feel free to dialogue via the comment box below.
Disclaimer: While all possible care is taken in the completion of this blog, no responsibility for loss occasioned by any person acting or refraining from action as a result of the information contained in this blog.