The balancing act of cash
Over the past year, interest rates have reduced to a point where the highest instant access account yields about 0.5% and 4-year bonds only provide around 0.85% per annum.
Clients who enjoy our regular review service will know that we are always asking about cash balances and cash-flow. We all need cash; to pay monthly bills; to provide for known future expenses; as a buffer in case of emergency; and simply to sleep at night.
Naturally we want to ensure that all clients have an appropriate reserve. However, we also want to check that excess cash balances are not retained for the long term because in general, cash will lose value as the years slip by, simply because of the effects of inflation.
As the chart below shows, inflation over the last seven years has been low by historic standards: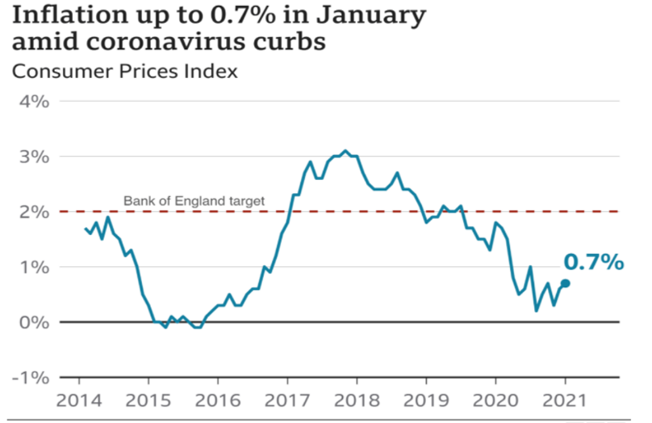 Source: Office for National Statistics
However, as you can see, even at modest rates of inflation cash loses value: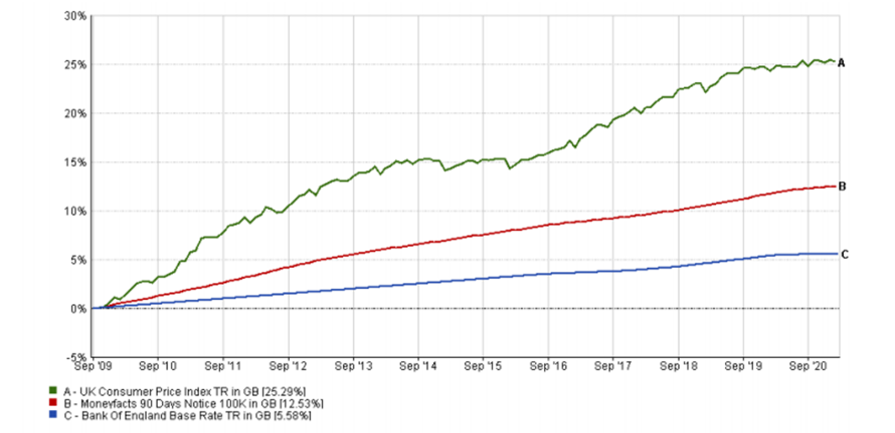 Source: 01/09/2009 – 17/02/2021 Data from FE fundinfo 2021
The Bank of England predict that inflation will rise in the future and so it is important to retain enough, but not too much, over the coming years and to invest the balance in a suitable portfolio to protect the real value of your money in the long term.
A further consequence of low interest rates has been an explosion in fraud. With investors searching online for a better deal this has become a fertile ground for scammers. This is an opportunity to remind you to be even more careful when considering direct offer opportunities whether these come through the post, over the phone or online.
As part of your research you can check the FCA Scamsmart website here.
You can also contact me or your usual Financial Planner. We are well resourced and can research opportunities for you to let you know if they are genuine and if they are appropriate for you.
Johnston Carmichael Wealth Limited is authorised and regulated by the Financial Conduct Authority.
Please note: This communication should not be read as financial advice. While all possible care is taken in the completion of this article, no responsibility for loss occasioned by any person acting or refraining from action as a result of the information contained herein can be accepted by this firm. This blog does not constitute investment advice or recommendations to buy or sell investments and you should not place undue reliance on such statements or returns, as actual returns and results could differ materially due to various risks and uncertainties.
Figures refer to the past and past performance is not a reliable indicator of future results. You may not get back the full amount of your investment.