Scotland's Food & Drink Sector post lockdown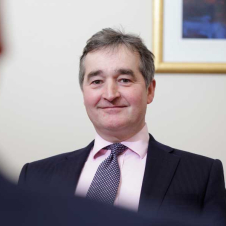 Adam Hardie
Business Development Partner and Head of Food & Drink
In the first of our Lockdown Reflections series, our Head of Food & Drink, Adam Hardie, shares his thoughts on the impact of coronavirus on the Food & Drink industry and what trends we see developing across the sector, after the lockdown.
Technology, wellbeing and the environment will all have a place at the table
These are challenging times for businesses, with many producers working hard just to survive, however, learning from each other, sharing best practice and making useful connections has helped us to come to terms with the current situation, collaborate and plan for a virus free future.
We've seen this collaboration firsthand within the Food & Drink Sector. At JC, we host a quarterly Food & Drink Club for leaders of Scottish food and drink businesses to discuss current issues within the sector, across Scotland. Our latest catch-up was held online and clearly the topic up for discussion was coronavirus, the impact on food and drink producers and what the future could hold.
Changing buying behaviour from March - April
For those producers supplying only the multiple and independent retailers, March and April saw phenomenal demand as consumers filled their shopping baskets and deep freezers, before demand levelled off to a norm. However, those producers with exposure to food service pubs, restaurants and hospitality saw their revenues temporarily terminated. Home delivery was previously a small element in the typical sales mix. However, during the coronavirus crisis, direct-to-consumer (D2C) has been a star performer, with sustained demand off the scale and producers struggling to keep up. Many producers felt the impact of social distancing in their workplace as employees were uncomfortable or chose not to work which reduced productivity.
Food for thought
Through adversity comes strength and there were several examples of producers pivoting with new products and innovative ways to make sales. Craft brewers extracted beer from kegs to put into cans or bottles to meet demand, whilst distillers made hand sanitisers. Producers reversed food service sales into retail to invent new ways to reach customers. Export of food and drink was lost for many as air haulage and logistics came to a grinding halt. However, the flip side of limited exports was limited imports, which created new opportunities for local producers to fill the gap. Finally, many furloughed workers took up roles as fruit pickers solving a Brexit problem of limitation of EU nationals.
Many assumed the food and drink industry would survive the virus without a scratch, we all have to eat. However, the real picture was mixed with the majority experiencing a negative impact. So, what now for the road ahead?
Technology keeping us connected
Technology has been a great enabler through the virus, as video meetings allowed business to continue. Those who had invested in such platforms as Microsoft Teams in advance of the emergency were in a strong position to support home working for their people. Furthermore, the seamless ability to connect people by video across different locations has been a great success. I am sure this will continue post virus and undoubtedly assist with increased productivity.
Sustainable products and lifestyles
One of the worries with the negative impact on the stock market, is that there will be less money to invest in growing food and drink companies. Less business angels with funds which will undoubtedly hamper the early stage growth companies.
Post coronavirus I believe we will see an increased demand for local and healthy produce, sustainable and healthier lifestyles, and a more caring society with a positive impact on waste.
The role of local fresh produce
The independent convenience retailers were the trusted local supplier during the virus and this, combined with continued surge in food to go, will continue to drive local shopping.
A great example of all these elements in action was launched by local fish producer, Sutherlands of Portsoy. Sutherlands launched an innovative home delivery service with a healthy and sustainable alternative to processed food from the multiples. They teamed up with various other local food producers and The Rowett Institute, (who created a range of healthy and nutritious recipes), to deliver 1,000 grocery boxes a week to North East households.
Caring for our planet and the sustainability agenda
John Farley from Sutherlands of Portsoy said: "We felt we had the infrastructure already in place with our door-to-door fish van sales. To create a fresh food source which can be made into nutritious meals has to be the way forward once this virus has passed. Moving away from processed products which do little to improve our wellbeing has so much value." The food boxes also mitigate against product waste and packaging.
And finally, I believe that caring for our planet and the sustainability agenda will come back into a sharp focus post coronavirus. A positive end to a horrific experience for families and business.