No 'one size fits all' solution for labour challenges in the food & drink sector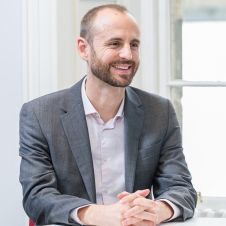 Stewart Pennington
Business Advisory Partner
The last 12 months have been an extraordinarily challenging time for all food and drink manufacturers, who have endured surging raw material costs and difficult price negotiations with their supply chain and buyers.
According to our latest Annual Food & Drink Industry Survey, carried out with 130 firms, cost base increases have risen by 10-20% on average, with some witnessing a hike of up to 30%.
Encouragingly, almost three out of five businesses in the sector remain optimistic about their future growth but have a common concern around access to labour.
While many anticipated the negative impact of Brexit on imports and exports, an unintended consequence of leaving the EU has been the limited availability and retention of labour.
Lazy Day Foods, which employs about 100 people and is currently recruiting for a further 10 roles at its gluten-, egg-, and dairy-free bakery goods facility in Harthill, is among the respondents that identified labour as an issue.
The business has focused on its employer brand and prioritised staff satisfaction to facilitate successful staff recruitment and retention. Measures have included investing in human resources to make sure it is recruiting the right people, establishing an enhanced induction process, increasing training opportunities and undertaking more consultation with the workforce – introducing a four-day week as a result.
Emer Bustard, joint managing director of Lazy Day Foods, explained:
"In the last two years, we have introduced positive transformational changes to our working practices in response to both our team's needs and the organisation's. 
"Most significantly we have trialled and introduced a four-day working week. Being one of the first food manufacturing companies in Scotland to do so, this has been met with resoundingly positive feedback from our team. It delivers an improved work/life balance with staff enjoying a three-day weekend each week. It additionally provides overtime opportunities outside of the standard weekend for those who want it.
"We are making Lazy Day Foods a great place to work, where people want to stay and be part of our family."
What we do know is that the sector is more resilient than ever following Brexit and COVID, and those that have survived are in good shape to deal with economic headwinds.
Other businesses who took part in our survey are addressing the issue by investing in automation.
Our research found that overall, almost two thirds (66%) of businesses had invested in more automation, assisting with both labour and efficiencies, but this picture was reversed amongst smaller businesses, almost two thirds (60%) of whom had not spent anything on automation.
It is a concern if scale is restricting the ability of SMEs to adopt innovative practices and access the tax benefits that come with such activities.
The UK's revised capital allowances scheme, introduced following the Spring Budget, was created to support business investment in equipment including automation.
From April 2023 to the end of March 2026, companies can claim 100% capital allowances on qualifying plant and machinery investments. This allows companies to write off the cost of investment in one go. It also means that for every pound a business invests their taxes are cut by up to 25p. Businesses should consult their advisers for full details.
Of course, there is no one-size-fits-all solution, and increased automation won't be the answer for all food and drink businesses with labour needs. Furthermore, resolving staff shortages won't happen overnight – as Lazy Days Foods' innovative approach has shown, it takes time, consideration, and concerted effort to drive positive change.
What we do know is that the sector is more resilient than ever following Brexit and COVID, and those that have survived are in good shape to deal with economic headwinds.
Export of Scottish food and drink products soared to a record £8bn last year, so growth continues, and there remains plenty of opportunity for our fantastic food and drink companies to flourish.