Market Commentary - March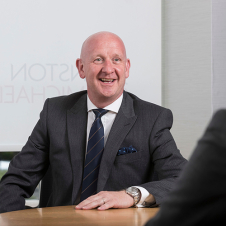 Craig Hendry
Managing Director & Chartered Financial Planner
Donald Trump grabbed the headlines in March with the announcement that he was imposing trade tariffs on Chinese goods exported in to the United States. Global markets did not react to these sanctions well, which led the FTSE 100 to a twelve month low of 6,888.69. He has subsequently moved to 'soften' his stance on the matter, however, this is unlikely to be the last we hear of US trade tariffs.
In the UK, the Chancellor delivered his Spring Statement. It was a reasonably positive statement that included a note that the growth forecast for 2018 had revised upwards from 1.4% to 1.5%. The Bank of England maintained the base rate of interest at 0.5% in their March meeting. What was most surprising about the meeting was the suggestion that rates could be lifted again in May. Inflation fell slightly in March to 2.7% from 3% as the effect of "Brexit" on prices starts to wane.
The US Federal Reserve increased the base rate of interest to a range of 1.5-1.75% as the economic outlook for the US looks rosy. This is the sixth increase in rates since the global crisis and the first since new Chair Jerome Powell replaced Janet Yellen.
Crude oil continued to strengthen through March as lower US drilling activity pushed prices to US$70.27. It will be interesting to see if the OPEC cartel continue with their production cut agreement which is due to expire at the end of the year.
| | 29 March 2018 | 1 month | 6 months | 12 months |
| --- | --- | --- | --- | --- |
| FTSE 100 | 7,056.61 | -2.42% | -4.29% | -3.64% |
| GBP/USD | 1.4021 | 1.68% | 4.64% | 11.86% |
| GBP/EUR | 1.1411 | 1.05% | 0.61% | -2.61% |
| Brent Crude (US$) | 70.27 | 6.83% | 22.12% | 33.01% |
| Gold (US$ per oz) | 1,325.50 | 0.55% | 3.57% | 6.11% |
Disclaimer:
Nothing in this communication constitutes advice to undertake a transaction and professional advice should be taken before investing. Any observations are purely commentary on markets. This material is not investment research and the content should not be treated as an offer or invitation to buy or sell securities. Past performance is not a reliable indicator of future results and is no guarantee. The value of investments may fall as well as rise. Changes in exchange rates between currencies can cause investments or income to go up or down.