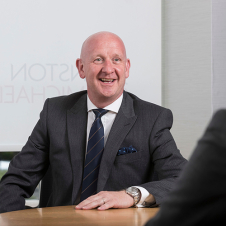 Craig Hendry
Managing Director & Chartered Financial Planner
The FTSE 100 finished March up 0.82%. The Bank of England held the base rate of interest rate at 0.25%, however, inflation crept above the bank's 2% target reaching 2.3%. If inflation continues to rise the Bank may need to consider increasing the base rate of interest, however most commentators believe this is sometime away.
In the US, the Dow Jones reached an all-time high of 21,091 on the first day of the month. However, the index finished the month down, settling at 20,663.22. The first real test of Donald Trump's presidency ended in a surprise defeat with the President failing to repeal Obamacare. This has taken the edge off the so called "Trump rally".
Crude oil has fallen 6.51% in March as global inventories show signs of increasing. On the plus side, there has been a slight reduction in the price of petrol at the pumps. (Or at least that is what is expected!)
Gold started the month poorly as the dollar continued to strengthen. However, following the rise in interest rates the dollar has started to weaken and gold has finished the month broadly even at US$1,249.20
| | | | | |
| --- | --- | --- | --- | --- |
| | 31 March 2017 | 1 month | 6 months | 12 months |
| FTSE 100 | 7,322.92 | 0.82% | 6.14% | 18.59% |
| GBP/USD | 1.2534 | 0.88% | 8.27% | -12.40% |
| GBP/EUR | 1.1717 | 0.14% | -9.96% | -7.20% |
| Brent Crude (US$) | 52.83 | -6.51% | 7.68% | 33.41% |
| Gold (US$ per oz) | 1,249.20 | 0.06% | -5.07% | 1.33% |
Sources: www.bloomberg.com and www.xe.com
Got a question?
If you would like to discuss anything contained in this article, please contact a member of our Wealth Team by email on enquiries@jcwealth.co.uk or your usual local office Financial Planner.
This blog is intended to provide a general review of certain topics and its purpose is to inform but not to recommend or support any specific investment or course of action.

Past performance is not necessarily a guide to the future. You may not get back the full amount of your investment.

Nothing in this communication constitutes advice to undertake a transaction and professional advice should be taken before investing. Any observations are purely commentary on markets. This material is not investment research and the content should not be treated as an offer or invitation to buy or sell securities. Past performance is not a reliable indicator of future results and is no guarantee. The value of investments may fall as well as rise. Changes in exchange rates between currencies can cause investments or income to go up or down.

Disclaimer: While all possible care is taken in the completion of this blog, no responsibility for loss occasioned by any person acting or refraining from action as a result of the information contained herein can be accepted by this firm.