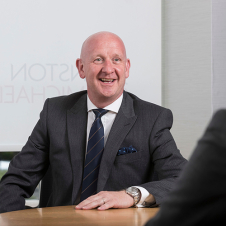 Craig Hendry
Managing Director & Chartered Financial Planner
The Bank of England cut its growth forecast for the UK from 1.9% to 1.7% for 2017, which is unsurprising given the uncertain economic outlook. The Bank also expect inflation to peak at around 3% later this year. Further evidence of the current economic uncertainty is slowly emerging with sofa retailer DFS noting a significant drop in sales.
The second week of the month saw a sharp sell off as tension between North Korea and the US heightened. This saw the FTSE100 hit an intra-month low of 7,309.96. The index finished the month at 7,430.62 as the Dollar strengthened against Sterling.
Over in America the annual Jackson Hole symposium was held from 24-26 August. The perceived key topics of Quantitative Easing and interest rates were avoided by Fed Chair Janet Yellen with talks mainly centring on financial regulation and free trade. Mario Draghi also made an appearance at the event to discuss the situation in Europe.
| | | | | |
| --- | --- | --- | --- | --- |
| | 31 August 2017 | 1 month | 6 months | 12 months |
| FTSE 100 | 7,430.62 | 0.80% | 2.30% | 9.57% |
| GBP/USD | 1.2887 | -2.27% | 3.72% | -1.84% |
| GBP/EUR | 1.0834 | -2.98% | -7.41% | -8.01% |
| Brent Crude (US$) | 52.38 | -0.51% | -7.31% | 11.35% |
| Gold (US$ per oz) | 1,321.43 | 4.10% | 5.85% | 0.95% |
As the situation in Europe improves the Euro continues to strengthen against Sterling. At some airports the exchange rate is nearing 1:1.
Given tensions between the US and North Korea as well as the terror attacks in Barcelona, gold has seen a 4.1% rise through August as investors head for safe havens.
Sources:
Got a question?
If you would like to discuss anything contained in this article, please contact a member of our Wealth Team by email on enquiries@jcwealth.co.uk or your usual local office Financial Planner.
Nothing in this communication constitutes advice to undertake a transaction and professional advice should be taken before investing. Any observations are purely commentary on markets. This material is not investment research and the content should not be treated as an offer or invitation to buy or sell securities. Past performance is not a reliable indicator of future results and is no guarantee. The value of investments may fall as well as rise. Changes in exchange rates between currencies can cause investments or income to go up or down.
Disclaimer: While all possible care is taken in the completion of this blog, no responsibility for loss occasioned by any person acting or refraining from action as a result of the information contained herein can be accepted by this firm.