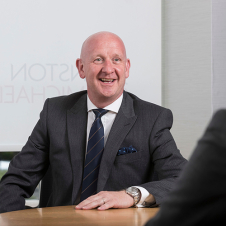 Craig Hendry
Managing Director & Chartered Financial Planner
One of the biggest talking points of April has been the recovery of the price of crude oil which rose 20% to US$48.13, which is now some 60% higher than the lows witnessed in January.
The buoyance seems to be driven by sentiment rather than fundamentals with supply still outstripping demand. The strengthening in the price has seen other commodities follow suit with Gold recording a rise of nearly 5% in the month.
The FTSE 100 is heavily influenced by commodity stocks and this has resulted in the index advancing by 1.08%. Despite the FTSE 100 strengthening through April and the strengthening Pound it has been a bad month for two big retailers in the UK, namely British Home Stores and Austin Reed, who have both entered administration.
Recovery in Europe has gathered some momentum with the growth figure for the first quarter surprising many observers, hitting 0.6% against the consensuses expectations of 0.4%
FTSE 100 – 6,241.89
GBP/USD – 1.4630
GBP/Euro – 1.2782
Brent Crude $48.13
Gold – $1,293.53 (per oz)
*Figures as at 29 April 2016
If you would like to discuss anything contained in this article, please contact a member of our Wealth Team by email on enquiries@jcwealth.co.uk or your usual local office Financial Planner.
---
Nothing in this communication constitutes advice to undertake a transaction and professional advice should be taken before investing. Any observations are purely commentary on markets. This material is not investment research and the content should not be treated as an offer or invitation to buy or sell securities. Past performance is not a reliable indicator of future results and is no guarantee. The value of investments may fall as well as rise. Changes in exchange rates between currencies can cause investments or income to go up or down.
Disclaimer: While all possible care is taken in the completion of this blog, no responsibility for loss occasioned by any person acting or refraining from action as a result of the information contained herein can be accepted by this firm.