Market Commentary September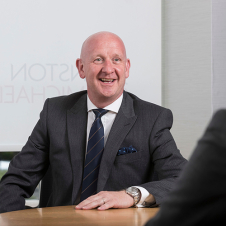 Craig Hendry
Managing Director & Chartered Financial Planner
September saw the Consumer Price Index measure of inflation hit 2.9% - a four year high as the effects of Brexit start to filter through into economic data. Interestingly, Average Weekly Earnings grew 2.1%. This means the cost of living has exceeded wage growth in the last 12 months, making many worse off. Following the jump in inflation, the Bank of England Governor Mark Carney has hinted at a small interest rate rise in the near future.
With inflation rising, Sterling has strengthened and as a result the Pound is up 3.97% against the US$ this month. As noted in previous commentaries, the bulk of earnings of the FTSE 100 are derived in Dollars, so the strengthening Sterling has led the index down 0.78% in September to 7,372.76.
Across the pond, the Dow Jones continues its upward trend and it closed an all-time high of 22,412.59 on 20 September. This is the 41st time the Dow Jones has reached a new high in 2017. The Dow Jones finished the month just off its most recent high at 22,405.09.
Oil up as the effects of production cuts earlier in the year come to fruition with the price per barrel reaching over US$58 before closing the month at US$57.54.
| | 29 September 2017 | 1 month | 6 months | 12 months |
| --- | --- | --- | --- | --- |
| FTSE 100 | 7,372.76 | -0.78% | 0.68% | 6.86% |
| GBP/USD | 1.3399 | 3.97% | 6.90% | 2.97% |
| GBP/EUR | 1.1342 | 4.69% | -3.20% | -2.03% |
| Brent Crude (US$) | 57.54 | 9.85% | 8.92% | 17.28% |
| Gold (US$ per oz) | 1,279.75 | -3.15% | 2.45% | -2.74% |
Sources:
https://www.thebalance.com/dow-jones-closing-history-top-highs-and-lows-since-1929-3306174
Got a question?
If you would like to discuss anything contained in this article, please contact a member of our Wealth Team by email on enquiries@jcwealth.co.uk or your usual local office Financial Planner.
Nothing in this communication constitutes advice to undertake a transaction and professional advice should be taken before investing. Any observations are purely commentary on markets. This material is not investment research and the content should not be treated as an offer or invitation to buy or sell securities. Past performance is not a reliable indicator of future results and is no guarantee. The value of investments may fall as well as rise. Changes in exchange rates between currencies can cause investments or income to go up or down.
Disclaimer: While all possible care is taken in the completion of this blog, no responsibility for loss occasioned by any person acting or refraining from action as a result of the information contained herein can be accepted by this firm.