Johnston Carmichael take 10% of ICAS Top 100 Young CAs list
The Institute of Chartered Accountants Scotland (ICAS) have announced their Top 100 Young CAs for 2019, and Johnston Carmichael are delighted to have 10 of our sharp minds featured on this prestigious list.
The Top 100 Young CAs list recognises the best and brightest chartered accountants aged under 35 from all over the world; members of the profession who are leading, innovating and inspiring.
The three themes guiding this year's selection are technology, trust and talent, with Johnston Carmichael candidates having been successfully nominated in all three categories. We caught up with our 10 high-flyers to find out more about them and why they've been selected.
Jordan Haldane - Audit Senior Manager, Glasgow
Keen to develop the next generation of CAs, Jordan mentors students through the ICAS Foundation as well as managing a team of staff within Johnston Carmichael. Jordan is also book-daft and has a particular obsession with the Harry Potter series. To his great dismay, his mum (who is a librarian) once turned down a signed first edition from JK Rowling before the books really took off!
How does it feel to be one of the Top 100 Young CAs in Scotland?
It's great to be formally recognised by ICAS and is a proud moment for me personally as well as for my family. To have your hard work and contribution to the profession acknowledged in a field where there are thousands of outstanding individuals is truly rewarding.
Suzanne Brownie - Tax Senior Manager, Edinburgh
Suzanne loves coming up with new ideas to stimulate growth, both for her clients' businesses and within Johnston Carmichael. Quite often when Suzanne explains she is a tax adviser, it is misinterpreted as being a taxi driver - she once had a full conversation about how complicated it can be driving in London as a cabbie!
What led you to a career as a CA?
Whilst at school I was torn between my interests in maths and sport. I did a summer internship in both professions; my accounting internship being at Johnston Carmichael. I remember doing a piece of work investigating a client's unreconciled bank accounts and the sense of achievement when the partner, Jim Porter, praised my work! I concluded that I wanted a career in accountancy and that sport could be my hobby outside of work.
Lesley Clark - Director and Head of Finance, Edinburgh
Lesley's career at Johnston Carmichael has progressed rapidly, from joining our graduate programme in 2011 to becoming Head of Finance in 2018 and a Director in 2019. Reaching dizzying heights both professionally and personally, Lesley is also our resident thrill-seeker, having completed New Zealand's highest bungee jump and Australia's highest tandem skydive!
Without my CA qualification I would never have been able to...
I would never have been able to build on my accountancy background, looking beyond the numbers at the operational and commercial aspects of the business and working in a role that I love.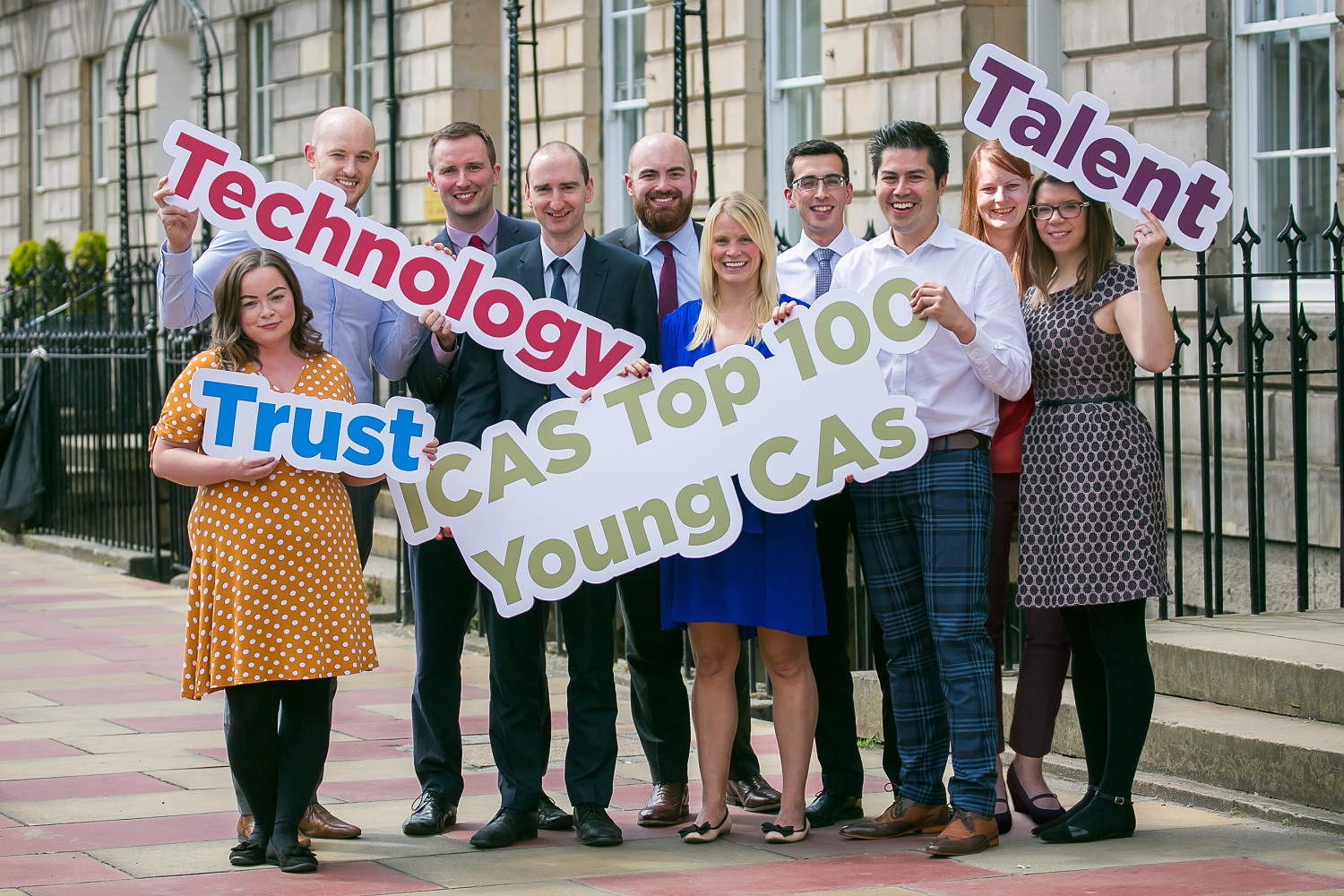 L-R: Colleen Welsh, Jordan Haldane, Darryl Urquhart, Philip Mowat, Steven Massie, Suzanne Brownie, Gavin Paterson, Joshua Williams, Lesley Clark, Natalie McIver
Joshua Williams - Tax Senior Manager, Edinburgh
Joshua is committed to giving back to his local community, volunteering in a finance role for his local church. As a boy, Joshua dreamt of opening the batting for England in the Ashes in the mould of Geoffrey Boycott. Instead he used his inner Boycott and his powers of concentration and determination to ace his CA exams!
What's your favourite aspect of being a CA?
It's all about the people; both the brilliant colleagues I work with in Johnston Carmichael's private client tax team and our clients. It keeps the working day varied, interesting and technically stimulating and I really enjoy helping generations of families to plan for their future. The CA qualification gives you the ability to work in range of sectors and industries.
Natalie McIver - Audit Manager, Glasgow
Natalie represents Johnston Carmichael in the pensions audit industry through her membership of the Pensions Research Accountancy Group (PRAG), helping to inspire trust and confidence in the profession.
How has working at Johnston Carmichael helped you become a Top 100 Young CA?
I started my training contract with Johnston Carmichael after I graduated from university and have been with the firm ever since. I've always felt that Johnston Carmichael is invested in my career. The firm has helped me achieve my goals and targets to reach the level I've attained today, and continues to provide support for the future and show that there are no barriers to success. It is a testament to the firm that so many trainees decide to stay on post-qualification; the opportunities and continuous support that Johnston Carmichael offer are second to none.
Gavin Paterson - Business Advisory Senior Manager, Edinburgh
Gavin is committed to ensuring that Johnston Carmichael's operations evolve in tandem with technological advances, having taken a lead role in several internal projects to improve efficiencies. In his down time, Gavin enjoys playing blues and jazz on the piano.
What do you see as the most revolutionary development in technology for the accountancy profession?
The profession is undergoing technological change at both a pace and scale never seen before. The development of cloud accounting in particular is transforming the accounting and tax compliance roadmap and delivery model. It is enabling business owners to spend more time focusing on their business and providing advisers with opportunities to help them meet their objectives with more timely financial and tax information. Johnston Carmichael is constantly adapting to this changing environment and I am enjoying playing a role within the firm in transitioning to this new way of working and supporting our clients on their journey.
Colleen Welsh - Business Advisory Supervisor, Edinburgh
Colleen is passionate about eliminating mental health stigma from the workplace and uses her platform as a CA to help raise the profile of these issues. She has recently become an ambassador for the Scottish Chartered Accountants Benevolent Association. Colleen's claim to fame is that she once spoke to Lewis Capaldi on the phone!
What would be your advice to anyone thinking about beginning a CA qualification?
Don't just think about it – do it. Your CA qualification will be the key that opens many, many doors throughout your career, including the potential to work anywhere in the world.
Steven Massie - Business Advisory Manager, Inverurie
Steven is dedicated to helping everyone around him meet their full potential. He lectures at Robert Gordon University every year; delivers internal courses for students; mentors at Inverurie Academy; volunteers for local charities and was a founding member of BNI Aberdeenshire. Steven also once modelled for a painting for an artist's portfolio which was then hung in Holyrood as part of a politics exhibit.
What do you think are the most important qualities of a CA?
Firstly, the will to do the right thing in all scenarios. It's also essential to be able to communicate complex accounting and tax terminology into language a client or another individual can understand and use for their decision making. Our role requires us to provide solutions to issues so problem-solving and logical thinking are important too, with good technical knowledge as a base.
Darryl Urquhart - Audit Senior Manager, Inverness
Darryl plays a key role in the continuous improvement of our specialist charity technical team, regularly presenting at charity forums and growing Johnston Carmichael's profile in the Third Sector. In his spare time, Darryl is learning to play the ukulele and the piano.
What's your top tip for anyone currently studying towards the CA qualification?
Don't be afraid to try new things that are outside your comfort zone, and gain as much hands-on experience as possible! It will be invaluable. The theory you learn as part of your studies becomes much clearer when you can relate it to real-life scenarios.
Philip Mowat - Audit Senior Manager, Glasgow
Philip has spearheaded several projects both internally and externally - from supporting clients with the implementation of data analytics and new auditing regulations, to setting a precedent for staff with new feedback processes. Prior to joining Johnston Carmichael, Philip worked in Marketing and helped launch what was at the time, the world's most expensive whisky. Philip's attempts to get a taste of this exceptionally rare whisky, 'to better understand the product', fell on deaf ears…
What do you think the future holds for the accountancy profession, and what part do CAs have to play in this?
I think that scrutiny of accounts will continue to increase, with accountability at the forefront of current political thinking. CAs will need to continually adapt to the challenges facing the profession and ensure public trust in accounts - and the audit process in particular - can be maintained and enhanced.
Could you be our next star team member?
We're always looking for more sharp minds to join the Johnston Carmichael team. Are you looking for a new challenge? Visit our careers page now!