It's a good time to be a borrower.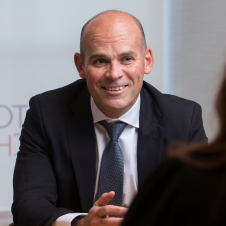 Alan Hamilton
Corporate Finance Director
As well as the continuing low interest rate environment, there are now a significant range of options available to borrowers looking to raise finance.
Whilst many of the high street banks are concentrating on increasing their lending following a prolonged period of restructuring and balance sheet repair, there are also an increasing number of challenger banks and alternative lenders operating in the UK market looking to provide debt facilities to businesses from large corporates to SMEs, and to support growth, acquisitions, restructurings and more challenging situations.
The rise in demand for alternative sources of debt funding has been as a result of the financial crisis of 2008 which saw a prolonged period of retrenchment by mainstream banks in order to deleverage and meet stringent new capital and risk management requirements.
The emergence of the challenger banks is a direct response to the banking crisis and these lenders are providing new funding options, in particular to the SME market. Many businesses found it increasingly challenging dealing with mainstream banks as they retrenched and looked to reduce their balance sheets following the financial crisis. Alternative lenders identified an opportunity to enter the market and provide support to businesses, typically via product-led solutions across areas such as trade debtors, stock and fixed assets. This in turn has led to both increased competition in the market and increasingly flexible debt facilities such as asset based lending and trade finance products being made available.
Whilst many of these debt providers are able to provide more flexible lending structures than mainstream banks, a further advantage from the borrowers' perspective is that they can enter into these funding arrangements whilst maintaining their day to day banking requirements with their mainstream bank. This removes the administrative burden of having to move their entire banking facilities.
Another feature of the changing financial environment has been the establishment of a number of debt funds targeting the senior loan market that was historically captured by mainstream banks. The combination of a low interest rate environment together with a more risk-averse approach to lending from mainstream banks has seen a significant number of debt funds enter the market looking for investment opportunities with attractive risk/return profiles.
Direct lending structures provided by debt funds (sometimes referred to as unitranche) can combine senior debt, subordinated debt and minority equity to provide a one-stop shop solution to borrowers. These lending structures provide enhanced flexibility over mainstream banking solutions through areas such as covenant headroom, reduced capital repayment profiles, the ability to provide higher debt quantums and leverage multiples. As a result, where these debt structures are appropriate they can be used to drive growth opportunities and M&A activity.
Whether a business is considering raising debt to help fund its growth strategy or simply considering refinancing, the lending environment has never been more competitive with multiple options available. Management teams should take time to consider the available options and align themselves with a lender who is best placed to support their strategic objectives.
How we can help
If you'd like to discuss options of how best to grow your business, please get in touch with me: alan.hamilton@jcca.co.uk or another member of the Corporate Finance team.