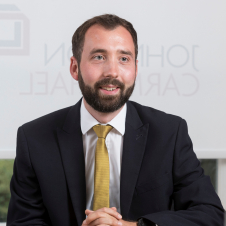 Rory Brand
Financial Planner
I recently received one of the most difficult phone calls I have had from a client, informing me that his son had passed away. We spoke for a few minutes and I offered to help in any way I could, not that I was able to. His son had left behind a wife and two young children and this made me consider my own circumstances and my own family.
Prior to my son being born in November 2018, I had been considering our family finances, looking for and finding quotes on various insurances, savings plans for my son's future, and trying to make sure that we will be okay, whatever the future holds.
More than most, my life has been touched by serious illness. I was unfortunate enough that when I was nine years old, my dad was diagnosed with pancreatic cancer and for seven and half years he battled on. At various stages we thought he had won, but never for long and the struggle finally came to an end not long after my sixteenth birthday. This was incredibly harrowing but the part which most people didn't, or couldn't see, was the additional difficulties my dad's illness brought. Financial concerns only added to what was already a dreadful few years for our family.
However, time moved on and life continued. My brothers and I were resilient but whilst at University, in my third year, my mum passed away after a very short illness. This was a massive shock, but for everything to change so suddenly, it really turned our lives upside down.
Despite all these things happening, by the time my son was 18 months old I had yet to buy a new insurance policy. I did, however, make sure to set up an investment for him. I have considered my family's circumstance and know the right thing to do is to take out a family income benefit policy.
I pay £50 per month into a Junior ISA and take a fairly high-risk approach. All going well, this will give my son roughly £25,000 in twenty years' time to help him make his way in the world.
I have quoted myself on a Family Income benefit policy perhaps twenty times, and it would cost around £55 per month. This would cover death or serious illness to my wife or I and, should even something happen to my son, it would provide a financial benefit to ease any financial pressures. Yet, even with my family history, we have hummed and hawed. This made me think, what chance does that give anyone who has been more fortunate than I?
Why do we find it so hard to see the benefit in taking out insurance?
I am not one to shy away from insurance.
We have redundancy insurance for my wife who works in oil and gas; life insurance and critical illness for the mortgage; Income Protection for myself should I get seriously ill; and we both have death in service through our work.
Yet, if I suffered the same fate as my dad, I would leave my family woefully unprepared for the future.
Acting on this, before my son had reached 20 months old, I put in place the policy which I had been quoted on so many times. On reflection, I should have had this in place before his birth. Why? Not for me but for him. I want to make sure that he will never have to worry about money. That is until he is earning his own and then he can worry about how he is going afford to keep his old man!
What pushed me to do it?
My wife maybe…
I asked myself, what do we spend £55 a month on? Phone bills, Sky, running equipment, eating out. Why are these things more important?
If we saved that money, what would we have at age nine, when my dad became seriously ill? £9,410. How long would that pay for Sky, Next, running equipment, phone bills, etc.? Not very long.
I don't like spending £55 per month on something I might never see results from, but I don't want my family to ever struggle. In the end I have to concede, it is £55 we are going to spend each and every month for the next twenty years.
I know friends and family are woefully underinsured and taking out insurance is a difficult and emotional decision, but I would urge you to consider your own circumstances and the impacts of something going wrong.
You will hopefully never need insurance but if you do, you will either be grateful you have it or rue prioritising something less important.
Get in touch
If you would like to discuss this further, please don't hesitate to get in touch with me or a member of the Johnston Carmichael Wealth team.
Your Johnston Carmichael Wealth planner will take time to understand the transaction you are looking to complete, consider your pension assets in more detail and talk you through the process. We will also assess your individual circumstances to make sure that investing in property is right for you.
If you do not have professional advisers in place, we can introduce you to experienced professionals to assist with the transaction.