International Women's Day 2019: Spotlight on Araminta Campbell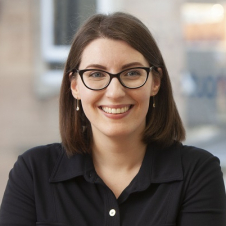 Quality. Provenance. Sustainability. For Araminta Campbell, these are the most important aspects of her luxury Scottish textiles business, which specialises in unique, handwoven interiors and accessories.
Araminta, who founded the company in 2014, draws inspiration from the natural beauty of Scotland's landscapes to create exquisite designs which are traditionally crafted on weaving looms at the Araminta Campbell studio in Leith, Edinburgh. To celebrate International Women's Day, we chatted with Araminta about how she has evolved her passion for artistry into a successful business.
Where did your love of design and textiles come from?
My love of design is something that's part of me - I've always been creative. I received an arts scholarship to Glenalmond College when I was around 12 or 13 years old, and during my final year of my GCSEs two new art teachers arrived at the school and introduced me to textiles - and I never looked back.
Did you always want to start your own business? How did you get started?
My father runs his own business so it's not something that's completely alien to me, but it was an organic process. I didn't start out with the mindset of "I want to run a business, so I'm going to be a tweed and textiles designer, and make money, and employ people" - I do want to do all of those things, but that came second. The main reason I started up was because I wanted to keep creating my own designs. My original plan was to get a job in industry and continue with my own art on the side. However, when I did an internship in industry with a textiles producer, while it was a fantastic experience it also made me realise that I would lose the freedom to design what I wanted, when I wanted. I wanted to be able to take inspiration from wherever I found it rather than basing designs on themes or trends. So that's where the business started - I continued creating my own artwork, and from that I was commissioned to design a tweed.
Another factor is that, for me, it's not just about the designs - it's about the story behind each piece, and about knowing how it's made. Provenance and sustainability are very important and I like to be able to guarantee that.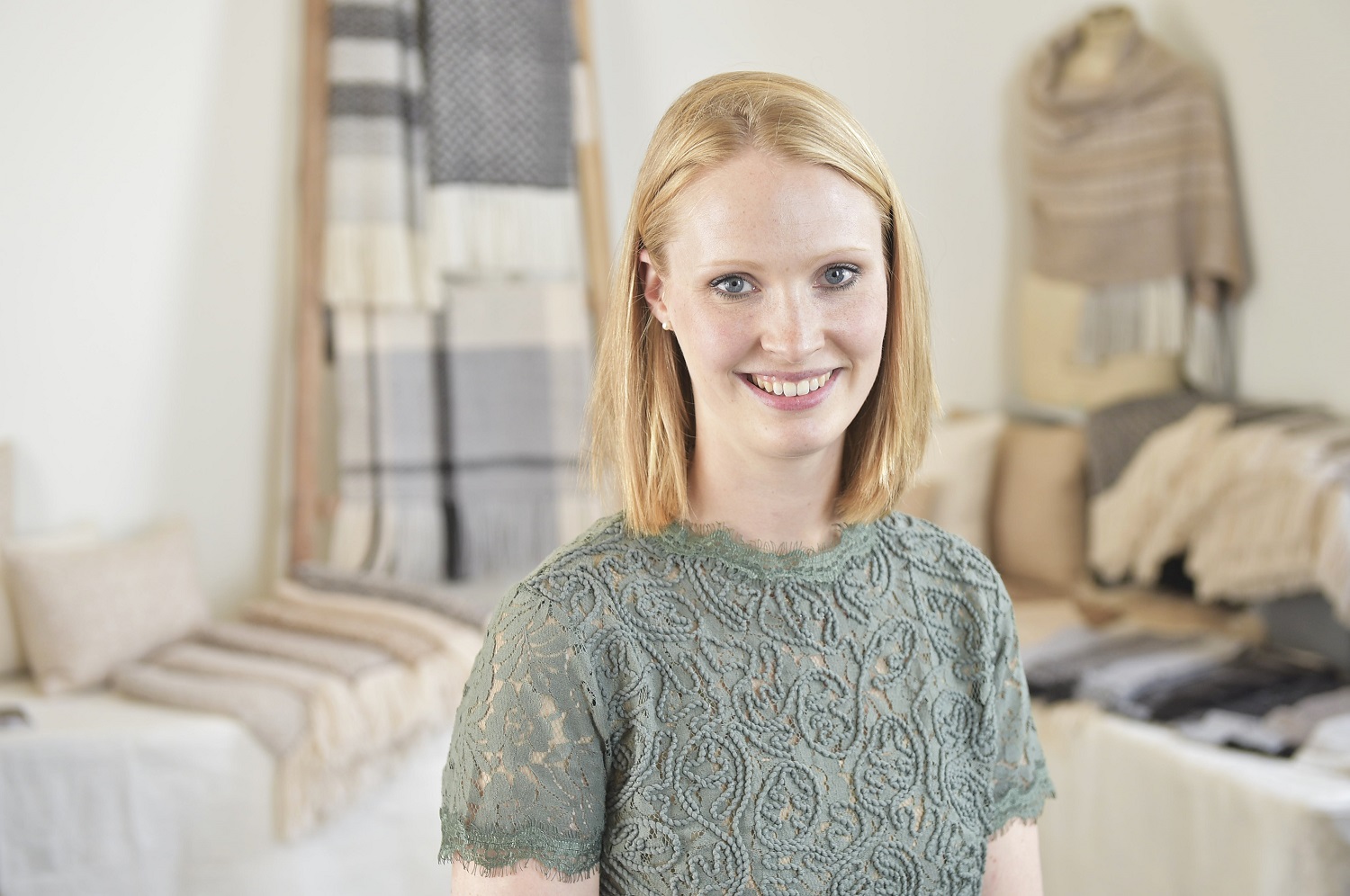 What has been your proudest moment as a business owner?
We recently designed a bespoke tweed and tartan for the Fife Arms Hotel in Braemar, and being at the opening of the hotel, seeing all of those people being wowed by our creations, was a very proud moment - particularly because it was at home, in Aberdeenshire where I grew up. Another aspect of the business which makes me very proud is creating not only designs, but employment - knowing that I've built something which is also supporting others.
The inspiration for your designs comes from the beauty of Scotland's landscapes. What is your process for translating these scenes into designs?
I take photographs - and a lot of my photographs are also in my head. I process the designs subconsciously. If it's a bespoke design for a client, I'll have my design meeting, but I don't go and draw designs straight afterwards - I leave it for at least a week. Every time I'm out and about, I'm looking at things which then fit that brief, or I'm coming across ideas whilst researching online. All of that then informs my design process for each individual project. It's an organic process and the designs all have a story. Quite often it's the light or the colours which catch my eye, so I can be driving through the same landscape twice and on one occasion it will be inspiring and on another it won't, purely because of the time of day or the season. That's what I love about it - it's not fixed. You'll see something beautiful like a leaf with frost on it, and within 20 minutes it's gone. My work is about truly capturing the essence of Scotland, rather than thinking "I want purple in this design so I'm going to be inspired by heather". I try to create designs which people can honestly respond to when they see them.
If you hadn't gone into design, what path would you have followed instead?
I would have gone into economics - I'm very mathematically minded. I'm not sure I'm organised enough to be an accountant, but it would have been something to do with numbers. I'm actually self-taught in weave - my degree is in fine art and embroidered textiles, but it wasn't challenging enough. Weaving requires a lot of mathematical calculations for the design, so it has the creative stimulation but also the mental stimulation from the maths. That's worked for me.
Speaking of accountants - what makes Johnston Carmichael your adviser of choice?
There are certain parts of a business that you can let look after themselves - but the accounts is not one of them. It's really important for me as a business owner to know that I'm doing the right thing. Although I'm very mathematical, I'm completely self-taught in business, so having an accountant and business adviser who I can ask any and all questions to, really makes a big difference. At the initial stage I did all of my accounts myself - my year end return, my payroll - because I wanted to know what was involved. The value of not having to do that anymore, and knowing that everything is right because Johnston Carmichael are dealing with it, is huge.
I like to know what I should be doing, if I were to do it myself, so it's fantastic to have an adviser who can talk me through what I want to know - but who will also take care of it for me. It's a very all-encompassing service.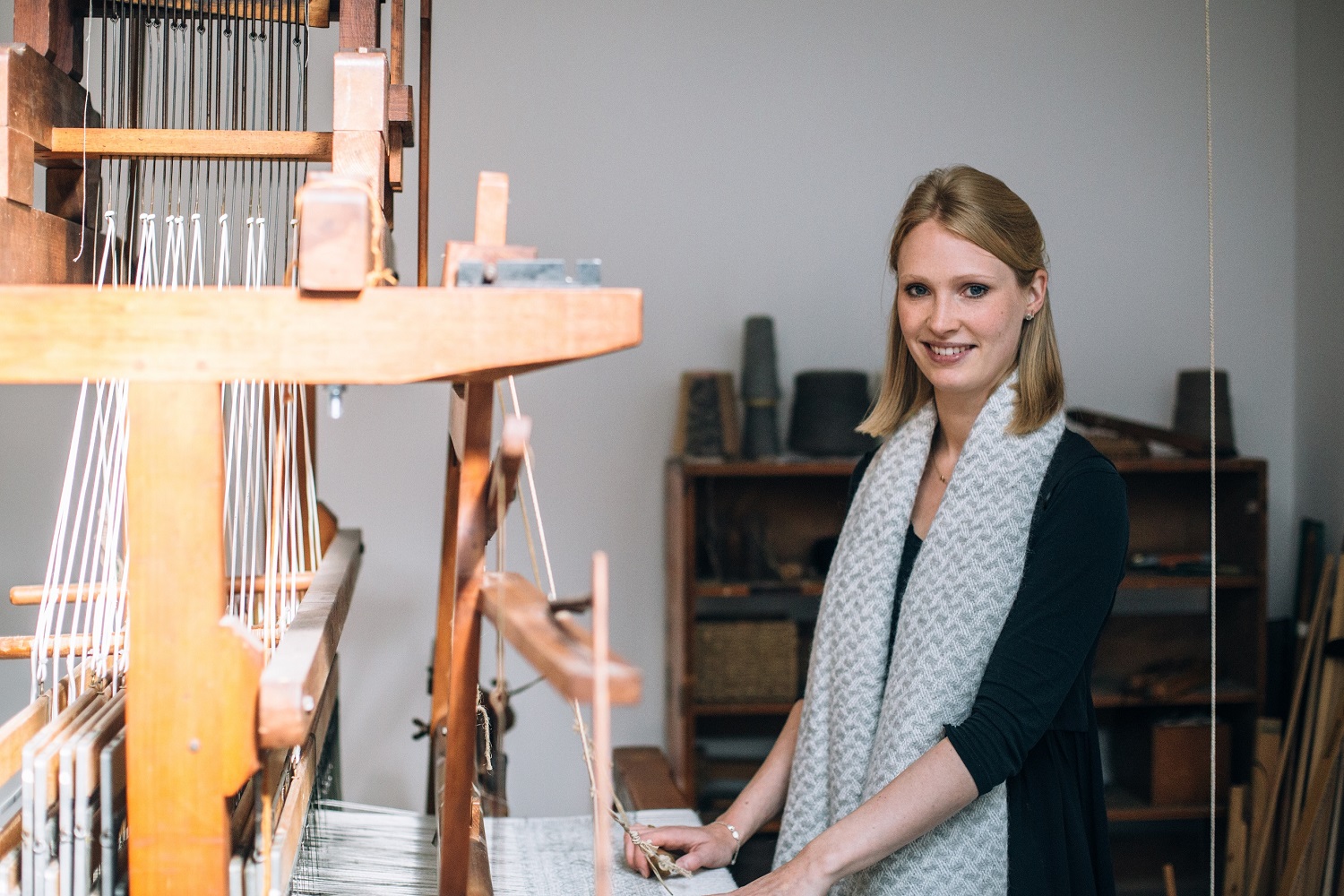 You were one of the recent Scottish EDGE winners. What was the experience of participating in a funding competition like?
It's a fantastic experience. People focus on the financial benefit you get from winning, and although that's obviously a key part, what is also very valuable is the fact that it makes you stop and look and analyse your business. I won funding through Young EDGE first, and then applied twice for the main competition and was awarded funding the second time. I had therefore been applying for three years, and I've kept every application form - from those forms, you can see how your business has developed.
What are your plans for the business going forward?
We've got some really exciting new projects in the pipeline which I can't talk about! We're also continuing to grow as a team, with the employment of a production manager who will hopefully be starting in the next few weeks. We're in a really strong position at the moment, so our aim is to continue on the trajectory we're on now with the types of projects we're doing, and expand on that.
And finally - as we are celebrating International Women's Day, what advice would you give to any women reading this who are thinking about starting up their own business?
Firstly - you can do it! Secondly - don't be afraid to ask questions. Thirdly - it's important to remember that it's not always easy. Sometimes you'll be incredibly stressed, and you'll ask yourself "Am I enjoying this? Am I having fun?" - and a lot of the time the answer will be no. But in 6 months' time, when you look at the work you put in then, you'll see what that has achieved. That's what makes the hard slog fun.
Another essential principle for me is that I never use the word failure - one of my mottos is "you only fail if you haven't learnt from a mistake". If something hasn't quite gone to plan but you've learnt something, it's not a failure - you've still gained from it. I apply that with all of my team as well. I'm expecting a baby in 13 weeks, so at the moment I'm handing over a lot of responsibility for the business to them. Rather than interfering if I see them doing something which isn't going to be as effective, I let them try. When they see that it hasn't worked as expected, we focus on what has been gained as opposed to what went wrong. I always say that my team work with me, not for me. It's important to help develop those around you in the best way you can; to all support one another.