From Consulting to Curling!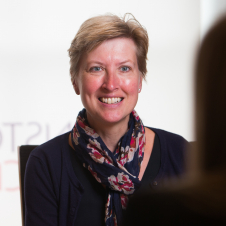 Jane Mitchell
Business Advisory Senior Manager
As principle sponsors of the upcoming 2018 World Junior Curling Championships in March, some of our very own curling enthusiasts had the exciting opportunity of honing their curling skills at a coaching session with some of Scotland's very best junior curling talent at Curl Aberdeen.
Robin Brydone, 21, who plays with Airleywight at Perth; Euan Kyle, 20, who represents Leswalt at Stranraer; and Molly Keen, 18, of Moray Junior Curling Club at Elgin; were among the young players who gave Niall Farquharson, Jane Mitchell and Louise Fotheringham advice on draw weight, delivery and sweeping technique.​
Watch our video highlights of the afternoon in the video below:
Niall Farquharson, managing partner of our Aberdeen office, said: "There are real parallels to be drawn between the work of our teams and these junior curlers – to be successful, we all have to work very closely together to ensure our house is in order.
"Strategy is vital to the skip and the team's chances of securing the best position on the rink, and our colleagues take a very similar approach to working with our clients, evaluating the options and helping to deliver results in very competitive business markets.
"Developing talent, sharing knowledge, building long lasting relationships and showing dedication and commitment to our work are vital components of Johnston Carmichael's own strategy.
"I've certainly learned a lot from this very talented group of young men and women, whose talent and focus bodes well for the future of the game in Scotland, and we are very pleased to have been able to lend them our support."
Jane Mitchell, business advisory senior manager at the firm's Inverurie office, said: "While I've curled before, learning from this group of young players has been a real pleasure – their commitment and drive to succeed shines through."
Louise Fotheringham, a business solutions assistant at Johnston Carmichael, has been an amateur curler for three seasons. "The commitment we have made as a firm to sponsoring the Scottish and world championships is excellent recognition of the effort put in by these young players, who have the chance to become the future of one of Scotland's most successful sports," she said​