Family is not an important thing. It is everything.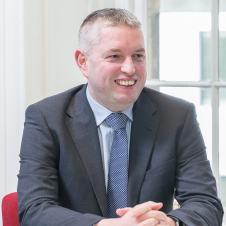 James MacAulay
Technical Manager
This sentiment has never rung truer than now. As we approach the festive period, normally a time of year when our diaries are full of family gatherings and parties, this year, things are very different.
With some of us not having seen our families all year, the five-day relaxation of rules may be a time when we can get together for a short period and cherish each other's company, but for others it still won't be possible until vaccines are rolled out further.
The new year is generally when we reflect on the past year and make plans for the future but the coronavirus pandemic has also given cause for reflection and re-evaluation on personal circumstances.
At Johnston Carmichael Wealth, our goal is to help clients live life on their terms.
This involves creating and reviewing their financial plans and making sure that the plans which are made are adapted to their specific goals. This ensures their family and future are looked after.
What constitutes success is personal; however, some common things we see are:
The desire to see that their families are looked after if anything happens to them
The wish that their children have access to opportunities they never had
Enjoying retirement, and spending more time with the ones you love
Our team spend time getting to know you so the first thing we do is meet with you and we listen. This ensures the plan we create gives you the greatest chance of meeting your goals and objectives.
This can involve putting in place:
Different types of protection policy, to ensure that whatever happens, your family are looked after
Savings and investment plans, so that the funds are there to help you and your children when they need it
Withdrawal strategies to ensure that the money you need in retirement is available when you need it
Creating these plans is not a one-off exercise as they need to be continually revised to ensure that you remain on track. In addition, you also need to take into account changes to your personal situation, as well as tax, or legislative changes.
With almost 300 years of combined financial planning experience in the team, we can pass on our expert knowledge and add value to your financial plan.
Finally, please do not hesitate to contact a member of our Wealth team or your usual Johnston Carmichael adviser who will be happy to meet with you and explore your goals and options.
Disclaimer: While all possible care is taken in the completion of this blog, no responsibility for loss occasioned by any person acting or refraining from action as a result of the information contained in this blog.
This blog represents our interpretation of current and proposed legislation and HMRC practice as at the date of publication. These may change in future.
All statements concerning the tax treatment of products and their benefits are based upon our understanding of current tax law and HMRC practices both of which are subject to change in the future. Levels and bases of reliefs from taxation are also subject to change, and are dependent on your individual circumstances.
Nothing in this blog constitutes advice to undertake a transaction and professional advice.
Johnston Carmichael Wealth Limited is authorised and regulated by the Financial Conduct Authority.