EU Referendum Debate – what does the future hold for Scotland's Food & Drink industry?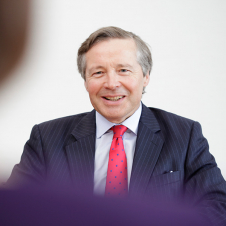 Sandy Manson
Chair, Head of Client Service and Partner
On Tuesday 24 May, almost 100 sharp minds gathered at the Scottish National Gallery for a passionate debate about the EU Referendum and, in particular, what the future holds for Scotland's food and drink industry.
I was delighted that Johnston Carmichael teamed up with Taste Communications to provide a platform to openly debate what is certainly a hot topic for everyone in the industry. From whisky brands to fishermen, farmers to dairy companies, there are many diverse businesses which make up Scotland's iconic food and drink industry and of course there are naturally many different views and opinions on which way to vote in the forthcoming referendum.
Chaired by Stephen Jardine, our panel of speakers included Pete Ritchie (Founding Director of Nourish Scotland), Gordon MacIntyre-Kemp (Founder and Chief Executive of Business for Scotland) and John Edward (Chief Campaign Spokesman for the Stronger In campaign) representing those in favour of staying in the EU, and Ross Thomson MSP, William Frame (Founder of Braemore Estates) and Malcolm Offord (Founder and Chairman of Badenoch & Co.) representing those who think we would be better off out.
But there is one thing that everyone in the room did agree on. With our rich larder of produce from land and sea and our world-renowned distilleries, Scotland is a global leader in food and drink. Further, with a turnover of £14bn, the food and drink sector is not only crucial to our economy but it's a sector with tremendous growth potential in this ever more competitive world.
The temperature in the EU debate is increasing quickly as you would expect with so much at stake and passions are running high. In Scotland it's a case of déjà vu at times! It can also be difficult to get an informed and balanced debate without the many over the top and emotive claims from both sides.
The Scotch Whisky Association, The Food and Drink Federation and the NFU have all shown there hand in coming out in favour of staying in the EU but it certainly isn't one way traffic in terms of what people in the industry believe is the best outcome. While the Scottish Fishermen's Federation have decided to stay neutral in the debate there can be few sectors where the EU is so emotively debated than in Scotland's fishing industry.
Last year, Scotland relished the opportunity to celebrate the year of food and drink – a chance to put a spotlight on our quality produce and businesses. And we did so in style – contributing to a 7% rise in visitors to the country. We also saw analysis from the Scottish Government that the food and drink sector enjoyed a £550 million rise in turnover year on year, and a staggering 24 per cent increase since 2008.
At Johnston Carmichael, we act for over 330 food and drink businesses and, while economic and political signals are mixed, we are hugely encouraged by the levels of entrepreneurialism and innovation we are seeing, driving greater ambitions for the future.
A recent survey by Scotland Food and Drink supported this, finding that there has been an 84% rise in R&D activity since 2007 and that innovation will be 'very important' to over half of respondents in the sector over the next 12 months.
We are also seeing that export growth can be the game-changer for companies of all sizes which bodes well for Scotland's ambition to increase exports from the current level of £5.1bn to £7.1bn by 2017. And in the same survey by Scotland Food & Drink, over two thirds of those surveyed said exporting beyond the UK would be more important to their business over the next 12 months – and cited France and Germany among the top three countries to target.
So…do EU institutions help or hinder the food and drink sector? How would leaving the EU affect access to European consumers? Would quitting have an impact on international trade deals? And ultimately, "should the United Kingdom remain a member of the EU or leave the EU?"
Some key points raised by the panel included:
The Scottish farming community relies hugely on the EU's Single Farm Payment system. A potential exit from the EU is such an emotional issue for framers as losing SFP would have a devastating impact on their livelihoods. However, the OUT campaign suggested that if we exited then the UK government would ensure that the agriculture sector was looked after, that an alternative would be put in place.
The new National Living Wage is highly topical today, in particular for fruit growers and food processors. In the debate this topic moved quickly onto immigration which is of course front of mind for us all given the biggest movement of people since WW2 with people flooding into Europe from the Middle East and Africa.
Significant labelling legislation has been driven from the EU over the years, which has a tiresome impact on all food and drink producers, however, nobody knows whether would exiting the EU mean more or less labelling for businesses. On the wider subject of red tape, which all businesses are frustrated by, would exiting the EU mean more or less red tape for business?
Many Scottish food and drink products have been granted Protected Geographical Status(PGS) under European Union law and the potential impact on exiting the EU on PGS. PGS protects the reputation of regional products, for example producers cannot refer to their product as Scotch whisky unless it has been produced within Scotland. PGS protections also exist for Arbroath Smokies, Aberdeen Angus beef and Stornoway black pudding.
In Scotland, while we are no stranger to political uncertainty and referenda, the forthcoming EU referendum on 23 June could have far-reaching repercussions on the food and drink industry, regardless of outcome. And your vote will really count.