Count on us - Top tips for exam success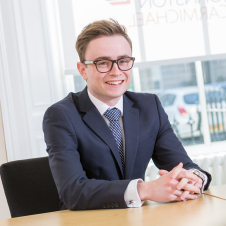 Ruaraidh Gordon
Tax Senior
Ruaraidh Gordon joined us as a JC Futures student 5 years ago and he's now a Tax Senior and is ICAS qualified. We've been supporting him through his CA qualification - and with 11 exams under his belt, he's certainly no stranger to a test paper! From advice on preparing to tricks on technique, Ruaraidh shares his top tips for exam success.
Prep and plan
You'll have heard it a million times before, but it's true: if you really want to ace your exams, good preparation is absolutely crucial.
Start learning the material as early as possible: from the beginning, review which parts of the course you've covered every couple of days and commit those small chunks to memory bit-by-bit. Regularly reminding yourself of what you've learnt will make the final revision phase much easier.
As it gets nearer to exam time, the best way to ensure you cover everything you need to know is to develop a study plan - and stick to it! Make sure you include every module and dedicate additional time to those tricky ones you feel least confident about. It's important to incorporate plenty of breaks to allow yourself to relax as well - to perform at your best, keeping your mental and physical health in good shape is just as vital as knowing your facts.
Use every resource at your disposal
Past exam papers are invaluable, so complete as many as you can. Reading through your notes and learning the material is one thing, but you also need to familiarise yourself with the specific types of questions you'll be asked and the best ways to answer them.
It's worth arranging a chat with colleagues or friends who have recent experience of the same exams; they'll have some useful insights and might be able to help you understand any areas you find challenging. Identify what other support is on offer too, and don't be afraid to ask - at Johnston Carmichael for example, we have a dedicated early careers team who are always willing to help.
Keep a cool head on the day
When it comes to crunch time, don't panic!
Read each exam question at least twice and establish what is really being asked for, then plan out a rough template for your answer. Diving straight into a response before you've fully understood the question can lose you a lot of marks unnecessarily.
Try not to rush, but be mindful of your time and force yourself to move on if you have to. For instance, a useful guide for ICAS TPS exams is 3 minutes per mark.
Make the most of every question
For each answer, think about whether you could pick up extra marks by including "bigger picture" considerations such as commerciality, or ethical issues. This demonstrates initiative and a comprehensive understanding of the material. Just ensure that your answer is still relevant to the question.
If you don't know the answer to a particular question, don't let it throw you off your game. Rather than leaving it blank, try to answer as best you can in the time allocated; it's likely you'll still be able to pick up at least a couple of marks (and every little helps!).
Eyes on the prize
There will undoubtedly be times when you wish you never had to lay eyes on another exam paper again - so when times are tough, remember why you're doing it!
At Johnston Carmichael, we'll help you find out what you're good at and discover what you enjoy – training and developing you at every step of the way. Visit jcca.co.uk/careers to find an opportunity to make your own, and prepare to grow.