Attention to detail and a questioning outlook – developing your audit career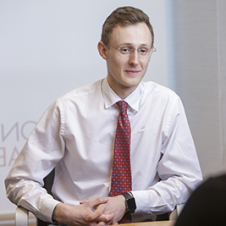 Having the autonomy to make your own decisions and lead your day-to-day work is just one of things that Chris enjoys about working within the audit team at Johnston Carmichael. In this short blog we ask Chris what attracted him to JC, what it takes to be successful and one year on, how he's developed his audit acumen.
What is your role at JC?
My role is audit senior. I take the engagement from planning through to completion dealing with or highlighting any significant issues that arise to the manager and Partner on the job. This is achieved with help and collaboration from more junior members of the team.
Why did you choose to develop your career at JC?
JC has a large of portfolio of clients across a variety of sectors including shipbuilding, construction and property and Manufacturing to name but a few! I came from a mixed background which included preparing accounts, VAT returns, management accounts, corporate tax returns and personal tax returns and I had limited experience in audit. I wanted to develop my skills in audit to help take my career to the next level, and that's what attracted me to this role at JC.
What do you like best about the firm?
Willingness to give responsibility – managers actively seek to give you the autonomy to make your own decisions and to lead the day-to-day audit work as well as managing the client expectations and queries.
The team is also an important part for me. The people I work with are very hard working, friendly and professional. I really enjoy working in an office environment in which you are rewarded for the hard-work you put in. There are busy times, particularly around client deadlines, however I feel this makes the job more challenging and teaches you how to react in more stressful situations.
Career progression is entirely dependent on how you are developing as an individual giving you the opportunity to take ownership of your career.
How do you think you've developed during your audit career at JC?
With the modest but determined intention to obtain more experience in audit, looking back over the last year has really highlighted to me how much I have developed my career and reassured me that I made the right decision. I am now almost always involved in engagements with medium to large sized companies. I've worked on a
To give you a flavour of what I have been working on over the last year, some highlights include:
Being part of the engagement team auditing a large IFRS multinational group
Preparing medium sized company accounts
Accounting for group restructuring's (i.e. a de-merger of the investment business within a construction firm)
What do you think it takes to be successful at JC?
A willingness to learn is very important. Audit usually involves solving problems and addressing issues which are technically advanced. In order to keep on top of the constantly changing legislative landscape you need to develop an attention to detail and a questioning outlook.
Taking responsibility is essential to your own development. At JC the senior management are looking for their seniors to take ownership of the audit file to ensure that it is completed to as a high a standard as possible with minimal input from them until review. This culture of passing down this responsibly enables seniors to develop professionally.
Helping others is important too, especially on audit assignments involving many people. An audit engagement almost always involves more than just a single individual. It is therefore vital that seniors train more junior members of the team effectively but also ensure that they are approachable by the client and senior management. Becoming an effective communicator is essential to work in audit.
Careers at Johnston Carmichael
Does Johnston Carmichael tick all the boxes for you? Due to continued team growth we have a number of fantastic auditor roles across our offices. Visit our Careers page now to find out more.