Snapshot overview of the scheme
In this section we've provided an overview of the Coronavirus Job Retention Scheme, including working examples of how it could apply in practice.
The table below gives a snapshot overview of the key details about the scheme.
Please contact our team of experts at JRS@jcca.co.uk for more information.
Click on the table below to view it in full-screen size: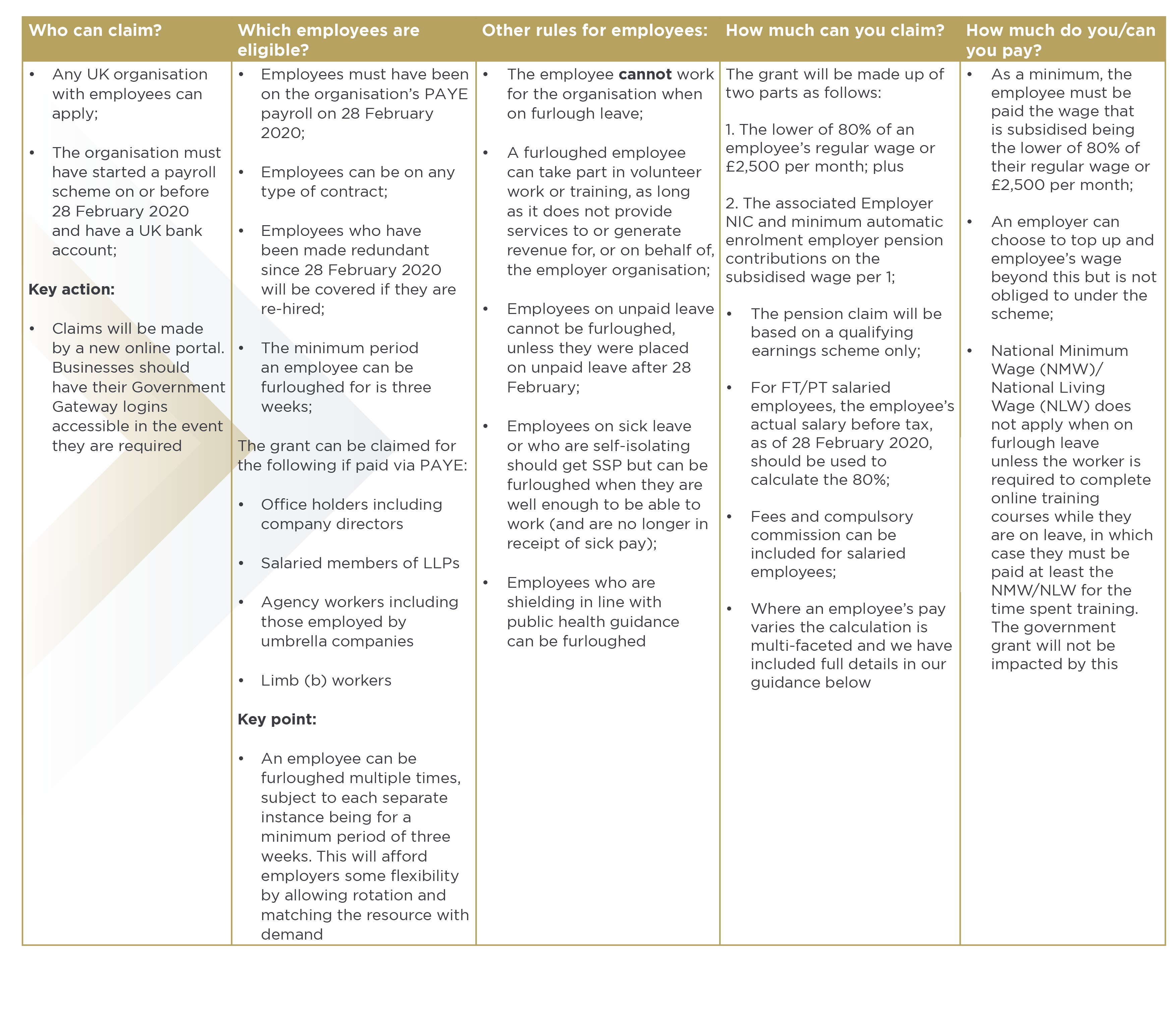 Salaried Worker, £45,000 per annum
Pension scheme based on qualifying earnings using relief at source (RAS)
If you're viewing this page on a mobile, please scroll from L - R to view the contents of the table below.
| Before | £ | After | £ |
| --- | --- | --- | --- |
| Salary (per month) | 3,750.00 | Salary (per month) | 2,500.00 |
| Income Tax | 582.29 | Income Tax | 293.89 |
| National Insurance | 363.72 | National Insurance | 213.72 |
| Pension | 150.00 | Pension | 79.52 |
| Net Pay | 2,653.99 | Net Pay | 1,912.87 |
| National Insurance (ER) | 418.28 | National Insurance (ER) | 245.78 |
| Pension Plan (ER) | 112.50 | Pension Plan (ER) | 59.64 |
| Gross Salary Costs | 3,750.00 | Gross Salary Costs | 2,500.00 |
| Cost of Employment | 4,280.78 | Cost of Employment | 2,805.42 |
| Claim | - | Claim | 2,805.42 |
Variable Pay Worker, No fixed hours
As per guidance, we will need to look at the 2019/20 tax year to assist the calculation
Month / Year
Hours @ £10 p/h
Gross Pay (£)
March 2018-19
200
2,000.00
April 2019-20
89
890.00
May 2019-20
136
1,360.00
June 2019-20
81
810.00
July 2019-20
178
1,780.00
August 2019-20
200
2,000.00
September 2019-20
91.6
916.00
October 2019-20
139
1,390.00
November 2019-20
138
1,380.00
December 2019-20
78
780.00
January 2019-20
150
1,500.00
February 2019-20
200
2,000.00
March 2019-20
194.5
1,945.00
1875.1
18,751.00
1) March 2019 (previous year) at 80%
1,600.00
2) Average Pay for (2019-20) tax year at 80%
1,116.73
Variable Pay Worker, No fixed hours
Pension scheme based on qualifying earnings using relief at source (RAS)
Selected the higher of 1) same months earnings in prior year or 2) average monthly earnings
| | £ |
| --- | --- |
| Salary (per month) | 1,600.00 |
| Income Tax | 109.69 |
| National Insurance | 105.72 |
| Pension | 43.52 |
| Net Pay | 1,341.07 |
| National Insurance (ER) | 121.58 |
| Pension Plan (ER) | 32.64 |
| Gross Salary Costs | 1,600.00 |
| Cost of Employment | 1,754.22 |
| Claim | 1,754.22 |