Scottish SMEs' growth ambitions undeterred by Brexit concerns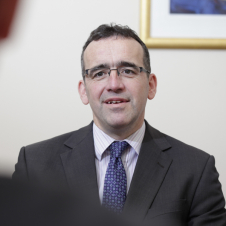 Andrew Ewing
Corporate Finance Partner
Almost seven in 10 Scottish SMEs plan to expand organically over the next few years despite uncertainty about Brexit and the prospect of a second independence referendum, according to new research by business advisory firm Johnston Carmichael.
The survey, conducted among over 300 SME decision makers across Scotland - half of whom were business owners - demonstrates the resilience of the country's small to medium sized businesses.
It reveals that over 69% of small to medium sized businesses have ambitions to grow organically in the short to medium term.
If this figure is applied to Scotland's total SME population of 326,000* it would suggest that over 226,000 business across the country believe they can achieve growth.
Nearly two thirds - 65% - indicated that they would fund their growth plans with cash generated by the business. Just 12% said that they would seek bank debt to finance their growth while 10% identified private equity investors as a possible funding source.
Just over a tenth said they would target growth through acquisition and nearly 13% of respondents were planning to sell their business.
The UK government is this month (March) set to trigger Article 50 exit talks and begin the formal Brexit process. First Minister Nicola Sturgeon has also announced that Scotland will seek a second independence referendum over the issue.
The research confirmed deep uncertainty among Scotland's SMEs about the impact of Brexit with nearly half (47%) viewing Brexit as their biggest concern for their business over the next couple of years. More than two fifths – 43% - also described the prospect of a second independence referendum as a main concern.
The survey sought to identify the issues affecting SMEs in Scotland and their growth ambitions and, when asked about barriers to growth, just over three in 10 respondents identified wider economic factors such as the exchange rate and the single market, while just over 28% said the size of their marketplace could limit growth.
Recruitment is also considered an issue with a significant minority of businesses – 15% - describing finding staff as a barrier to growth.
"It's great to see that confidence remains high in Scotland despite the uncertainty associated with Brexit and the potential of a second independence referendum.
At the moment, we simply don't know what Brexit will mean in terms of free trade and the movement of people within Europe, but it appears that business owners have decided to carry on regardless until such time as there is more clarity on these issues.
As always, SMEs need to be proactive rather than reactive and through planning ahead whether for sale, fundraising or acquisitions they can remove some of the uncertainty. It's essential that they seek advice on dealing with the changes that lie ahead and we at Johnston Carmichael are well placed, as business owners ourselves, to provide the right level of perspective on these issues."
Andrew Ewing
Partner and head of corporate finance