Proud partners in new project to develop a hydrogen powered ferry for Hebridean Communities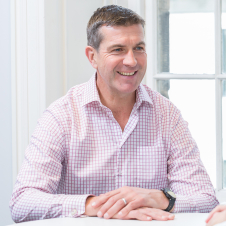 Mark Stewart
Edinburgh Office Head & Corporate Finance Partner
A team comprising the UK's biggest community energy wind farm, six leading private sector companies and a public sector maritime asset company has been awarded funding by the Scottish Government to carry out a feasibility study into developing a hydrogen-powered ferry service to some of Scotland's remotest island communities.
The hydrogen for the ferry would be manufactured using local community-owned wind power and, if the project is successful, it would be the world's first sea-going hydrogen ferry.
Point and Sandwick Trust, the UK's largest community energy company behind the award-winning Beinn Ghrideag community wind farm, is leading the project. The other main partners are:
CMAL, who own the Caledonian MacBrayne ferries which serve Scotland's west coast
Ferguson Marine shipyard in Glasgow
Siemens-Gamesa, the leading supplier of wind turbines to the UK
ITM Power, one of the worlds leading specialists in hydrogen manufacture through electrolysis
ENGIE, who are specialists in the transport and storage of gas
Wood, a global leader in the delivery of projects, engineering and technical services to energy and industrial markets
Johnston Carmichael, Scotland's largest independent firm of Chartered Accountants and Business Advisers, and specialists in renewable finance.
The funding has been awarded by the Scottish Government through its Low Carbon Infrastructure Transition Programme, supported by the European Regional Development Fund, and will be used for an initial feasibility study, to be completed by June 2018, to look at the technical and commercial requirements for a west coast hydrogen ferry.
The feasibility project will look at the manufacture of the hydrogen using local wind power, the challenges of how to handle, transport and store the hydrogen on local piers, and how the design of the ship and its engines needs to be adapted to run on hydrogen fuel.
Although hydrogen has been used for small vessels on rivers or coastal routes (also known as brown or green water routes), it has yet to be used successfully for larger vessels on 'blue water' or sea-going routes, although it is known that a number of other countries are also looking to develop such vessels.
Project manager Calum MacDonald, Development Director for Point and Sandwick Trust, and the former MP for the Western Isles, said: "We have a simple yet bold vision which is to harness the huge potential of community-owned wind power on the Scottish islands to power the lifeline ferry services by utilising the very latest in hydrogen energy technology.
"Turning that vision into reality will be a world-first and requires the very best expertise in both energy and shipping technology.
"That is why I am delighted that the Scottish Government has agreed to fund the initial feasibility study to map out the technical, commercial and regulatory challenges to overcome.
"We hope to produce this first report by the summer and if it indicates that vision is feasible and practical, we can then move onto the development phase with a view to having a ferry operational in the early 2020s.
"I am particularly pleased that the Scottish Government has shown such belief in and support for the community energy sector by asking us to lead the project and, likewise, I am very grateful to the fantastic team of companies that has come together to support the community vision and to help take it forward."
"The Point and Sandwick community broke the glass ceiling by building Britain's' biggest community wind farm in 2015. We hope that our new project will reinforce the message that community enterprise can be as entrepreneurial and innovative as the conventional corporate sector and also that the private and community sectors can work well together on the right project."
"Orkney already has a fantastic project using hydrogen to help power a local ferry. This new Hebrides project is aimed at going up in scale, both in ship size and in the difficulty of the crossing and I am sure that the two projects can learn from each other."
Clark MacFarlane, Managing Director of Siemens-Gamesa Renewable Energy UK said: "Siemens Gamesa Renewable Energy is delighted to be part of this ground-breaking project with Scottish Government support to decarbonise marine transport and serve Scotland's remote island communities through a smart, local energy system. The knowledge gained from this low carbon infrastructure project can equally be applied to decarbonising road transport, thereby improving air quality and reducing carbon emissions through the emerging green hydrogen value chain through low cost onshore wind."
Nick Power, Business Development Manager for Green Mobility at ENGIE said: "Engie is proud to have been chosen as the Green Hydrogen partner for this innovative project with the Scottish Government. The decarbonisation of marine transport is being increasingly recognized as a key step to improving air quality and reducing carbon emissions. This project is an important first step in closely examining the potential for Hydrogen powered ships creating knowledge that can be applied across the transportation sector.
Dr Graham Cooley, CEO of ITM Power said: "I am delighted for ITM to be selected as a supplier for this ground-breaking project and look forward to the introduction of future hydrogen vessels."
Mark Stewart, Partner Johnston Carmichael Corporate Finance said: "We are delighted to be involved in this innovative and important project. Being entrepreneurial, fleet of foot and mind are cornerstones of the Johnston Carmichael culture. We very much look forward to working with our very gifted delivery partners on this project."
Adam Frew, renewable energy consultant at Wood said: "Wood is delighted to provide Point and Sandwick Trust with technical consultancy for the wind-to-hydrogen marine transport study in the Western Isles. We have worked on a number of renewable energy projects across the globe including the award-winning Beinn Ghrideag wind farm. Combined with our significant cross-sector engineering expertise in hydrogen gas, we will assemble the range of disciplines necessary to deliver this key study into an exciting new area for clean energy."
Find out more about the work of the Infrastructure and Renewable Energy team at Johnston Carmichael.