Johnston Carmichael sponsors Startup Summit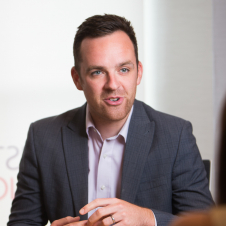 Andrew Holloway
Director, Entrepreneurial Taxes
Scotland's leading entrepreneurship event, Startup Summit has had a boost this week as it secures Scotland's largest independent firm of chartered accountants and business advisers, Johnston Carmichael, as key sponsors.
The gathering of entrepreneurial thinkers and startups will return to Edinburgh on 1st November 2017, with ambitious plans to bring together 1000 people across three stages, with headliners including Brewdog cofounder James Watt, who will be interviewed by Scotland's first home grown billionaire, Sir Tom Hunter.
A key partnership has been signed with Scottish accountants Johnston Carmichael who, along with financial support, have pledged to mentor the finalists of the Startup Summit competition, where the winner can secure a fully funded place on a programme to Silicon Valley, which will give access to some of the world's biggest brands include Google, Apple, AirBnB and Rocketspace.
Andrew Holloway, Head of Entrepreneurial Taxes at Johnston Carmichael said "For many years now, Scotland, and Edinburgh in particular, has seen a boom in the presence of tech start-ups and entrepreneurs with a significant appetite for growth and success. Nowhere will this be more evident than at this year's Startup Summit; where the strong entrepreneurial spirit of Scotland will be truly alive and kicking.
"As a company that's fully immersed in this space and has significant experience working with companies and their founders as they grow and develop , Johnston Carmichael are thrilled to come on board as a partner. We have the expertise to help delegates overcome challenges and exploit opportunities, and we can't wait to be there."
Bruce Walker, founder of WeAreTheFuture, the organisers behind the summit said:
"I'm thrilled to bring Johnston Carmichael into the Startup Summit family. We designed the summit to provide access to the inspirational role models and organisations that will help accelerate the success of new entrepreneurs and Johnston Carmichael are a perfect partner to achieve that goal."