Johnston Carmichael on the Chancellor's amendments to the Mini-Budget 2022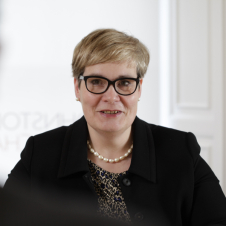 Susie Walker
Partner and Head of Tax
Susie Walker, Head of Tax at Johnston Carmichael, Scotland's leading independent accountancy and business advisory firm, has responded to Chancellor Jeremy Hunt's announcement made on Monday 17 October.
She said: "Businesses ultimately want stability and certainty so they can plan for the months ahead with some confidence, and today's update has attempted to give that.
"This announcement from the Chancellor is essentially a case of 'forget what we said a few weeks ago – and let's look at this again'.
"Mr Hunt's statement today would suggest there's going to be more tax raising in the short-term.
"The most dramatic changes from the previous mini-budget have all been removed, with the 1p cut on the basic rate of income tax now delayed 'indefinitely'.
"What happens to the energy price guarantee post April 2023 is anybody's guess at this stage, but it's clear from the Chancellor's comments that it won't be for everyone, and it will be targeted to those that need it most.
"From a Scottish perspective, it is worth noting that the previous cut to stamp duty remains in place and it will be interesting to see how Holyrood reacts to that, given it currently doesn't apply up here.
"Overall, the market is responding positively to today's announcement, given this is perhaps what it would have expected in the first place.

"As well as touching on what's been scrapped, it's important to touch on what's remained – at least for the moment, until we see the legislation pass through Parliament and we can be reassured that there are no further U turns. It's positive to see the measures announced to help the growth of young companies and attract investment have been retained such as the bolstering of the limits within the Seed Enterprise Investment Scheme, the increase in value of the Company Share Option Plan, as well as the continued support of the Enterprise Investment Scheme and Venture Capital Trusts beyond April 2025, should hopefully result in additional investment and additional growth for young companies.
"Businesses will now be hoping that calmer times are ahead, and the economy can recover from a dramatic few weeks."
For an overview of the measures being reversed from the Mini-Budget 2022 as well as those remaining in place, please read our latest blog – Mini-Budget 2022 - the new Chancellor's update.