Johnston Carmichael appoints new managing partner in Edinburgh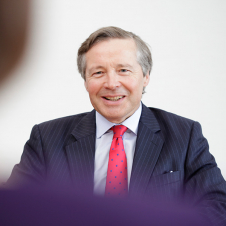 Sandy Manson
Chair and Head of Client Service
Leading accountancy and business advisory firm Johnston Carmichael has appointed a new managing partner for its Edinburgh office as part of the firm's continued growth plans.
Corporate finance partner Mark Stewart will take over the reins from Andrew Shepherd, who has held the role since the office opened in 2002 and in that time has seen the office grow to a team of almost 130 people.
Mark heads up the firm's Infrastructure and Renewable Energy Advisory team and with over 20 years' experience in the sector, he specialises in providing transactional advice to a diverse range of clients on projects predominantly within the NPD, hub, on-shore wind, hydro, anaerobic digestion and solar PV sectors. Mark previously held senior positions at RSM UK and KPMG.
Andrew will continue in his role as Chairman of the firm and as a business advisory partner, specialising in advising large family businesses and high net worth individuals.
Sandy Manson, Chief Executive at Johnston Carmichael, said:
"A key part of our firm's strategy is to have robust succession plans in place and to develop talent from within to maintain a strong leadership team."
"It's an exciting time for our business as it enters a new phase of growth and Mark's appointment will help ensure that our team continues to build on the tremendous success story of our Edinburgh practice."
Johnston Carmichael's Edinburgh office was established 15 years ago with three partners and has experienced significant growth during this time. The office now has 15 partners and over 110 staff across a range of specialist services from tax, audit and assurance to corporate finance, restructuring and financial planning.
Based in Melville Street, in the heart of Edinburgh's professional services quarter, the firm recently leased the adjacent premises to accommodate its expanding team.
Mark said:
"With a range of experts based out of our Edinburgh office, our team is in a great position to assist businesses in some of Scotland's most exciting, high growth sectors including tech, food and drink, professional services and renewables."
"Despite the challenges thrown at businesses and individuals in Scotland, we still see so many opportunities for our clients, whether they are starting up, growing internationally, protecting their own wealth, or sustaining their position in the market. I'm thrilled to take on this role and look forward to working with Johnston Carmichael's Edinburgh team as we continue to develop and strengthen our services and provide clients with unrivalled expertise."