Head of Tax at Johnston Carmichael reacts to Spring Budget 2023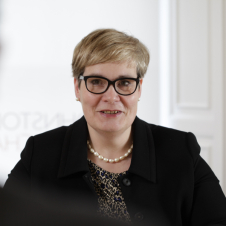 Susie Walker
Partner and Head of Tax
Susie Walker, Head of Tax at Johnston Carmichael, Scotland's leading independent accountancy and business advisory firm, has responded to Chancellor Jeremy Hunt's Spring Statement announced on Wednesday 15 March 2023.
Susie leads a team of more than 140 tax experts, advising clients across the UK and internationally.
She said: "The pension legislation changes announced by the Chancellor are clearly designed to get people working longer across the country, as well as encouraging early retirees back into work to boost productivity and the economy.
"Many high earners – particularly in the NHS – have retired early on account of their pension funds being capped".
"Not only will there be a tax benefit for those returning to work and restarting their pension contributions, but those in existing employment will also now be able to add greater sums over their career.
"Mr Hunt went further than expected in deciding to abolish the lifetime allowance entirely, but he is clearly trying to address these wider issues and hopefully ease stress on our health service in the process.
"There weren't many huge surprises in today's statement, but businesses want certainty and stability, and the news that the UK main CT rate will increase to 25% whilst balanced by generous tax reliefs for investment spend will be welcome; also the news that the UK will not now enter a technical recession this year will be well received. Further tweaks to R&D tax relief improve the position from where it was heading with the Government's clampdown against spurious claims.
"From a Scottish perspective, it is worth noting that the phased expansion of free childcare for one and two-year-olds only applies to England. It will be interesting to see how Holyrood reacts to that, as it currently doesn't apply in Scotland.
"The extension of the energy price guarantee for a further three months, as well as the 5p cut to fuel duty on petrol and diesel remaining in place, are likely to prove popular.
"The Chancellor had a real focus on encouraging investment for growth, and that will be very positive for businesses, who will now be hoping that better times are ahead."
Further details
Our specialists have analysed the key tax announcements in more further detail in our Spring Budget 2023 overview.
If you would like to discuss this further, please don't hesitate to get in touch with myself or your usual Johnston Carmichael adviser.