Growth Brewing for Scottish Craft Beer Industry in 2016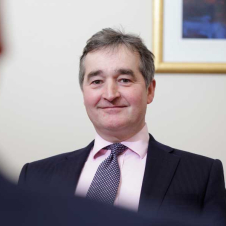 Adam Hardie
Business Development Partner and Head of Food & Drink
The continued growth of the UK craft beer market will lead to deals being struck between key players in the year ahead according to Scotland's largest independent firm of chartered accountants and business advisers.
Adam Hardie, Head of Food & Drink at Johnston Carmichael, whose firm works with a number of well-known craft beer brands including Stewart Brewing, Edinburgh Beer Factory and Speyside, spoke ahead of Craft Beer Rising. The annual industry event gives brewers the chance to meet potential trade buyers, and will be held in London later this month (26 – 27 February).
Hardie predicts continued growth with the launch of new breweries and consolidation across the sector in the coming year. "Consolidation is undoubtedly here. We are seeing, and will continue to see, big players with more investment behind them operating in the British craft brewing market. Last year Camden Brewing sold to AB InBev for £85 million which got everybody's attention due to the high price achieved, whilst in Scotland Johnston Carmichael were recently involved in the sale of Broughton Ales."
Hardie, who also helped with the formation The Brewers Association of Scotland (TBAS) last year, says there are many positive signs for the industry. "The continued success of events such as Craft Beer Rising is raising the profile of the industry year-on-year. This year will see nine Scottish brewers attending Craft Beer Rising with TBAS later this month, a good indication of the growing number of brewers launching north of the border and their desire to work together to grow their businesses and compete against the mass brewers."
Organiser of Craft Beer Rising, Daniel Rowntree, is expecting 8,000 people to attend, a huge increase on the 2,500 who were at the 2013 launch event.
"This year, for the first time, we are running an invite-only session for the key beer buyers as part of our trade day in order to help our exhibitors get more time to speak to the people who can really help their businesses grow. We expect this to be a popular addition to the event which is attracting brewing companies from all over the UK along with people who just love beer."
Richard Yates, General Manager, The Brewers Association Scotland added: "The Scottish beer industry is going from strength to strength. As an industry body it is important to us to ensure Scottish brewers are getting the profile they deserve at key industry events such as Craft Beer Rising, which gives them the opportunity to showcase their products to important buyers and decision makers. TBAS was formed very much in the spirit of collaboration, and we strongly believe that by working together Scottish brewers can unlock their full potential."
James Withers, Chief Executive, Scotland Food & Drink commented, "We are really ambitious for Scotland's brewing sector and believe the potential growth for the industry is huge. Consumers are becoming more discerning about their drink choices so our breweries are in the right place at the right time. There are more than 90 brewers across Scotland producing a wide variety of specialist beers, this is testament to the brewing renaissance that's underway. Craft Beer Rising offers a great platform for our brewers to meet buyers and other key decision makers. The collective presence is another sign of the collaboration that is now at the heart of Scotland's food and drink story and we look forward to working hand in hand with TBAS to deepen that."
Craft beer sales currently account for 2.5% of all beers sales in the UK, and 20% of UK consumers surveyed (Mintel, Dec 2015) say they drink craft beer. 170 new craft breweries opened in the UK in the last 18 months, taking the total number of breweries in the UK to 1,300 – more per capita than any other country. Most importantly against the back drop of a largely flat UK market for beer consumption, craft beer is growing at 23% annually (CGA Peach, Jan 16).